For some PC users, the AVG Secure VPN is not working or installing, or they may be having connection issues on their Windows 11 or Windows 10 computers. This post is intended to help affected VPN users on PC with the most applicable fixes to these issues.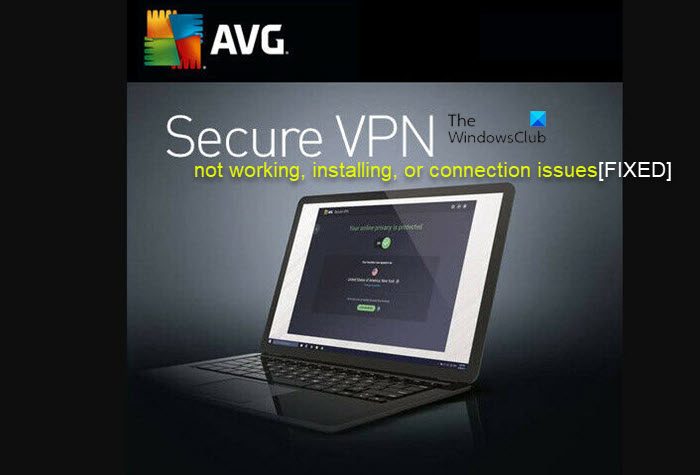 AVG Secure VPN not working, installing, or connecting on PC
If you're having connection issues with the AVG Secure VPN, or the app is not working as intended, or not installed on your Windows 11/10 PC, then the fixes presented below can be applied to easily resolve the issue on your system.
General Troubleshooting
AVG Secure VPN error messages with Fixes
Additional Troubleshooting
Contact AVG Support
1] General Troubleshooting
1] You can simply turn off and then turn on the AVG Secure VPN to refresh your connection. You may also need to stop and then start the AVG Secure VPN service in Windows Services Manager.
2] Check your internet connection. If you are unable to establish a connection with the internet at all with AVG VPN running, you can try disconnecting from the VPN and see if the internet works. If this doesn't work, it might be a network issue from your end and not something connected to AVG VPN. In this case, you can try to resolve any Network and Internet connection problems on your device, and you may have to contact your ISP. On the other hand, if you can connect to the internet with AVG Secure turned off, then your internet is working fine, the problem is related to AVG only. In this case, continue with the rest of this post.
3] You need to check your subscription validity if you have ruled out that the internet connection is not the culprit of your AVG Secure connectivity problem. To do this, follow these steps:
Open AVG Secure VPN's website.
Click on Log in to AVG MyAccount in the upper right corner.
Check for the expiration date.
Renew your subscription if need be.
Alternatively, you can do the same by opening the VPN client and clicking on MY AVG – My Subscriptions.
4] Change server locations as the problem could be due to the particular AVG VPN server that you're trying to connect to. For best performance, you can try connecting to a location that is physically close to your location. If that doesn't work, you can continue trying different servers until you find one that works. If you've tried multiple different locations and none of these seem to be working, then it is probably not a server issue.
5] Disconnect other VPNs if you have other VPN services that may be working in the background as this could give rise to conflicts and can cause AVG Secure VPN to not work properly. Restart the AVG VPN client once you have disabled any other VPN services and see if you can connect to servers now. If this still doesn't work, then move on to the next suggestion.
6] Check for security software (antivirus or firewall) interference with your AVG Secure connection and cause connectivity problems by temporarily disabling all antimalware/firewalls from your system and then try connecting to AVG again. If the VPN is working properly, then depending on the security software in use on your Windows 11/10 PC, you will need to add AVG Secure to the exception/exclusion list of your firewall/anti-virus.
7] If you have installed other VPNs along with AVG on your computer as every VPN installs its TAP adapter when you set it up for the first time on your PC, then your connectivity issues could be due to TAP adapter conflicts on your system. In this case, you can disable all TAP adapters other than that of AVG Secure VPN and see if that's the culprit to the issue.
8] AVG VPN offers 10 multi-logins – if you exceed the multi-connection limit, then you will encounter issues in the AVG Secure VPN app. So, check for excessive multi-logins and make sure you and/or all the users you have shared your AVG account with are not exceeding the limit. Connect to AVG VPN once again after bringing down multi-logins within the acceptable limit and see if the issue is resolved.
9] Reinstall AVG VPN on your Windows 11/10 device to get rid of any bugs or errors the app may sometimes inadvertently download bugs and errors which can cause the software to run slowly or even not work at all. By reinstalling the app, you'll have a fresh installation, erasing any problems you may have on your device and also ensuring you have the latest version of AVG VPN, including any bug-fixing updates.
Read: Malwarebytes Privacy VPN not connecting or working on PC
2] AVG Secure VPN error messages with Fixes
The AVG Secure VPN uses the same backend infrastructure as Avast SecureLine VPN, but has a different client, user interface wrapped around, and features integrated. Its desktop client can also be integrated with AVG's other products if you use them. That said, the AVG Secure VPN error messages (the same fix applies) are similar to that of Avast SecureLine VPN error messages on Windows 11/10 devices.
Read: Fix McAfee VPN not working or connection issues in Windows
3] Additional Troubleshooting
1] If AVG Secure VPN is not working with Netflix on your Windows 11/10 device as reported by some PC users, the following suggestions should help.
Try another server in the area where you're trying to access a regional Netflix library.
Check for VPN updates to ensure that it is not interfering with your connectivity.
Clear your browser's cache and cookies to ensure a prohibited Netflix visit is not recorded.
Use the Netflix website instead of using the Netflix app. This usually solves the Netflix proxy error when using the app.
Disable location services as Netflix may be comparing your virtual IP address to your GPS location and stopping your connection if it detects a discrepancy. However, you can use location-based apps without enabling location service on your Windows 11/10 device.
2] If uTorrent is not working with AVG VPN, then it's likely you're trying to access and download torrents with AVG while connected to any server other than the AVG multiple servers that support p2p activities. In this case, to resolve this issue, simply choose servers available in the P2P tab in the server selection screen. These will allow you to access torrents without any problems.
Read: Fix Norton Secure VPN not opening, working, or connection errors
4] Contact AVG Support
If nothing works for you, you can contact AVG Support via support.avg.com and see if they can provide additional assistance. Else, you can consider switching to another VPN service provider. For troubleshooting purposes, AVG Support representatives may ask you to provide AVG Secure VPN log files which you can find at the following location:
C:\ProgramData\AVG\Secure VPN\log
At the location, look for the vpn_engine.log file. You may need to show hidden files/folders to see the ProgramData folder on your system.
Read: Bitdefender VPN not working on Windows
I hope this post helps you!
Also read: Kaspersky VPN Secure Connection not working on PC
What are the system requirements for AVG Secure VPN?
The AVG Secure VPN at the minimum requires a Windows fully compatible PC with Intel Pentium 4/AMD Athlon 64 processor or above (must support SSE3 instructions) and 256 MB RAM or above. 300 MB of free space on the hard disk. Internet connection to download, activate, and use the VPN service. To install AVG VPN on your PC, ensure no other application is running, download AVG Secure VPN for Windows, right-click the downloaded setup file avg_secure_vpn_setup.exe, select Run as administrator & follow the on-screen instructions.
Read: Fix VPN problems & issues
Why does AVG VPN keep disconnecting?
If AVG VPN keeps disconnecting on your Windows 11/10 PC, you can change the location of AVG Secure VPN servers and check if that solves your problem. Also, check if the kill switch option is enabled. If so, you can disable it and see if that helps. Another troubleshooting step you can take is to restart your PC and try to connect to AVG Secure VPN again.
Read: VPN connects and then automatically disconnects on Windows.