The Qualcomm Atheros driver file athwbx.sys is known to cause several Blue Screen errors. This happens if it gets corrupted or when the OS cannot access it. Bad sectors on the hard disk or the RAM might also cause this Blue Screen to appear. The athwbx.sys file is known to cause the following Stop Errors:
SYSTEM_THREAD_EXCEPTION_NOT_HANDLED (athwbx.sys)
STOP 0x0000000A: IRQL_NOT_LESS_EQUAL (athwbx.sys)
STOP 0x0000001E: KMODE_EXCEPTION_NOT_HANDLED (athwbx.sys)
STOP 0×00000050: PAGE_FAULT_IN_NONPAGED_AREA (athwbx.sys)
Your PC ran into a problem and needs to restart. You can search online later for this error: athwbx.sys.
Today, we will show how you can try to fix this error.
Fix athwbx.sys Blue Screen error
As mentioned earlier, the main culprit is the Qualcomm Atheros driver. To fix this error, we will try the following fixes:
Update, Rollback or Uninstall the Driver.
Using System File Checker.
Using Check Disk utility.
Using Windows Memory Diagnostics.
Recreate the athwbx.sys file.
Run Blue Screen Troubleshooter.
If you tend to create a System Restore point usually, you can try to undo any modifications on your computer by performing System Restore. In case you do not have a habit of creating a System Restore point; I suggest you start doing so because it is a very strong feature that will let you fix your computer in a number of scenarios.
1] Update, Rollback or Disable Drivers and Windows 11/10
The incompatibility between the Operating System and the Driver might also give rise to issues like this. So, you can try to Uninstall, Update or Rollback the concerned driver. I recommend concentrating the above measures for the Qualcomm Atheros Drivers as Network Drivers. This is so because of the fact that athwbx.sys is a file created by Qualcomm Atheros Network drivers.
2] Using System File Checker
Start by pressing WINKEY + X button combo or right-click on the Start button and click on Command Prompt (Admin) or just search for cmd in the Cortana search box, right click on the Command Prompt icon and click on Run as Administrator. Click on Yes for the UAC or User Account Control prompt that you get. Then, the Command Prompt window will finally be open. Now, type in the following command to run System File Checker and then hit Enter.
sfc /scannow
Restart your system after the scan is completed.
You can also use our freeware FixWin to Run the System File Checker utility with a click.
3] Using Check Disk Utility
To run Check Disk on your System Drive (C), using the command line, type the following and hit Enter:
chkdsk

 /f C:
If required, restart your computer.
4] Using Windows Memory Diagnostics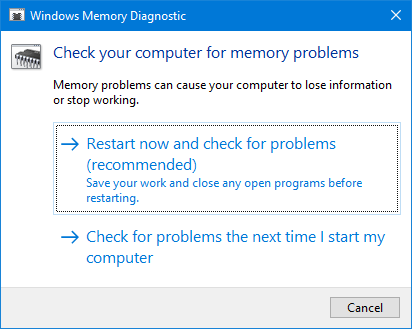 Run the Memory Check on your computer. Start by hitting the WINKEY + R button combination to launch the Run utility. Then type in, mdsched.exe and then hit Enter. It will launch the Windows Memory Diagnostic Tool and will give out two options-
Restart now and check for problems (Recommended)
Check for problems the next time I start my computer
Now, according to the option selected by you, the computer will restart and check for memory based problems. If you get any issues there, it will fix it automatically else if no issues are detected, this is probably not the cause of the issue.
5]  Recreate the athwbx.sys file
Whenever your Windows computer boots up, it looks if all the system drivers are in place, and if not, it tries to create them. So, if you just remove your corrupt driver file, you might get a fixed file recreated just for you.
To do this, it is recommended that you boot Windows in Safe Mode and then carry out the following steps.
Start by navigating to the following location in the File Explorer: C:\Windows\System32\drivers.
Look for the file called as athwbx.sys. You can use the search function to save some time. Once, you find it, just rename it as athwbx.old.
As you can see now, the extension of the file has changed from .sys to .old. And in case you do not have the privileges to edit the extensions, take ownership of the file.
After you are done with changing the extension, just Reboot your computer in normal mode and check if that fixes your error.
6] Run Blue Screen Troubleshooter

You may also run the Blue Screen Troubleshooter. The built-in Troubleshooter is easy to run and fixes BSODs automatically. The online Blue Screen Troubleshooter from Microsoft is a wizard that is meant to help novice users fix their Stop Errors. It offers helpful links along the way.