After upgrading from an older version to Windows 10, if you receive a Blue Screen with the error APC_INDEX_MISMATCH, for win32kfull.sys file, then this post offers some suggestions that may help you identify and fix the Stop Error. The error message could also be accompanied by error codes 0x0000001, 0xC6869B62, 0x97503177 or 0x02A7DA8A.
APC_INDEX_MISMATCH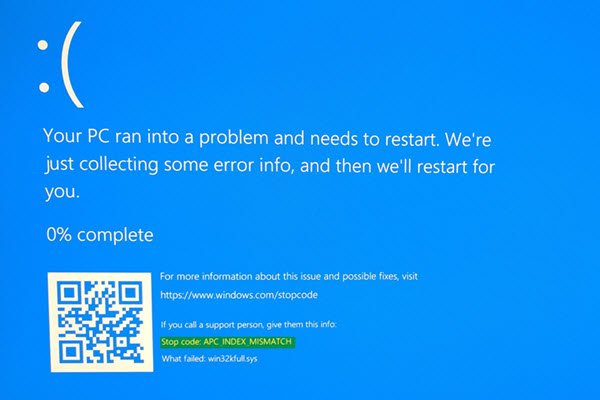 This BSOD error message mainly appears when you have incompatible hardware or driver. To be more specific, display driver and audio driver make such issue on Windows 10. Do note down the name of the file which failed. In the above image, it says – win32kfull.sys. This will help you identify the driver and troubleshoot further.
Says Microsoft, This is a kernel internal error. This error occurs on exit from a system call. The most common cause of this bug check is when a file system or driver has a mismatched sequence of calls to disable and re-enable APCs.
If you face this issue, try these suggestions.
1] Disable Realtek HD Audio Manager from startup
Since this problem can occur due to a corrupt audio driver, you may disable it from the Startup and check whether the problem disappears or not. Open Task Manager and switch to Startup tab. Find out Realtek HD Audio Manager, right-click on it, and select Disable. You can also select it and hit the Disable button visible on the bottom-right corner of the window. If that solves your issue, you should uninstall and install it again.
2] Update/reinstall display driver
As mentioned earlier, you can get this issue because of a corrupt display driver as well. So update the graphics driver and see. If that doesn't solve your issue, you can reinstall the display driver.
3] Blue Screen Troubleshooter
Run the Windows 10 Blue Screen Troubleshooter and see if it helps you.
4] Check Event Viewer
The Event Viewer in Windows gathers information about everything happening on the system. You may find some additional information regarding this error. You can check if any driver or hardware has failed to comply with the system. If you see anything suspicious, work on that driver as well.
5] Remove DisplayLink driver
If you are using a dual monitor or more and you see this error message, maybe the DisplayLink driver is causing this issue. In that case, you can consider uninstalling it. You can open Control Panel > Programs and Features and then, check whether it is listed or not. If yes, uninstall it and see.
6]  Uninstall problematic Update
If you recently installed an update that causes this BSOD to appear, then we suggest going to Update History in Settings and uninstalling and hiding the problematic update.
If your PC won't boot, then we recommend entering Advanced Startup Options and then running System Restore.
See this post if the BSOD causes Windows cannot find printmanagement.msc error to appear when printing.
Update 16th March 2021: Microsoft has released updates to fix this APC_INDEX_MISMATCH BSOD when printing issue:
Windows 10 version 2004 and 20H2 – KB5001567
Windows 10 version 1909 and Windows Server 1909 – KB5001566
Windows 10 version 1809 and Windows Server 2019 – KB5001568
Windows 10 version 1803 – KB5001565.
If you need additional suggestions, perhaps something in this Blue Screen Guide will help you.