Some Windows 11/10 PC users have reported they get the error message An authentication error has occurred with the error code 0x800706be when trying to connect to a host computer via Remote Desktop. This post provides the most applicable solutions to the issue.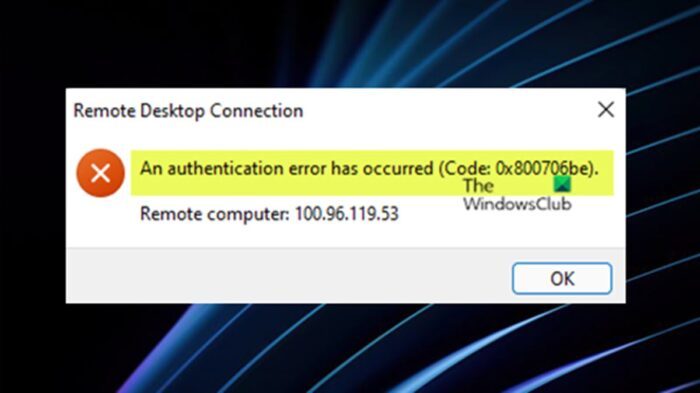 Remote Desktop Connection
An authentication error has occurred (Code: 0x800706be).
Remote computer: <ComputerName or IP address>
An authentication error has occurred (Code: 0x800706be)
If you get an error prompt with the following error message and code An authentication error has occurred (Code: 0x800706be) when you try to connect to a remote Windows-based machine from a Windows 11-powered client computer, you can apply our recommended solutions/workarounds outlined below to have the issue resolved.
Initial checklist
Download and use the Microsoft Remote Desktop app
Enable and use Remote Desktop without a password
Clear credentials in Credential Manager
Disable Remote Desktop Connection with Network Level Authentication.
Let's see these solutions/workarounds in detail.
Read: Remote desktop can't connect to the remote computer in Windows
1] Initial checklist
An authentication error has occurred (Code: 0x800706be) error indicating the problem is an authentication error. So, we suggest you carry out the tasks in this initial checklist which are basic troubleshooting for the most common underlying causes of the problem you have encountered on your PC. After you complete each task, check to see if you can connect remotely without issues.
Update Windows to the latest build. More often than not, issues you may encounter on your PC can be resolved by simply updating Windows to the latest build/version. Updates can prevent security issues and improve compatibility and program features and will usually address bugs present in the previous iterations of the operating system.
Run SFC scan. Apart from or coupled with your computer running outdated Windows builds, a major source of PC woes is corrupted system files. So, if you're having issues and your system is up to date, you can run an SFC scan which checks the integrity of Windows system files by scanning all protected system files and replacing corrupted files with a cached copy that is located in a compressed folder. If the SFC scan fails at the first instance, you can run the DISM scan and on completion, rerun the SFC scan.
Perform System Restore. Provided the feature is enabled on your system, the System Restore feature comes in handy when there are changes made to your system which could also be installing a new system update that seemingly broke some aspects of the operating system functionality, especially if you were certain that everything was working fine before the update.
Create a new User Account. A corrupted user account which can be caused by several reasons including an abnormal or unexpected shutdown of your Windows 11/10 device could be a likely culprit to the issue in hand. In this case, to test if you have the issue, you need to create a new user account and sign into the new account. If the issue doesn't reoccur, you can repair the corrupt user profile and see if the issue is resolved. If not, simply move to the new user account you created.
Uncheck all options and re-enable each option when needed. As far as the issue in focus goes, this trick reportedly worked for some affected PC users. When you launch the remote desktop client, click the Show Options drop-down and then uncheck all the options in the General, Display, Local Resource, and Experience tabs. Once done, connect to the remote computer and after you have established a remote session, you can re-enable all those options or enable them when needed.
Read: RDP Authentication error has occurred, Function requested is not supported
2] Download and use the Microsoft Remote Desktop app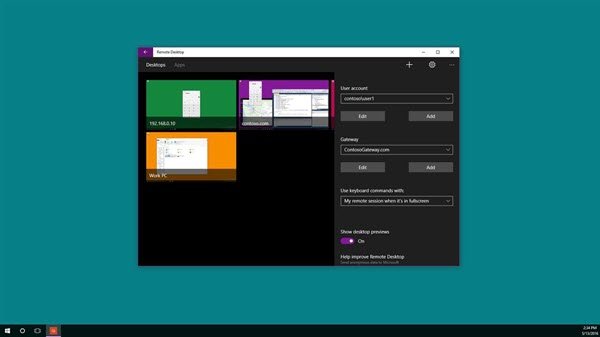 This is more of a workaround than a solution that requires you to download and use the Microsoft Remote Desktop app from the Microsoft Store instead of using the inbuilt remote desktop client (mstsc.exe). Although this worked for most affected PC users, they reported the app has too less options and that using the app is not a solution for full daily use and if the fullscreen without the taskbar of the local/client system is needed. In any case, you should give it a try and if you don't find the app suitable or it just didn't work for you, you can use any of these best free Remote Desktop software for Windows 11/10 or proceed with the next solution.
3] Enable and use the Remote Desktop without a password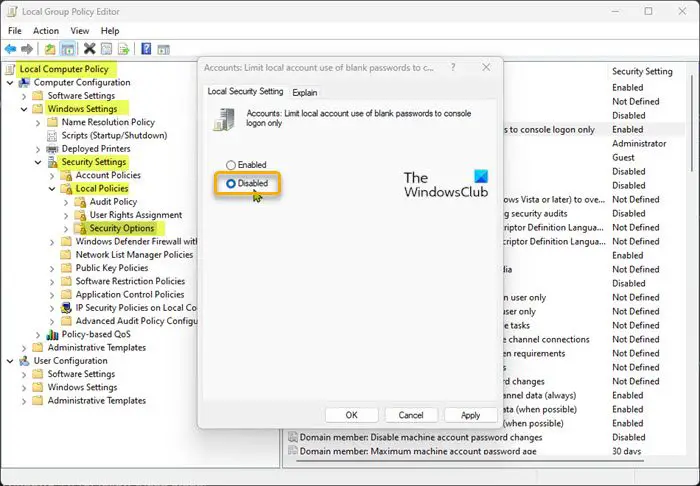 By default, PC users are required to set a password to be able to access and use the native Remote Desktop feature in the Windows operating system. Since the error in focus is an RDP authentication error which is possibly been triggered due to, you trying to connect and log in remotely via Remote Desktop Protocol (RDP) with a user account without a password set or username with a blank (null) password. In any case, to resolve the issue, you have two options:
For security reasons, set a password for the user account that requires to logon remotely to a computer via Remote Desktop.
If you're unable or cannot assign a password to the user account, then you can follow the instructions in the guide for any of the methods on how to easily enable and use Remote Desktop without a password.
4] Clear credentials in Credential Manager
Credential Manager lets you view and deletes your saved credentials for signing into websites, connected applications, and networks. Ideally, you should not remove the Credentials which are stored. However, just like any cached data on your PC, these cached credentials can easily get corrupted or just go haywire for no reason consequently leading to the authentication issue you're currently experiencing. In this case, it becomes necessary to clear all credentials in Credential Manager of which your data will be deleted and you will start from scratch again which will rebuild the credentials cache to a pristine state.
Read: Enter network credentials error on Windows
5] Disable Remote Desktop Connection with Network Level Authentication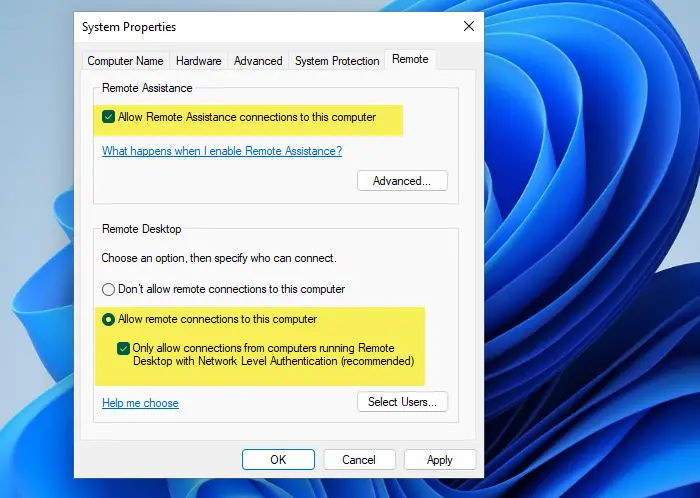 Network Level Authentication (NLA) is a feature of Remote Desktop Services (RDP Server) or Remote Desktop Connection (RDP Client) that requires the connecting user to authenticate themselves before establishing a session with the server. This feature is essential for secure RDP connections because NLA is how Windows authenticates remote desktop clients and servers before sending your credentials to a remote machine.
Since you 'trust' the host machine you're trying to connect to, you can disable Remote Desktop Connection with Network Level Authentication on the destination computer by following these steps:
Open Control Panel.
Select Security and System.
Now, click Allow Remote Access.
Go to the Remote tab.
Checkmark the Allow Remote Assistance connections to this computer option.
At the Remote Desktop section on the page, select the radio button for the Allow Remote Connections to this computer option.
Now, uncheck the Only allow connections from computers running Remote Desktop with Network Level Authentication (recommended) option.
Click Apply > OK to save changes.
Read: Cannot Connect to RDS Server after Server restart or Windows Update
I hope this helps!
These post(s) with similar error codes might interest you:
What does error code 0x800706be mean?
The error code 0x800706be is known to occur at different events. To successfully fix the error will depend on the instance you encountered the error code. You're likely to get this error code due to a system file issue. This is a general error that points to a misconfigured or corrupt system file.
Should I disable the Remote Procedure Call?
Many Windows operating system procedures depend on the RPC service. Microsoft recommends that you don't disable the RPC service. By default, RPC uses the port range of 1024 to 5000 for allocating ports for endpoints. The bottom line is disabling the Remote Procedure Call can solve various problems at times. If you think your PC is having issues due RPC, you can try disabling it temporarily.