Ammyy Admin is a free Remote Desktop software that lets you access a computer remotely. Ammyy Admin features a great user interface with complete portable functionality. You can carry it around anywhere, and you can connect to remote computers instantly. It doesn't require any installation; you can directly run it after downloading. Once you run the software, your computer will be allotted an ID that can be used to connect to your computer from other computers.
Portable Remote Desktop Software
Ammyy Admin is completely optimized for slow internet speeds, whether you have a broadband connection or a dial-up connection, you will not face any problems or quality issues. Another thing I loved about this software is that there are no different utilities for clients and servers – the same application can be used to connect to different computers, and the same application can be used as an Ammyy Admin server.
To connect to a remote computer you simply need to enter the ID of that computer and click on 'Connect' button. From the drop-down below the ID field, you can choose desktop speed, so that Ammyy Admin optimizes itself according to the internet connection available.
There are the following connection modes available in the software:
Desktop Share: In this mode, you can share your computer's screen with someone, and you can even give control of your computer.
Voice Chat: This mode can be used to Voice chat between two computers.
File Manager Only: This mode can be used to transfer files between two computers. This feature is really very useful.
Microsoft RDP: In this mode, you can connect to a computer using Microsoft's Remote Desktop Protocol
Whenever a computer tries to connect to your computer, a dialog would pop out which would let you choose the permissions to be given to the computer which is trying to connect. In this dialog, you can choose whether the PC should be allowed remote control or not. With Ammyy Admin you can even maintain a contact book in which you can save different computers recognized by their IDs. This feature seems more useful for the computer experts who usually have many clients; they can save IDs of their different clients in this contact book.
Ammyy Admin is very secure as the encryption standards used are well-known for their reliability. It offers a sophisticated set of authentication settings providing options to grant access manually, by predefined computer IDs or by a password. This works along with an advanced hybrid encryption algorithm – AES+RSA.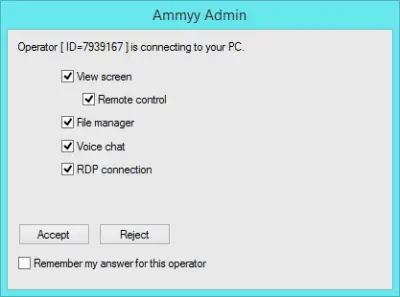 Ammy Admin is free for personal use, but if you want to use it for commercial purposes, then you need to purchase the software. Ammyy Admin is a wonderful tool with amazing features and intuitive UI.
Which free remote desktop software is best?
There are few remote desktop apps available for Windows. However, different apps offer a different set of options. That is why you need to check more than one tool so that you can opt for the best one. However, TeamViewer, AeroAdmin, Ammyy Admin, etc., are some of the best in the market.
How do I remotely connect to another computer?
To remotely connect to another computer, you need to use remote desktop software. For your information, Windows 11 and Windows 10 have an in-built Remote Desktop Connection application. However, you can also use third-party programs, such as TeamViewer.
Ammyy Admin free download
Click here to download Ammy Admin Free for Home Users.
You may want to also check out these posts too: