There is a lot of free software that allows you to help anyone using remote access.  Even though professional, the software allows you to use it as long as you use it for personal usage. We have covered a lot of them in detail, and we are adding a few more to make it an exhaustive list of free Remote Access software for Windows 11/10.
Free Remote Access software for Windows 11/10
Each software has its own strength and drawback. You can go through each software and choose one for yourself.
AnyDesk
TeamViewer
Ammyy Admin
AeroAdmin
Chrome Remote Desktop
LiteManager Free
TightVNC
Some of them are portable, while others need a complete installation. If you switch between computers, portable software can help.
1] AnyDesk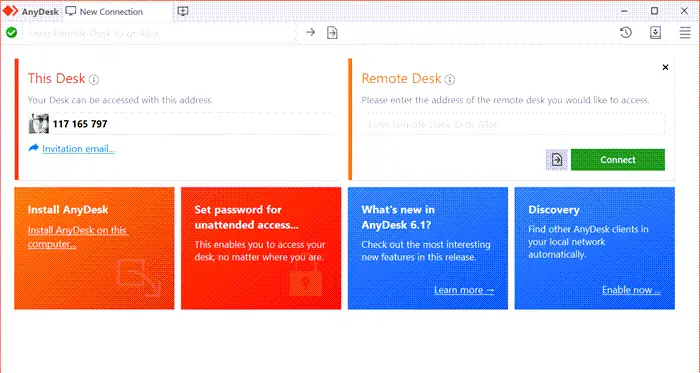 AnyDesk comes in both portable and full versions and one of the easiest to use. Once installed, it generates an ID, which you can give to the other side, and it will automatically connect. One of the best parts of using the software can compress and transfer image data between computers efficiently. It also uses the TLS 1.2  RSA 2048 asymmetric key exchange encryption to protects your computer from unauthorized access.
When it comes to performance, it offers high frame rates at low latency and efficient bandwidth usage.  If you install the full-fledged software, you can keep an address book as well.
2] TeamViewer
TeamViewer is one most popular remote access software that offers much more than remote access. The features include transferring files between computers, creating a VPN with the remote computer, cloud integration, and a whiteboard feature if you need to explain a concept.
3] Ammyy Admin
One of the things that Ammyy Admin excels that it offers an excellent user interface and is portable.
It offers desktop share both ways, i.e., let them connect your or you connect their computer.
Voice Chat allows you to have a real-time conversation, which is specifically useful during troubleshooting.
Transfer files using File manager mode and without any remote connection.
Support for Microsoft RDP.
4] AeroAdmin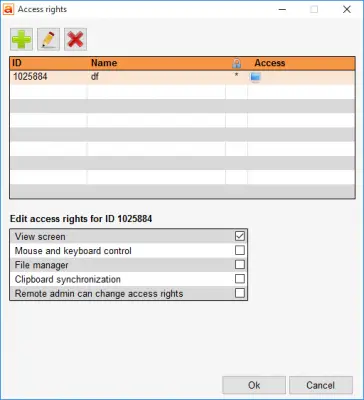 If you need to connect to multiple computers or view them simultaneously, then AeroAdmin is the software you need to try. The software offers secure, no-configuration, easy-to-use, portable Remote Desktop software for Windows PC.
You can also use the inbuilt file manager to transfer files and create different rules for different connections. Features like clipboard synchronization, system keys transmission, auto-scaling, auto-scrolling, remote Windows lock, etc., are readily available.
5] Chrome Remote Desktop
Chrome is still the most popular browser, and the company offers an official Chrome Remote Desktop software that you can use with the browser. It works by providing a one-time authentication code under a secure connection. You can connect any two computers with a Chrome browser, including Windows, Linux, Mac, and Chromebooks.
6] LiteManager Free
LiteManager Free edition offers up to 30 free licenses for remote access to 30 computers, which is more than enough for personal use.  The features include file manager, remote task manager, power management, text, audio, and video chat.
It also offers a screen recording, which is useful for the person on the other side who wants to see it again. Apart from this, you also get access to remote installation and update the registry editor. And connect by ID and NoIP application.
7] TightVNC
TightVNC is a free remote control software package offered for personal and commercial usage, with full source code available. The software can be used for tech support, education, and more. It works on all platforms, including Windows and macOS. If you need compatibility, it is compatible with standard VNC software, conforming to RFB protocol specifications.
Is TeamViewer free for personal use?
Yes, TeamViewer is free for personal use. You can use it for controlling another computer remotely, provided TeamViewer is installed and running on that computer. The free version of TeamViewr lacks many advanced features. Hence, if you want to access the premium features of TeamViewer, you need to purchase its plan.
Does Windows 11 have Remote Desktop Access?
Yes, Windows 11 has Remote Desktop Access. This is a built-in feature that lets you control another computer on which the Remote Access is set up. Remote Desktop Access is not supported by Windows 11 Home edition. Therefore, if you are a Windows 11 Home user, you have to upgrade your license.
Read: Best free Remote Desktop software for Windows.
I hope you were able to pick up a remote access software that works for you.