For years, TeamViewer has been a popular application that has been widely used to share desktops, connect to multiple PC, and control them remotely via the internet. If you are away and need a document from your office PC urgently, using TeamViewer, you can gain access to your office PC with all of the documents and installed applications. You can even help a friend fix a bug in his or her computer by gaining access to the PC remotely.
TeamViewer for Windows review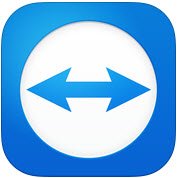 TeamViewer GMBH has released a new version of the popular software, i.e., TeamViewer. TeamViewer comes with additional new features and has various improvements over the previous versions. Let's find out what is new in TeamViewer.
How to use TeamViewer on PC
The Remote Control Tab
Creating a remote control session is the most important feature of TeamViewer. This is the reason why the company has made so many improvements in the interface and added new features to the Remote Control Tab. Looking at the Remote Control tab of the application window you will see that it is divided into two areas.
Allow Remote Control
Control Remote Computer
Allow Remote Control or Access
Providing access to your computer to your partner
In the area, you will find your TeamViewer ID and your temporary password. On sharing this ID and password with your partner, he or she can connect to your PC. Do note that each time you open TeamViewer, you will have the same ID and a different password. Hence, to establish a remote connection with your PC your partner would require this password every time you open a session of TeamViewer.
Accessing your PC remotely without TeamViewer ID and Password
TeamViewer 10 has a feature using which, you can remote access your PC, without needing a TeamViewer ID and password. Just follow the below steps.
Step 1: Click the icon 

on the TeamViewer to set up unattended access.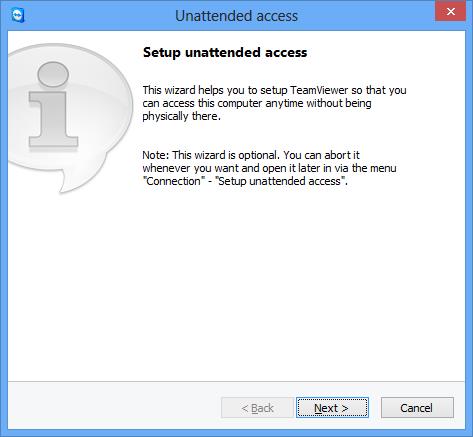 Enter your Computer's name and personal password.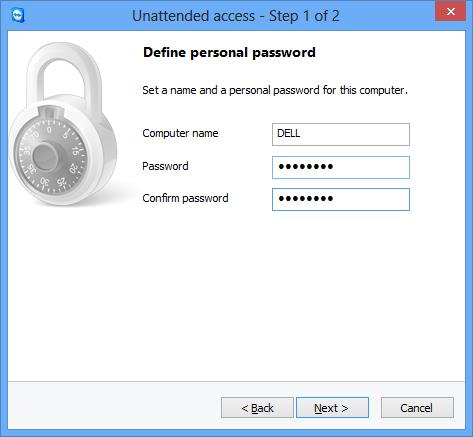 Click "Next, " and you will be asked to add your Computer to Computer and Contacts. You must select your existing TeamViewer account or create a new one.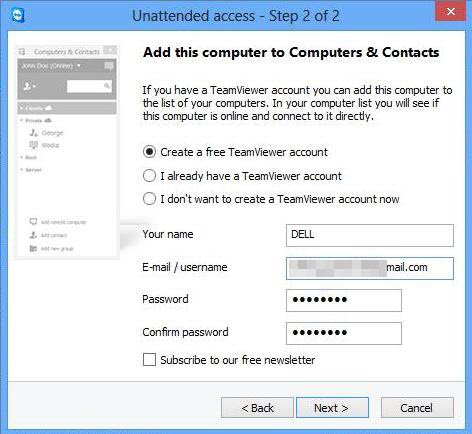 Click "Next, you" and you have successfully added your Computer in the list of Computers. Don't forget to "activate" your TeamViewer account by logging to your email ID and clicking on the link in the activation email.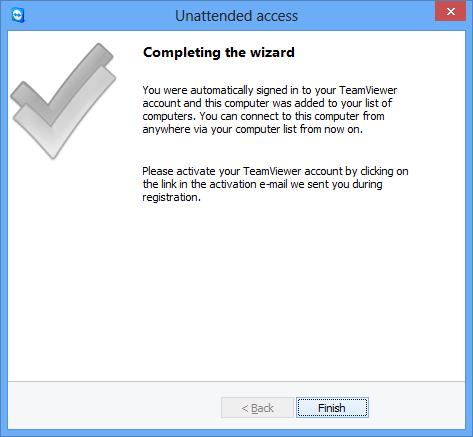 Step 2: Open TeamViewer on a remote computer and click on "Computers and Contacts". Enter your email ID and password to log in to your TeamViewer account.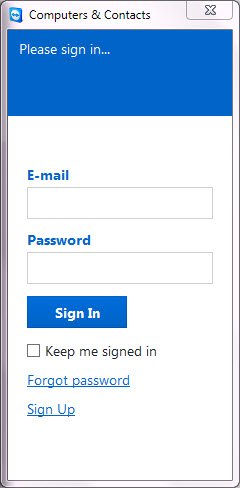 After login, you will see the list of Computers you have added.
Click on the Computer name to which you want to connect (ensure that you left them connected to the Internet with TeamViewer running) and click Remote Control using a password to connect.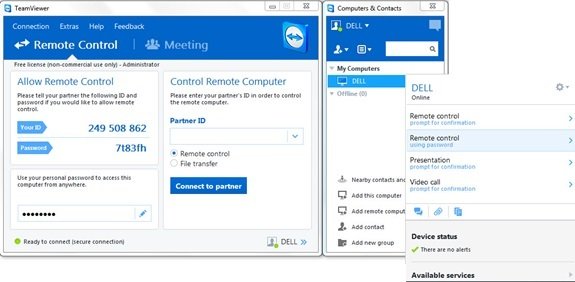 Wait for the application to load the remote Computer's screen. You are now ready to access your PC remotely without TeamViewer ID and Password.
Remote Control  Windows Computer
To control a computer remotely, enter its ID in the Partner ID combo box. You will see a pop-up asking you to enter the password displayed on your partner's screen.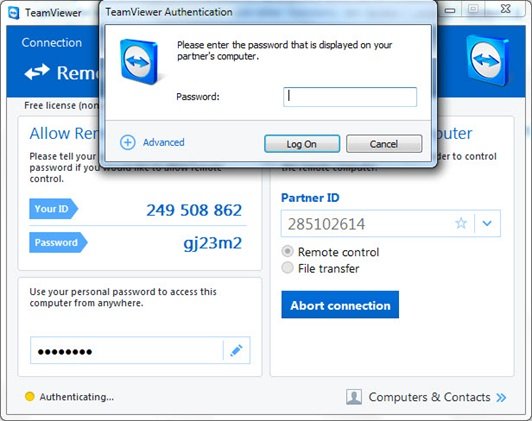 Confirm the password on your partner's Computer and enter. Click on Log On to complete the connection and start accessing.
In TeamViewer there are various connection modes available such as,
Remote control: Control your partner's computer or work together on a single computer.
File transfer: Transfer files from or to your partner's computer.
VPN: Create a virtual private network with your partner.
Other useful features in TeamViewer
Performance optimization: That includes CPU usage optimizations for multi-core processors, HD voice transmission quality, and faster login and load times for the Management Console
Addition of new Central setting policies: New Central setting policies tool has been added to the Management Console, which allows new changes in setting policies to be applied automatically to all installations. This reduces the workforce for IT administrators.
Master Whitelist: Permit access to all your devices using just one whitelist. Hence, users don't have to worry about granting access via the whitelist on each device. You can use also companies to the Master Whitelist.
Chat History and persistent chat groups: It offers Chat history and support to persistent chat groups, a huge improvement over the previous versions.
VoIP calls improvement and Profile Picture: Users can make video calls without starting a meeting. Also, they can set a profile picture to give a personalized look.
Find nearby contacts: It will automatically display nearby computers and contacts, allowing users to find the right person.
Support for Ultra HD (4K) displays: This remote access freeware has added support to 4K displays for remote control and meeting sessions.
Better interface: The remote control software has a redesigned interface with shortcuts to various features. Users can also make

real-time

notes, even during the call.
Integration with the cloud: It is now possible to share files during meetings or remote control sessions using Dropbox, Google Drive, OneDrive, or Box.
Door locking feature: For the personalized meeting, it has provided a feature wherein users can door lock a meeting. The door locking feature prevents others from joining a meeting without getting an invite.
Whiteboard feature: Users can use the whiteboard feature even during remote sessions. Also, either participant can access this feature.
Apart from the above, this free software has additional features for Mac OS C and Linux computers.
TeamViewer free download
Click here to download TeamViewer for Windows. A portable version is also available.
Is TeamViewer for Windows free?
Yes, TeamViewer is available for free for personal or home use only. You need to pay money to use it commercially. Whether you want to download and use it on Windows 11 or Windows 10 computer, you can do that for free. As it is one of the best remote access control software, you won't find any issue while using it even if you have a slow internet connection.
How do I install TeamViewer for free?
To install TeamViewer for free, you need to head to the official website first to download the executable file. Click on the FREE Download Now button to download this app for free. Then, you can go through the installation process to get the app on your Windows 11/10 PC.
Have a look at TeamViewer Web Connector too if you want to remote access a PC using Web Browser. More free Remote Access Software here.