There are technologies that help improve monitor performance by enhancing images and fixing issues that occur with them. AMD FreeSync is one such technology. Some users are reporting that AMD FreeSync is not working or supported on Windows 11/10. In this guide, we have a few solutions to fix it.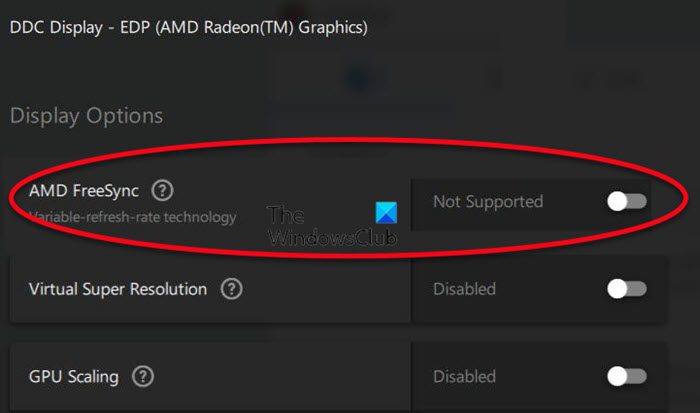 What is AMD FreeSync?
AMD FreeSync is a technology developed by AMD to deliver dynamic refresh rates to users. The refresh rate of a display is synchronized with the frame rate of FreeSync compatible graphics card eliminating the possibilities of input latency, screen tearing, and stuttering during gaming or high-quality video playback. AMD FreeSync works through DP (DisplayPort) or HDMI connections.
This technology has three variants, AMD FreeSync, AMD FreeSync Premium, and AMD FreeSync Premium Pro. Their capabilities vary according to the variants. AMD FreeSync is the basic version of all. AMD FreeSync Premium works with at least 120 Hz FHD resolution whereas FreeSync Premium Pro offers meticulous color and luminance certification. AMD has listed every monitor of different brands and manufacturers on its official website for the customers to know if their monitor is AMD FreeSync supported or not.
AMD FreeSync not supported or working on Windows 11/10
If the AMD FreeSync is not working on Windows 11/10, you can use the following methods to fix the issue.
Check if the monitor is AMD FreeSync compatible
Try Different Ports
Update Graphics Drivers
Disable Fullscreen optimizations
Set the Default GPU
Let's get into the details of every method.
1] Check if the monitor is AMD FreeSync compatible
Not every monitor is compatible with AMD FreeSync. You have to check if your monitor is AMD FreeSync compatible. To find that, first, know your monitor's model number and enter the model number in the search box of AMD's official website.
Read: How to enable AMD FreeSync
2] Try Different Ports
To eliminate the hardware cause of AMD FreeSync not working, you need to try different ports. If you are using HDMI, try DP and see if it works. HDMI 2.0 and DP 1.2 cables are needed for FreeSync to work properly. Also, check for faulty cables or ports.
3] Update Graphics Drivers
Since the error is directly related to the graphics, you need to update the graphics drivers to the latest version to eliminate the possibility of the graphic drivers as the cause of the issue. So, try updating the graphic drivers and check if the issue still persists. You can use one of the methods below to update your device drivers:
Once, you have completed the update of Graphics drivers, check if the AMD FreeSync is working or not.
4] Disable Fullscreen optimizations
Full-Screen Optimizations is a Windows feature that helps video players and games for better performance. It is enabled by default when we play video games and play videos. The games or video player is enhanced by allocating maximum resources to that particular process when it is enabled. You need to disable it to see if it is causing the AMD FreeSync not to work.
To disable Fullscreen Optimization,
Right-click on the program or game that uses FullScreen optimization as well as AMD FreeSync and select Properties
Then, click on the Compatibility tab
Check the button beside Disable fullscreen optimizations
Click on Apply and then OK
Read: Force a Game to use a Graphics Card or GPU
5] Set the Default GPU
Sometimes letting Windows decide on Graphics preference might be the cause of the issue. You need to select AMD-backed graphics performance in order to fix the issue.
To set the Graphics preference,
Open the Settings app
Select Display
Then, click on Graphics
Select the program that needs the AMD FreeSync feature or uses high graphic resources and click on Options
You will see the Graphics preference window. Select the performance mode which is backed by AMD Graphics and click on Save
These are the different ways using which you can make AMD FreeSync work if it is not working earlier.
How do I enable AMD FreeSync on Windows 11/10?
You need to have an AMD FreeSync supported monitor. Then, go to the AMD Radeon Settings program and find the AMD FreeSync tab under the Display. Toggle the button beside AMD FreeSync to enable it.
Read: G-Sync vs FreeSync explained
Does AMD FreeSync work in windowed mode?
Yes, AMD FreeSync works in windowed mode as well as full-screen mode. Sometimes according to the capabilities of the monitor, it works only in Windowed mode. It all comes down to the compatibility of your monitor.
Read: Fix AMD Driver Timeout has occurred error.