In this article, we will talk about how you can add a secondary taskbar clock on a secondary monitor on Windows 11. Windows 11 is officially out for all the eligible users and as we have already reported, it has a lot of new and redesigned features. One of the prominent upgrades is the enhanced taskbar in Windows 11. As the taskbar is redesigned and written in the modern language from scratch, it has lost some features in Windows 11. The lost features include no taskbar context menu, no option to lock the taskbar, Show Desktop button is removed, etc.
Windows 11's taskbar has also lost another significant feature which is showing a clock on the other connected displays/ screens. The date and time are no more shown on the secondary displays in Windows 11, unlike Windows 10. However, it is not like you just can't add a clock to the secondary taskbar in Windows 11. There is a way out. Here, we are going to show you how you can add a clock to the taskbar on a secondary display on Windows 11.
To be able to show the date and time on all your monitors and screens in Windows 11, we will be using a third-party application called ElevenClock. It is free and open-source software that enables you to add a secondary taskbar clock on Windows 11 which the new OS is missing as of now. As the software is open-source, you can also download and study its source code. The source code and the executable file are available on GitHub. However, this application can only be used for non-commercial usage as instructed by its developer.
Now, let us find out the features this application has to offer and how you can use it.
TIP: How to show Taskbar across multiple monitors in Windows 11
What are the main features of ElevenClock?
There are a lot of good functions offered by this software. Here are some of the key features to look forward to in this useful app called ElevenClock:
All system locales and time formats are supported by this secondary monitor clock app.
This clock adds to all your other monitors except for the primary one (obviously).
On hovering the mouse over this secondary clock, it emulates the Windows 11's taskbar clock animation.
It also supports the taskbar aligned on the top of your screen.
You can move this clock towards the left or right of the taskbar, as you prefer.
You can also add seconds to the clock through this handy application.
When you click on the clock on the secondary display, the notification bar and calendar panel open up on the primary screen.
It is also compatible with small taskbars.
You can set the clock text color to black or white.
It is displayed in right alignment and size on different-scaled monitors like Display1: 100%, Display2: 150%, Display3: 225%, and so on.
It by defaults downloads and installs updates automatically to make sure you are using the latest version of this app. You can even enable its silent updates feature.
This secondary clock software lets you enable seconds via locale or regedit.
The clock starts whenever you plug in a second monitor as it starts on login and runs in the background.
It also supports several system integrations like you can hide the clock when RDP is active.
So, these are the good features of ElevenClock. Now, let us find out how exactly to use this app to add a taskbar clock on your secondary monitor on Windows 11 PC.
Read: How to show Multiple Clocks on Windows Taskbar.
How to add Taskbar Clock on Secondary Monitor in Windows 11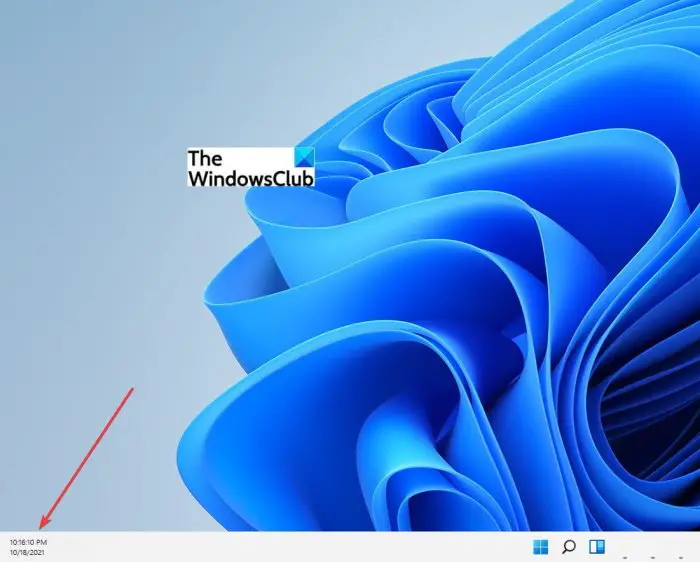 Here are the main steps to add a taskbar clock on your secondary monitor on Windows 11:
Download the ElevenClock software from its official website.
Install the application as normal.
Launch ElevenClock.
Set up clock settings as per your requirement.
Customize date & time settings.
Firstly, download the installer of this handy application from github.com. After that, run the installer to initiate the installation of this software. You will have to bypass Windows Defender SmartScreen by clicking on the Run anyway button. Then, proceed with the onscreen instruction to install the software on your Windows 11 PC.
Now, launch ElevenClock and a clock will be added to your taskbar on the secondary monitor. This app sits in the system tray on your primary taskbar. You can easily access it from there. Also, it runs on Windows startup by default. So, whenever you restart your PC with dual monitors, it will display a clock on your secondary taskbar.
See: How to add a day of the week to Taskbar Clock?
Furthermore, you can open the ElevenClock settings and customize various clock settings, You can enable or disable options including Hide the clock in the fullscreen mode, Hide the clock when RDP client is active, Force the clock to be at the bottom of the screen, Force the clock to have white text, and Show the clock at the left of the screen.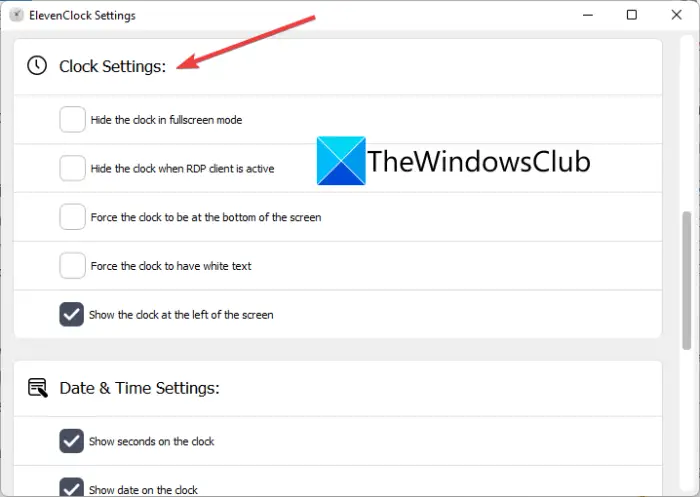 You can also configure date and time settings as per your preferences.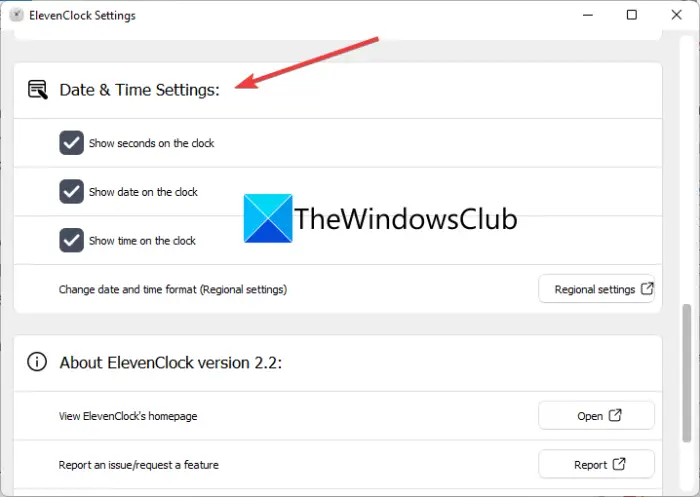 It lets you enable or disable options like show seconds on the clock, show date on the clock, and show time on the clock. You can also change the date and time format i.e., regional settings.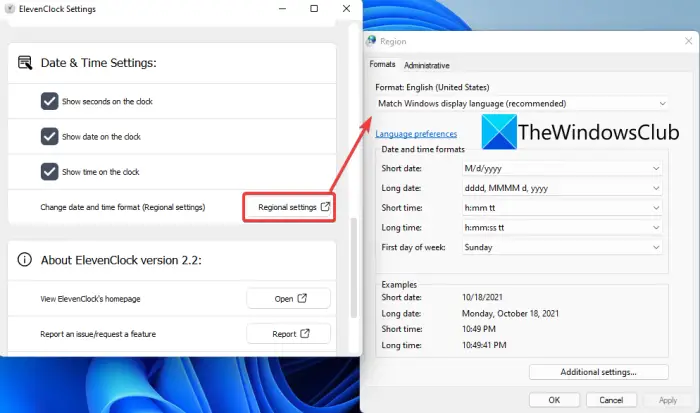 Simply click on the Regional settings button present under the Date & Time Settings section and then you will be able to select and configure date and time format, language, etc.
Read:
How do I enable extended display?
You can easily enable extended display on Windows 11 by using its Settings app. Here are the steps you can follow to do that:
Firstly, press Windows + I hotkey to open the Windows 11 Settings app.
Next, go to the System tab and then click on the Display option.
Now, you will see all the connected monitors on the top of this page. Simply click on the drop-down button called Duplicate these displays.
From the available options, select the Extend these displays option.
After that, click on the Keep changes button on the next prompt.
Now the displays will be extended to connected monitors.
See: How to add a clock to Start Menu using Alarms & Clock app in Windows.
Why is Extend display not working?
The extended display might not be working due to incorrect display settings. So, first, make sure you have chosen the Extend these displays option under the Settings > System > Display. If the settings are good, there might be some other reasons behind the extended display not working. To fix it up, make sure you have installed all pending Windows updates and updated your GPU drivers. Other than that, you can also try disconnecting all peripherals and checking the cable connection that the monitor is properly connected to your system. If this doesn't work for you, you can try using a different port to plug in the secondary display on your PC.
Read: Windows Clock Time wrong? Here is the working fix for Windows 11.
How to get the Windows 11 clock on all monitors?
Windows 11 comes with an in-built option to get a clock on the Taskbar on all monitors. You need to press Win+I to open Windows Settings and go to the Personalization tab. Then, click on the Taskbar menu and expand the Taskbar behaviors section. Tick the Show my taskbar on all displays checkbox.
Now read: Best free Time synchronization software for Windows PC.