Did you know you can display multiple clocks in Windows 11/10? You can have Windows 11/10/8/7 display up to two clocks in the taskbar. By default, Windows asks for your location when you install it and shows the clock from the related time zone (UTC-12 to UTC+13: UTC stands for Universal Coordinated Time).
Need For Multiple Time Zone Clocks In Windows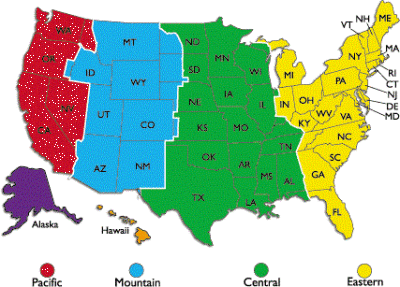 Here are some of the reasons why you would want to Windows to show multiple clocks:
Your clients or relatives live in a time zone other than your own
You might be traveling, and you wish to know both the time in the place you are and the current time in your country
You attend webinars (online meetings) that are scheduled in a different time zone
There are many websites that help you convert the time at your place into a different time zone. However, they require you to know the time zone abbreviation or the name of the cities for which, you wish to convert the time. For example, if you wish to know what is the equivalent of 11 AM IST in the US, you will have to think about the cities closer to the time zone code. Not all countries have a uniform time over the same time zone.
The United States itself has four different time zones: Pacific Time (PT), Mountain Standard Time (MT), Central Standard Time (CST) and Eastern Time Zone (ET).
Before proceeding to set up clocks, please note that you might not be able to set up accurate clocks for cities having a difference of fewer than 30 minutes. The following explains how to create additional clocks in Windows 11/10/8/7.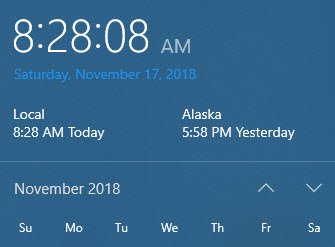 Display Multiple Clocks in Windows 10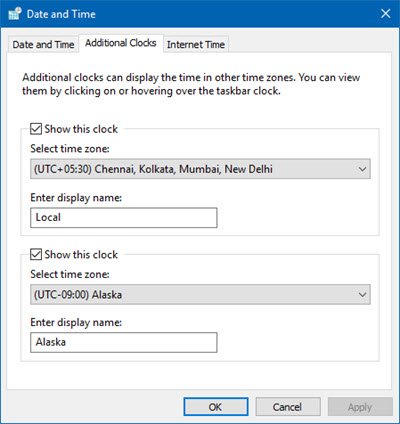 To show Multiple Clocks on the taskbar in Windows 10:
Open Control Panel.
Double-click Date and Time icon to open Date and Time window.
Click the tab saying Additional Clocks.
You can see two instances of Show This Clock.
Click on the checkbox preceding the option to select it.
Upon selecting Show This Clock, you will be presented with the time zone list. Select the time zone you wish to display in the system tray (in addition to the current clock). If you do not know the time zone, check to see if the city you want is present in the list and select it.
Repeat 4 and 5 to set up another clock if you wish.
Click OK.
You can now see all the clocks by positioning the cursor on the time display in the system tray.
Hope this helps!