In this post we will see how to add the day of the week, that is, Monday, Tuesday, etc to the system tray clock in the Taskbar Notification area in Windows 11/10/8/7.
Add day of the week to the taskbar in Windows 11/10
Search for and open Control Panel and then, select Region settings.
Now, from the 'Region' window that appears on your computer screen, select 'Additional Settings' button.
Next, from the 'Customize Format' window, choose the 'Date' tab.
Under Short date add

ddd

in the beginning. That is, make

the Short date as

ddd

-dd-MM-yy

. In this case, only 3 alphabets will be displayed. viz. Mon.

If you prefer the full day displayed viz Monday, then use

dddd

-dd-MM-yy

. Using a comma instead of the hyphen will make a comma display. Try and see if

ddd

, dd-MM-yy suits you. Put the day after the date by using

dd-MM-yy,

ddd

if you wish. 
Incidentally, if you wish, you can display seconds in Windows Taskbar Clock too.

Play around and see what suits you the best. Click Apply > OK and exit.
You will now see the day of the week to display in the taskbar.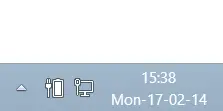 I hope you find this small tip useful.
How to display your Name in Windows Taskbar may also interest some of you.
Others may want to check this post on how to add Address Bar to Taskbar.