I have compiled a list of portable editions of various web browsers for Windows 11/10/8/7, which you carry with you anywhere on your USB pen drive. You can take your bookmarks, extensions and saved passwords, etc. together with you, where ever you go.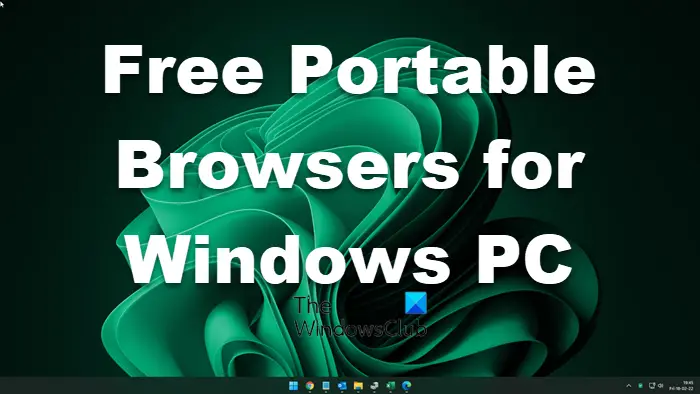 Portable Browsers for Windows 11/10
Here is a list of 10 free portable browsers for your Windows computer:
Vivaldi
Opera
Firefox
Chrome
QtWeb
Maxthon
Avant
Midori
Green
Browzar.
1] Vivaldi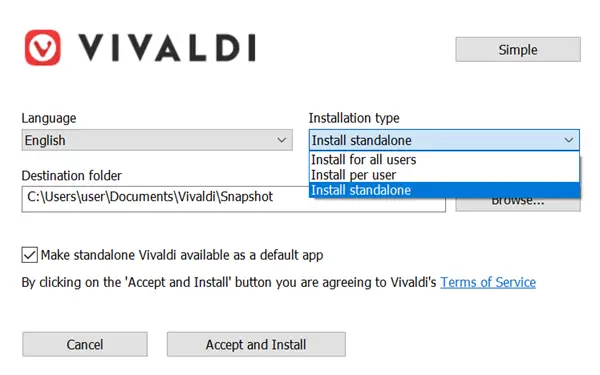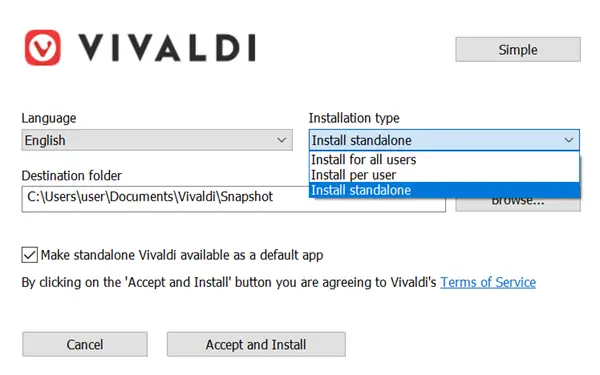 A standalone version of Vivaldi browser can be installed without touching the system-wide settings (profile). It can also be used to create a portable (USB install) of Vivaldi that you could store on an external disk, for sharing between computers. Download it from here, and choose the setup type during installation, from the dorp-down menu.
2] Opera
Opera has the same features as a normal desktop version, surf the web, write emails, use IRC while having your contacts, bookmarks, and settings with you – anytime and everywhere. Download it here.
3] Firefox
Mozilla Firefox, Portable Edition is the popular Mozilla Firefox web browser bundled with a PortableApps.com Launcher as a portable app, so you can take your bookmarks, extensions and saved passwords with you.
4] Chrome
Chromium is the portable version of Google Chrome. All you have to do is unpack and run, and all program settings are saved in "Chrome" folder while user settings go in "Profile" folder. Get it from Softpedia.
5] QtWeb
It is an Open Source Portable Browser that can be stored and run directly from a USB device. QtWeb is available as a stand-alone executable and leaves no traces behind (other than a downloads folder) on the machine it is being run from. Download it here.
6] Maxthon
Maxthon Internet Browser software is a powerful tabbed browser with a highly customizable interface. It is based on the Internet Explorer browser engine which means that what works in the IE browser will work the same in Maxthon tabbed browser but with many additional efficient features. Get it here.
7] Avant
It fast multi-window browser with Popup Stopper, Cleaner and Flash Ads Filter. It adds a batch of features and functionalities to Internet Explorer. Avant Browser application was designed to be one of the fastest web browsers on the planet. It too is based on IE. Get it here
8] Midori
Midori is a lightweight, fast, free & open-source web browser. You can download Midori portable browser from here.
9] Green
Green Browser is a free, skinnable, tabbed portable internet browser that looks and functions much like internet explorer. It makes for a simple alternative to portable Firefox as well. Get it here.
10] Browzar
Browzar portable browser allows you to surf the web privately
Have I missed any? Please let us know.
You might want also to check out this link which talks about alternate web browsers for your Windows computer, each offering a different set of features.