Now that more and more people are moving to Work from Home, a need for a tool that can offer a stable video conference is a must. Zoom is one such platform that allows everyone to host and participate in a virtual meeting. It is powered by HD streaming capabilities, screen share, telephone call-in option, desktop sharing, and a virtual background who wants to make sure an accidental entry of someone else is not embarrassing. In this post, we are reviewing the basic plan for Zoom, which is free for everyone.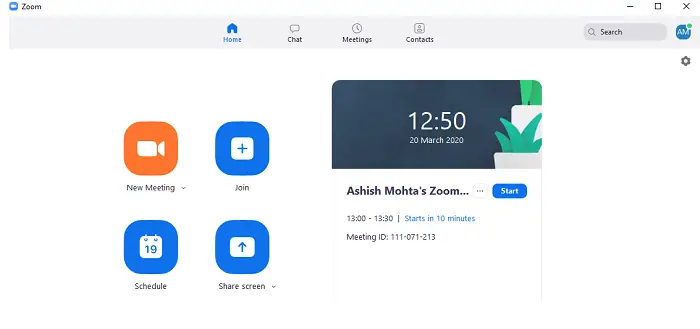 Zoom Video Conferencing App Review
There are many small businesses and institutes which need to connect with their employees for a face-to-face meeting. While there are many free video conferencing software like Microsoft Teams, Skype, WhatsApp group calling, Google Meetings, they are either limited in features, have a limit to the people who can participate in the meeting or have some other issue. The basic version of Zoom can host up to 100 participants for free, and there is no restriction on how many numbers of meetings you can hold. We will share the following in this post
How to use Zoom for meetings
Zoom Consumer Feedback
Zoom Free Plan Features
It is incredible that even the free version of Zoom, you can host or join meetings in HD, allows desktop and application sharing, Video Conferencing features, Web Conferencing with offline video recording, and more. You can also use Zoom apps for Education, Productivity, Collaboration and Recording to get the best experience.
Must read: Best Zoom Settings For Security and Privacy.
1] How to use Zoom for meetings
Zoom is available on all platforms, and it allows anyone to attend a meeting without signing up. Both of these points are crucial, as many would not like to create an account unless it is necessary. That cleared off, let's learn how to set up a basic meeting using Zoom, and invite others to join.
Install and Setup Zoom
If you plan to host a meeting, you need an account. Once you install it on your device, set up your account. It includes testing of the microphone and the webcam. If you are planning to hold a professional meeting, make sure to add a profile picture.  The app offers four major options—New Meeting, Join, Schedule, and Share Screen.
Setting up New Meeting
Use this when you want to start meeting instantly. Click on a new Meeting, and it will open the meeting room with the live webcam video stream. You have the option to invite people, manage participants, share screen, chat, offline recording, and also send reactions. When configuring your video stream, you can choose a different background in the form of pictures or videos. The feature ensures your privacy is maintained.
Read: How to integrate Zoom with Microsoft Teams.
Schedule Zoom Meeting
If you need to organize frequent meetings,it's best to schedule them in advance. When setting up the schedule, you can configure the topic, start date and time, duration, meeting id, password, video requirements, telephone joining option, and so on. You can then send an invitation link to the meeting to participants. The combination of the link and the password will allow them to join a meeting.
Read: Zoom Tips and Tricks for better Video Conferencing.
Sharing Screen during Meetings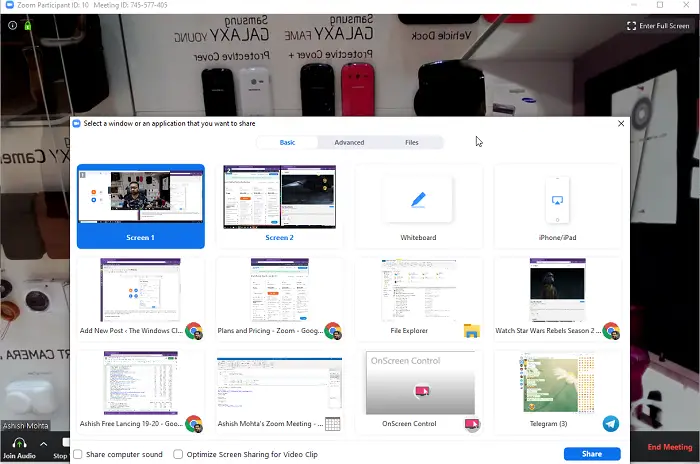 When in a meeting, you can click on the share screen option, and then choose which screen you want to share. You can share anything open on your computer or use a whiteboard if you need to explain an essential point to the group.
Read: Video conferencing etiquette you need to follow.
2] Zoom Consumer Feedback
My spouse uses Zoom a lot for her work, and she is a big fan of the service. It is simple and straightforward to join.  Since it is available on mobile, it makes it a lot easier for her to join such meetings even on the go. The background image is a life savior, and she highly praises the raise hand feature. She has attended a lot of online courses through zoom, and with offline recording options, it makes it easier for her to go through them according to her schedule.
That said,  she also shared some drawbacks. If she is in a large group, the video quality of zoom can take a setback. It is usually compensated by turning off the video of all participants else it delivers pixelated video experience.  The host also faces problems, especially when sharing the screen, and chat features don't work as expected. All this happens in the free version, and the only way to resolve this is the paid version.
So if you are a small group, it works well, but experience degrades as the number of people increases.
Read: Zoom vs Microsoft Teams vs Google Meet vs Skype.
3] Zoom Free Plan Features
Zoom offers the following features in their basic plan. Some of them are limited in terms of quality and time. For example, you have 40 mins limit on group meetings. Here is the complete list for those who want all the details.
Host up to 100 participants
Unlimited 1 to 1 meeting
Unlimited number of meetings
Online support
Video Conferencing Features

HD video, HD voice
Active speaker view
Fullscreen and gallery view
Simultaneous Screen Share
Join by telephone call-in
Virtual Background

Web Conferencing Features

Desktop and application sharing
Personal room or meeting ID
Instant or scheduled meetings
Chrome & Outlook plug-ins
Scheduling w/ Chrome Extensions
MP4 or M4A local recording
Private and group chat
Host controls
Raise hand

Group Collaboration Features

Breakout Rooms
Mac, Windows, Linux, iOS, and Android
Group messaging and presence
Screen share any iPad/iPhone app
Co-annotation on a shared screen
Keyboard/mouse control
Whiteboarding
Multi-share

Security

Secure Socket Layer (SSL) encryption
AES 256 bits encryption
We hope the Zoom Basic Plan which is free helps you hold the online meetings. You need to sign up first at zoom.us to get started.