Zoom has seen an unprecedented increase in usage for every sort of meeting. Businesses, Schools, Family meetup, you name it, and it's happening on Zoom. In this post, I am sharing some brilliant Zoom Video Conferencing Tips and Tricks to help you get a better experience during video meetings. The tips cover Zoom for Desktop and Zoom for Mobile.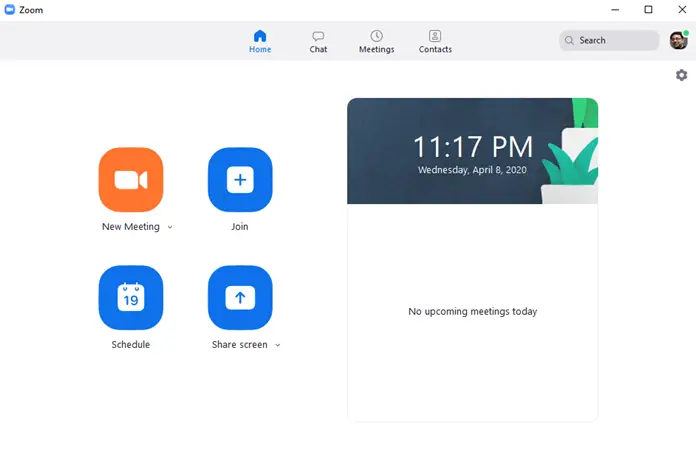 Zoom Video Conferencing Tips and Tricks
Before we start, most of the settings that are available for the Desktop app is also available for mobile apps. There are few exceptions, and it's mostly because of limitations on mobile.
Setting up Zoom Meeting
Joining a Zoom Meeting
Important shortcuts for Zoom on Desktop
Configure Zoom Settings for a permanent setup
Learn keyboard shortcuts for Desktop
Accessibility Options
Third-Party Integrations.
If you are new to Zoom, make sure to go through all the settings. It will make sure you get less embarrassed, speed up the joining of meetings, and cause fewer distractions.
Most of the features are available on Zoom mobile app as well. If there is a desktop specific feature, it may not be available.
1] Setting up Zoom Meeting
Recurring Meeting: If you need to meet a set of people every day and at the same time, then it's best to turn on recurring options when creating a meeting.
Turn off video for all: To speed up, and cause less distraction, it's best to turn off video for all when they join. It gives everyone a chance if they participated in a hurry, and hits less on the bandwidth once you are through some initial conversation, them on one by one.
Keep Audio on for telephone and computer audio:
Every time I join Zoom, I need to click on the "Join via Device Audio" to start hearing and speaking. It's a good idea to keep it enabled, so when you join, you can instantly start hearing.
Waiting Room, Join before the host and mute participants
The Waiting Room feature allows the host to control when a participant joins the meeting. If you have criteria based on which the attendees can join, this is the right approach.
Join before the host feature allows participants to join in before the meeting, and test if audio and video are working for them. One can join the meeting and save the last-minute rush.
If the meeting is of nature where nobody is allowed to speak, then use the mute participants option.
Read: Zoom is crashing Windows laptop.
2] Joining a Zoom Meeting
Keep Video and Audio off: This tip is out of my experience, especially when you join at the last minute. Keep your audio and video off, which will make sure nobody is distracted.  You get time to hear what's going on and then act appropriately.
Read: How to add Zoom to Microsoft Teams.
3] Important shortcuts for Zoom on Desktop
Space bar temporarily unmutes (press and hold space temporarily)
Mute all except host (ALT + M)
Record /Pause Zoom videos (ALT + P)  and Local Recording (ALT + R)
4] Configure Zoom Settings for a permanent setup
Click on the gear icon or settings link in the Zoom App. It will reveal all the global settings for the Zoom app for different sections. When you configure it here, it will apply to individual settings as well. All the settings which we have discussed above can be configured as permanent using this section.  Here are some uncommon settings which you should take a look at.
Video
Touch up my appearance, which in short means beauty effects. It will help smooth out the skin tone on your face.
Spotlight my video when I speak setting will make sure the rest of the people can quickly identify your video.
Audio
Instead of turning it every time, turn on join with audio.
If you like to keep your microphone on mute when joining a meeting, use the Mute Microphone option.
Virtual Background
If you like to hide what's in the background, then use this option. A green screen makes it even better. You can also add your image.
Related: Best Video Conferencing Apps for Windows
5] Learn keyboard shortcuts for Desktop
There are tons of Keyboard Shortcuts available for Zoom. I would recommend you to go through each of them and note down what you need to use most. If you are on Desktop, it can speed up a lot of things for you.
Read: How to enable two-factor authentication in Zoom.
6] Accessibility Options
Enable these three in the Accessibility settings.  The increase in size and font will make sure you can quickly identify the controls and read the text easily.
Show meeting controls
Increase display size
Increase Font Size for Caption
7] Third-Party Integrations
If you use another app to manage the tasks and chat, then find out if you can integrate it with Zoom. For example, Microsoft Teams and Slack support Zoom.
We hope the post was useful for those who are new or have started using the Zoom video app. I am sure these Zoom Video Conferencing Tips and Tricks, including recording zoom meetings, will come in handy.
Must read: Best Zoom Settings For Security and Privacy.