When it comes to online meetings, nobody sticks to one tool. Zoom and Microsoft Teams are both compelling tools; at times, clients might want to get on Zoom instead of Microsoft Teams. The problem with this is to notify people of the team, which is painful because it's manual. That's where the integration between Zoom and Microsoft Teams helps. This post will show you how to integrate Zoom with Microsoft Teams, Schedule, join, manage Zoom meetings from Teams room, or Teams meeting from Zoom room.
Prerequisites
You will need a Zoom account and a Microsoft Teams account. If the Zoom account belongs to an organization, you will need approval to connect. The approval is part of the process when connecting Zoom and Microsoft Teams, which we will see in the configuration steps.
How to integrate Zoom with Microsoft Teams
To add Zoom to Microsoft Teams:
Sign-in with your Zoom account
Agree to Marketplace terms of use
Install Microsoft Teams app
Start using the Zoom Bot
Open the Zoom Desktop Client for Meetings and launch your meeting.
1] Sign-in with your Zoom account, and navigate to Zoom Marketplace. Search for Microsoft Teams apps, and then click on the Sign in to Install button.
2] You will be asked to sign-in again with the Zoom account and agree to Marketplace terms of use. Done that, toggle on the option Pre-approve. It will allow users to install Microsoft Teams. It would then help if you allowed all users on the account with the required permissions to install this app.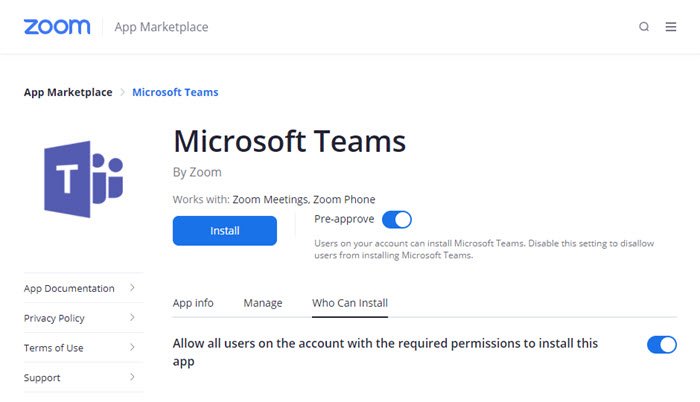 3] Finally, click on the Install button. You will then be displayed a set of permission that Microsoft teams will request from the Zoom account. It includes view and manages contacts, meetings, phone activities, settings, and other things. On approval, you will be redirected to Microsoft Teams, asked to sign-in, and then it will launch the Microsoft Teams app.
It will prompt you to add Zoom to a team or a chat. Please search for the team name, and add the bot to it.
Read: Zoom vs Microsoft Teams vs Google Meet vs Skype.
Using the Zoom Bot
Done that, the Zoom Bot will appear in the chat room, and it will allow you to start, schedule, join Zoom Meetings, and make Zoom phone calls right from your Team space.
start – Start an instant meeting, uses your Personal Meeting ID if it's turned on in your Zoom account setting
start [topic] – Start an instant meeting with a topic
join [meeting ID] – Join a meeting with a meeting ID
help – Show all supported commands
logout – Logout from Zoom on all your Teams'channel
You can also click on the Zoom icon in the text box and then choose to start a meeting or schedule a meeting. You will have to sign-in with your Zoom and the Microsoft account again to get it through. The Zoom meeting will start from the browser and prompt you to open the Zoom Desktop Client for Meetings and launch your meeting.
Zoom bot is also available under the chat section, where you can check all your meetings. When you are here for the first time, you will have to sign again with Zoom and Microsoft Teams. This place helps you create a new meeting, manage any scheduled meeting, and so on.  Post this; you will need the Zoom app only to get into the meetings most of the time.
When you start a meeting from within teams, everyone gets notified about it, i.e., the participants will get a notification, and give them the option to join using their Zoom account.
Zoom and Microsoft Teams integration is probably the best integration right now. Both of them are extremely popular and widely used for business meetings and school and other purposes. Many consumers like to use teams for a chat and other purposes, while Zoom takes care of all the video meeting. Now only this, Zoom also integrates with Facebook and YouTube Live, which makes it a lot better tool.
I hope the post was easy to follow, and you were able to connect Zoom and Microsoft Teams and use it even better.