While Zoom has patched one of its security flaws in the past few months, the dark patch is still left on many consumers' minds. So if you want to delete your Zoom account permanently for security issues or if you had found a better alternative such as Google Meet or Microsoft Teams, then this post will help you delete your Zoom account permanently.
How to delete Zoom account permanently
Deleting the Zoom account is simple, but be aware its an irreversible process. Follow the steps as below:
Open Account Profile page on your browser. If prompted to sign-in, sign-in using the same account you wish to delete. Right under the basic information, locate a link that says, "Terminate my account." Click on it.
It will open a pop-up window where you will be prompted to confirm if your ant to delete the account. Click on the Yes button. Post this, you will be logged out, and your account will be terminated.
A message will be shown briefly shown about the termination of your account. Since there is no process of recovery, even if you try, you will not be able to reactivate your Zoom account.
That said, here is one additional thing you may have to do, depending on the type of your account. If you are using Zoom Basic account, deletion is straight forward. However, if your account is a Zoom Paid, i.e., you have subscribed to one of the subscription plans, then you need to cancel the paid subscription before deletion of the account.
How to cancel existing Zoom Subscription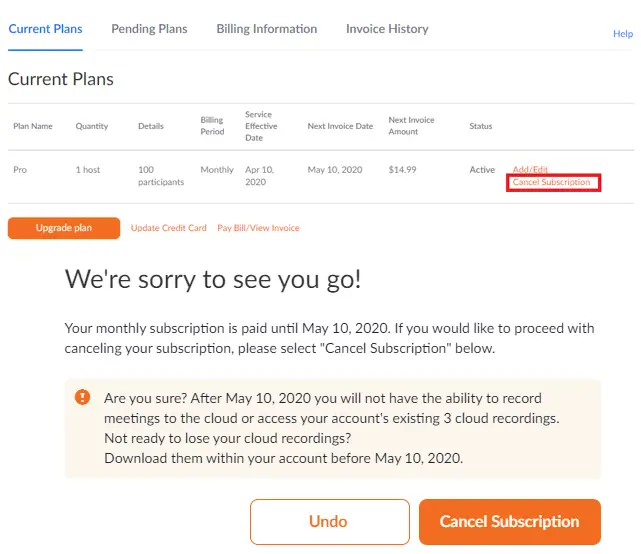 To delete a Subscription,  open the Billing section.  Then on the Current Plans tab, click Cancel Subscription to stop your subscription's automatic renewal. It will then again prompt for confirmation, click on the Cancel Subscription button. Zoom may ask for feedback, which is optional.
It is possible that you see "Contact Sales"  instead of seeing the Cancel Subscription. If that is so, then you need to contact them and get it sorted. Once cleared, you will be able to delete the Zoom account.
That said, there are some effective ways to secure the Zoom account. One is by making sure the app is always updated, and second is not connecting it through any third-party service such as Google or Facebook account. It is best that you signup without them, and use a password which is not associated with the email account in any form.