According to a lot of users COD Warzone and Warzone 2 are unable to connect to the server. When trying to do so, they show the following error message: Your profile was signed out.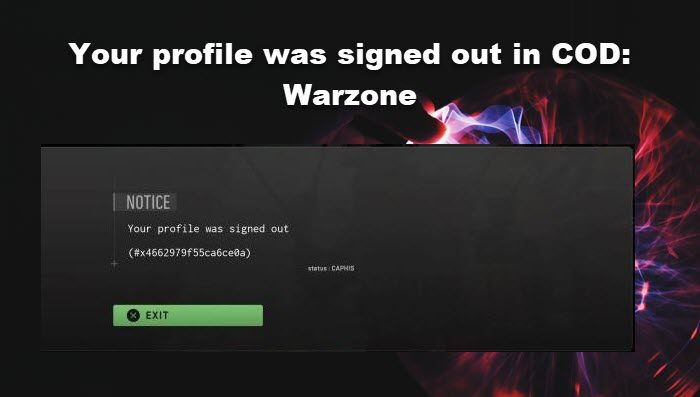 This issue is noticed not just on PC but also on Xbox and PS4. In this post, we will talk about solutions catering to all those users. So, if you are one such user, check out the solutions mentioned here to resolve the issue.
Fix Your profile was signed out in COD: Warzone 2
If you can't log in to Warzone, then before diving head-first into the troubleshooting guide, do check the status of the game's server. If it is down, then you will be continuously affected by the issue due to connectivity issues. And in such circumstances, gamers can only wait for the server to be up and working. If your profile was signed out in COD Warzone or Warzone 2, go through the solution mentioned below to resolve the issue.
Quit and restart your game
Delete Saved Data on PS4 and Xbox
Set the Game voice channel at All Lobby/Party Only
Delete Steam Download cache
Delete DNS cache
Verify game files
Sign in using another account
Let's get started with the troubleshooting guide.
1] Quit and restart your game
The error generally hit console players when they are trying to play with friends via the group option.  In such scenarios, you should simply quit the game client, wait for a few minutes, and then launch the game again. This way any glitches that may be plaguing your game will be resolved, and then see if the issue persists or not. You can do the same if you are on PC as well. In case, restarting the game is to no avail, restart your computer or console as well.
2] Delete Saved Data on PS4 and Xbox
As per some reports, the error message in question will appear if the saved files of the game are corrupted. In that case, you need to delete these files to resolve the issue. To do the same on PS4, follow the prescribed steps.
Open your console and go to Settings.
Go to Application Saved Data Management > Saved Data in System Storage or Storage > Saved Data.
Select your game from the list.
Finally, delete its saved data.
To delete Saved Data on Xbox, follow the steps mentioned below.
Open Settings from Xbox Home.
Now, navigate to System > Storage > Manage storage.
Select View contents.
Go to your game, highlight it, hit the Menu button, and then select Manage game.
You need to click on Saved data now.
Now, you can use the Options menu to delete the files.
After deleting the saved file, restart your console and run the game. Hopefully, your issue will be resolved.
3] Set the Game voice channel at All Lobby/Party Only
A lot of users reported that setting the Game voice channel at All Lobby/Party only seems to resolve the issue. We are going to do the same, and then check whether the issue is resolved or not. Follow the prescribed steps to change the said settings.
Launch Call Of Duty Warzone 2 and then navigate to its Settings.
Now, click on the Audio options and go to the Game voice channel option.
Set the option at All Lobby/Party Only.
You can select Party only option if you want to converse only with your friends. After doing this procedure, launch the game again and see if your account is still getting signed out.
4] Delete Steam download cache
Download cache is a folder of Steams that is used to store downloads or temporary fixes. However, any issue regarding the download cache can cause the concerned error and this is fixable. You can resolve the issue by deleting the Steam download cache, and here's how you can do the same:
Launch Steam and go to Settings.
Click on the Downloads tab.
Select the Clear Download Cache button to delete it.
To flush the Steam cache, you can also run the following command in an elevated CMD:
steam://flushconfig
Finally, launch the game; fingers crossed, you won't see the error code again.
5] Delete DNS cache
Sometimes the DNS cache records corrupted IP addresses, due to which there can be trouble while accessing a website and this can be the cause of the issue on hand. In such cases, by flushing (or force clearing) the DNS, you reset your computer's connection to the internet and resolve the issue. This clears all IP addresses and other DNS records from your system's cache.
Here's how you can flush DNS on Windows 11/10:
Click on the Start button icon in the Taskbar.
Type Command Prompt.
Click on 'Run as administrator'.
Type ipconfig /flushdns in the Command Prompt window.
Press Enter.
A success message will confirm that the DNS cache has been flushed.
Read: Fix Warzone Memory Error 0-1766 on PC and Xbox
6] Verify game files
If you are on a Windows computer and receiving this issue, you need to repair your game files using either Steam or Battle.Net launcher. These launchers have a built-in utility that can scan your game files to verify game files, and if something is corrupted or missing, it will be repaired or added respectively. To do the same, refer to the guidelines mentioned below.
Steam
Open Steam and go to Library.
Right-click on your game and select Properties.
Go to Local Files and then click on Verify the integrity of game files.
Battle.Net
Open Battle.Net.
Navigate to your Library and then go to Warzone.
Click on the cog button.
Select Scan and Repair and then click on Begin Scan.
Regardless of the launcher, you are using to repair game files, you have to wait for the process to complete as it will take some time. Hopefully, you can resolve the issue.
7] Sign in using another account
Last but not least, use another account to sign in and check whether you are able to play the game. Most often, some issues regarding your account can stop you from enjoying the game, so if you can sign in with another account, then the problem lies within your account.
There's also a possibility of your account being banned and if this is the case then you can contact the support team to tell your concern, submit a support ticket to appeal an account penalty and ask them to fix it.