If you receive error code 0x80070057, 0x80004005, 0x80070002, 0x80070003 when switching from Microsoft Account to Local Account in Windows 10, then this post will help you. In Windows 10, Microsoft gives the option of signing into your device with a Microsoft Account or a Local Account. A Microsoft Account is a single sign-on Microsoft user account for users to log into Microsoft websites, devices running on one of Microsoft's current operating systems, and Microsoft application software. It can be use on your devices as well as for several of Microsoft's products and services. You can also use your account for non-Microsoft products.
With a Local Account, all your settings and preferences are tied to that particular device and doesn't allow syncing across other devices. It grants you access to the system's resources and allows you to customize it to your settings and preferences. A local user account in Windows 10 will allow you to install traditional desktop apps, personalize settings. Local offline accounts can be created for a single system, so if you have multiple devices, you will need to use a different local account for each of them.
Your Microsoft Account wasn't changed to a Local Account
Now, in some cases, you might want to change Microsoft Account to Local Account for one reason or the other. In trying to do so, you might receive an error message- We're sorry, but something went wrong, Your Microsoft account wasn't changed to a local account. The accompanying error code could be 0x80004005, 0x80070002, 0x80070057 or 0x80070003. If you face this error, do the following:
1] Open Services Manager and make sure Microsoft Account Sign-in Assistant Startup type is set to Manual (Trigger Start) and User Profile Service is set to Automatic and Started.
2] Run the Microsoft Accounts Troubleshooter and see if it helps you.
3] Perform Clean Boot and try to make the change.
4] You need to check your Group Policy setting. Press Windows Key + R, type secpol.msc in the Run dialog box. Hit Enter to open Security Policy snap-in.
In Security Policy snap-in window, navigate to Security Settings > Local Policies > Security Options
From the right pane, double click Accounts: Block Microsoft accounts.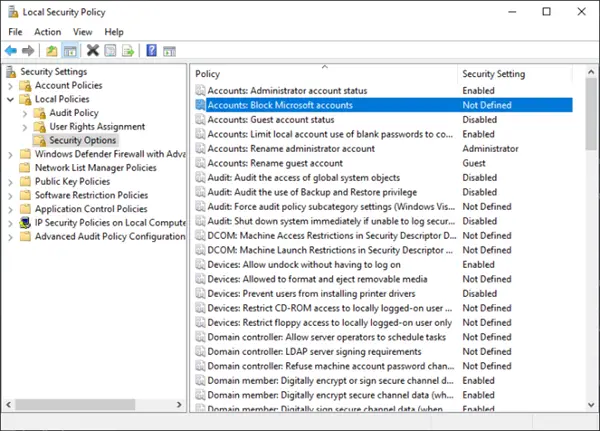 Select from the drop-down menu This policy is disabled.
Close Security Policy snap-in and try switching to a local account.
For Windows 10 Home edition users, the above won't work because just like the Group Policy editor, the Security Policy editor is not built-in Home editions.
TIP: This post will help you if you face the opposite problem – Your account wasn't changed to this Microsoft Account, Code 0x80070426.