Microsoft has a lot of people, especially from the Enterprise sector who rely on Microsoft Outlook for managing their emails and other communication. Some people even use Outlook for their personal emails. But sometimes while creating a new email account, it throws an error with a code 0x80070002. This main issue behind this error is that the file structure is corrupted or the directory where this mail client wanted to create Personal Storage Table files or PST files is inaccessible. And sometimes when you already have an account set up inside of the client, you face issues sending or receiving emails.
This post will help you if you receive An unknown error occurred, Error code 0x80070002 when creating a new email account, or opening or creating a PST file in Microsoft Outlook in Windows 11/10/8/7.
Fix Error 0x80070002 in Outlook
First of all, I would recommend creating a System Restore point just in case you need to rollback to the current state if something goes wrong.
Then, we will verify if the PST files are being created without any issues. For that, you will need to navigate to the following paths-
C:\Users\YOUR USERNAME\AppData\Local\Microsoft\Outlook
C:\Users\YOUR USERNAME\Documents\Outlook Files
Now, in order to navigate to the AppData folder, start by hitting the WINKEY+R button combinations, and then type in %localappdata% and hit Enter. Then, navigate to the path mentioned above.
In case, that you are not able to navigate to the path stated above, you will need to create this path manually.
So, navigate to C:\Users\<USERNAME>\Documents and then create a new folder and name it as OutlookNew.
Then, hit the WINKEY + R button combination to launch the Run utility, type in regedit and hit Enter. Once Registry Editor opens, navigate to the following key location-
HKEY_CURRENT_USER\Software\Microsoft\Office\
Now, under the Office folder, open the folder named after the version of the Office software installed on your computer.
Refer to this list for your version number-
Outlook 2007 = \12.0\
Outlook 2010 = \14.0\
Outlook 2013 = \15.0\
Outlook 2016 = \16.0\
Now, when you are inside your appropriate folder, right-click anywhere on the right panel, hover over New and then click on String Value.
Name the new key as ForcePSTPath and then press OK.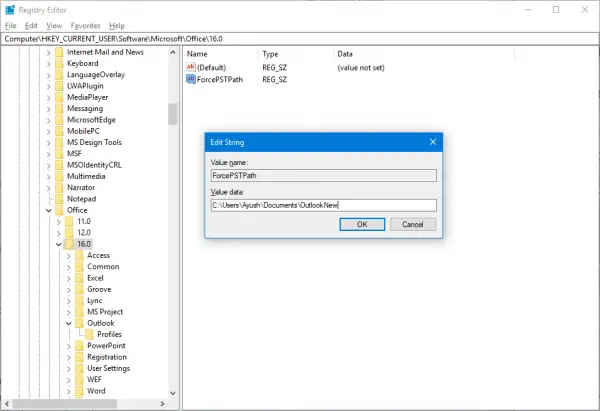 Next, right-click on it and select Modify, and under the field of Value Data, enter the path of the OutlookNew folder that you just created, and click on OK.
Close the Registry Editor and reboot your computer for the changes to take effect.
This should help!
NOTE: Error 0x80070002 can also be seen when using Windows Update, Windows Upgrade, Windows Features, Installer, Microsoft Store, Windows Backup, Sandbox, System Restore, Microsoft Account, Printer, and Hyper-V.