Recently, one of my Alienware laptops gave the following message when I started it: Your battery has experienced permanent failure and needs to be replaced. Strike the F1 key to continue, F2 to run the setup utility. If you see this BIOS message, here are a few things you can try – although I have to say that your options could be limited, and you would have to get a new battery for your laptop. It can happen on Windows 11/10 PC.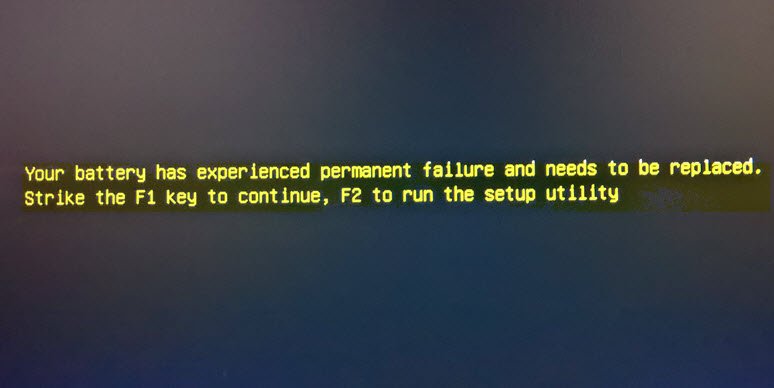 Your battery has experienced permanent failure and needs to be replaced
If you wish to continue working while connected to your Mains supply, you can press F! and boot into Windows. But the moment you shut down your laptop power supply, the device will turn off without saving your data. So click F! and proceed only if you need to access your desktop urgently. Else the sooner you fix this issue, the better.
1] Clean the battery and the connectors
Shut down the computer. Wait for a minute. Remove and clean the battery and the connectors with a soft cloth. Next, press and hold the Power button for about 30 seconds. Now put the battery back and see if you can charge it.
2] Restore BIOS defaults
Press F2 and enter BIOS setup. Select the Restore defaults and Save button and exit to restore BIOS default settings. Did this help?
3] Update BIOS
Update your BIOS and see if the battery status gets changed. If you, too, have received this message on your Alienware or Dell laptop, you will be able to search for an updated BIOS here.
4] Run Power Troubleshooter
Bring up the built-in Power Troubleshooter to troubleshoot problems relating to power or battery; run this command:
msdt.exe /id PowerDiagnostic
Once you hit Enter, you will see the Power Troubleshooter pop-up. Run it and see.
5] Create Battery Health Report
Generate a Battery Health Report and check. To do this, open Command Prompt, type powercfg /batteryreport and hit Enter.
You can then access the report, which will be saved as – C:/Users/username/battery-report.html.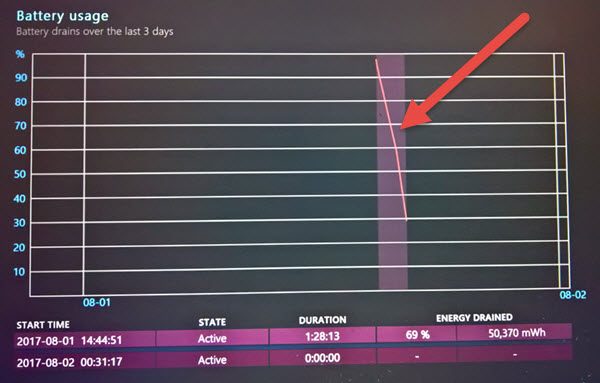 See if anything here helps you.
6] Check message in BIOS
In the BIOS settings, click on the Advanced tab and check what message you see. If you see the same message, it is likely that you will have to replace your battery with a new one.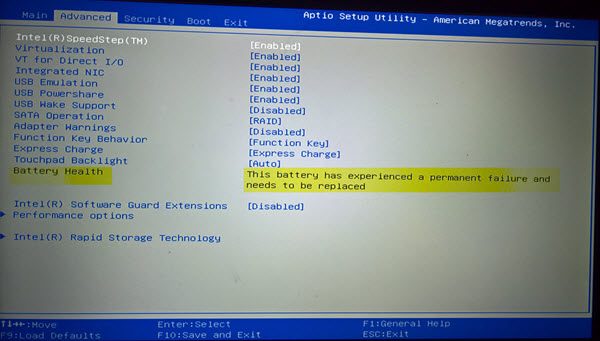 If you are within the Warranty period, contact Alienware or your manufacturer for a battery replacement. If your warranty has expired, you may have to buy it.
Can you still use a laptop with a dead battery?
Yes, the laptop can run directly on power and with no battery. Many users take out the battery and use their laptops directly to keep them from deteriorating. That said, if your battery is dead, you can still use it. However, it is always better to replace it with a new one or take it out to lower the risk. As batteries get old, some swell, which is not safe.
What kills the laptop battery?
Apart from years of regular usage, if you are using a laptop in extreme cold, it happens even faster.  Hence it's a good idea to keep it on your lap or keep the room warm when using it. That said, you also need to ensure the laptop remains cool enough to protect it from hardware damage.