Microsoft has changed the way of using an operating system. Using a Microsoft Account now makes things a lot easier as it can help sync your apps, settings as well as user experience across devices. Some users have reported receiving the following error message in the form of a Toast notification popping up from the Notifications area:
You need to fix your Microsoft Account for apps on your other devices to be able to launch apps and continue experiences on this device.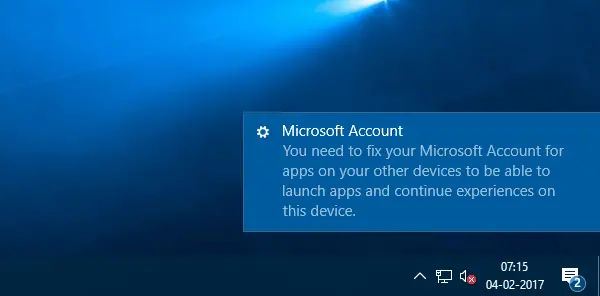 If you receive such an error such error, you would be able to use your machine with Microsoft email account, but you may not be able to receive any email or synchronize anything as usual. You will continuously keep receiving this message right after logging into your system. Clicking on the notification may take you to the Change privacy options settings page. Check if all the settings there are OK.
You need to fix your Microsoft Account
There are several other things you could do:
1] Log out and log in
Log out and log in with your Local Account password or the Microsoft Account password again. Maybe it was a temporary glitch.
2] Use a Microsoft Account
If you are not using a Microsoft Account to sign in, create one, use it and see.
3] Disable Action Center notifications
You could disable Action Center notifications. But this is not a solution as such. You are just hiding the popup notification.
4] Run Microsoft Account Troubleshooter
You could run Microsoft Account Troubleshooter and see if that works for you
5] Verify your identity on this PC
Or you could Verify your identity on this PC. If you have enabled two-step verification in an email account, there is a high chance of getting such an error on a Windows 10 computer.
To verify your identity open Settings > Accounts. Under Your Info, you will see a Verify your identity on this PC link. Click on Verify and follow the on-screen instructions.  You will have to enter either your Email ID or Phone number to receive a code. This email ID and phone number should be the same that you entered while creating the Outlook or Hotmail account.
Hopefully, something should resolve the issue!
Related read: We need you to fix your Microsoft account.