When upgrading from Windows 7 and Windows 8.1 to Windows 10, the Upgrade Notifier basically tells the user if the PC is ready to get Windows 10 Upgrade. This Get Windows 10 app icon shows up in the Windows 8.1/7 taskbar. Some of the users reported that every time they click on OK, let's continue, it says Working on it. This post will help you fix this problem.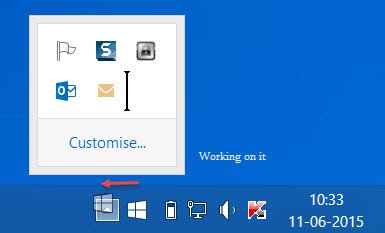 Working On It error during Windows Upgrade
1] Show all Available Updates
Right-click the Get Windows 10 icon in the Notification Area.
Next, Go to Windows Update > click on Show All Available Updates
Check on Upgrade to Windows 10 (Home or Pro).
You will need Administrator permission to continue.
Click OK, then follow the wizard for the update. This will upgrade to Windows 10.
Now even clicking on Show all available updates doesn't reveal any update, you may have to wait for few days for it happens.
2] Manually Install Windows 10
The first version of Windows 10 came out long back, and if you are still stuck on 'Working on it' state, it's better to manually upgrade to Windows 10.  Just before you do that, make sure that the hardware required for your PC meets, and if it's 64-bit make sure the processor supports CompareExchange128 instruction, else you will end up in another error during the upgrade.
To manually install Windows 10, you need to download the ISO file from Microsoft, then either upgrade to Windows 10 right from there or create a bootable media or USB and clean install Windows 10. 
When clean installing Windows 10, make sure you take backup of all the files, and software files if any. You will have to reinstall a compatible version of the software, drivers, and everything you were using on the previous version of Windows.
That's it!