While connecting a Wireless Xbox controller to a Windows 11/10 PC is fairly simple (either via USB cable or through Bluetooth), some users are reporting that their Wireless Xbox One controller requires a PIN for Windows 11/10.  The steps are pretty simple to connect over Bluetooth.
To connect Xbox Wireless Controller to your Windows 11/10 PC, you need to have an Xbox Wireless Adapter for Windows. Many Laptops have this inbuilt; else you need to buy it. So if you have been trying to connect it to your normal Bluetooth adapter, it's not a surprise that it is asking for a PIN. So assuming that you are using the recommended adapter, and it is still asking for the PIN, follow the guide below.
Wireless Xbox One controller requires a PIN
Interesting to note that many users have tried connecting it to the MacBook, and it worked. Xbox One is not an issue at all, it is just connecting to the Windows 11/10 PC that is causing all these problems. The good news is that you don't have to find any PIN anywhere to fix this, but only update your Xbox One controller driver. Many a time drivers are a mismatch with the Windows 11/10 version and cause this sort of problem.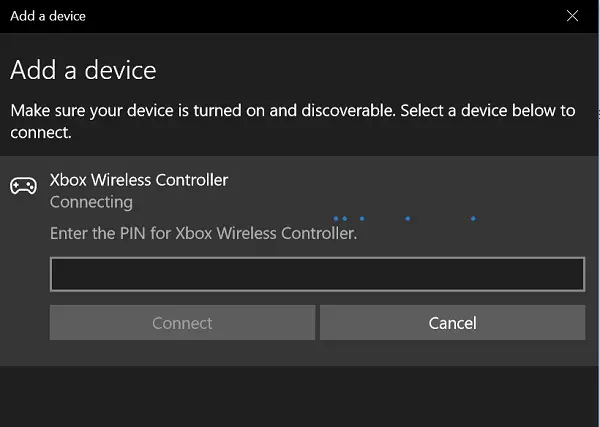 Follow the steps below to Update Xbox One Controller Driver:
Hold the Xbox button on the controller to turn it off. Once it's turned off, keep it in that state for a few minutes.  You can also take off the battery pack, and leave it for few minutes.
Turn it back on using the Xbox button again.
Now, connect your wireless controller to the Xbox using a USB cable to update drivers.
To check for updates manually, open its Settings  > Kinect & devices >Devices & accessories > select your controller, and update.
On your Windows 10 PC, make sure to update the drivers of your Xbox Wireless Adapter for Windows. Just check if there is an update pending. If yes, update it, and restart your PC.
Now try connecting your Xbox Controller over Bluetooth, and it should resolve your problem.
If you do not have an Xbox One PC, and you bought the controller to play it on your PC, it is possible to update the controller on the Windows 11/10 PC as well over USB. Follow the link above. You will need to download the  Xbox Accessories app from the Windows Store. It's the same app which is used in Xbox One to configure and manage Xbox One controller.
Where is the PIN for Xbox One controller?
The PIN for Xbox One Controller is written on the controller's package that came with your device. In most cases, the default PIN is either 0000 or 1234. However, you must check the package before entering the PIN on your Windows 11/10 computer.
Why won't my wireless Xbox controller connect to my PC?
There could be various reasons why your wireless Xbox controller cannot connect to your computer. It may happen due to incorrect settings, wrong PIN, Bluetooth problems, and so on. Depending upon the situation, you can execute different tips and tricks to eliminate the issue.
Read: Fix Xbox Controller Bluetooth keeps disconnecting on Xbox console or PC