If your WinX Menu is not working in Windows 11/10 here are a few things you could try to fix the problem. The WinX Menu is the power menu which opens up when you right-click on the Start Button. It also opens when you press the Win key+X Key on your keyboard. But you may face a situation where you find that either the WinXMenu does not open, is not working or its shortcuts do not work as expected. Read on if you face this issue.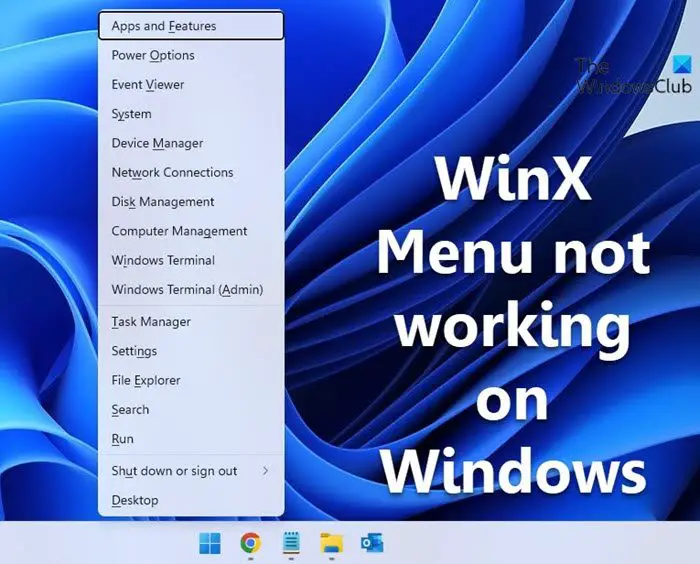 WinX Menu not working on Windows 11/10
The WinX Menu shortcuts are available in the following location:
C:\Users\ACK\AppData\Local\Microsoft\Windows\WinX
Take a look at it and see if you need to create fresh shortcuts there or replace the corrupted ones with good ones from another system.
1] Run SFC and DISM
To rule out the possibility of system file corruption, I suggest you run System File Checker as well as DISM to repair the System Image. You may download our freeware Ultimate Windows Tweaker to run them with a simple click of a button.
2] Troubleshoot in Clean Boot
To rule out the possibility that any 3rd-party process may be interfering with the smooth functioning of the WinX Menu, perform a Clean Boot and see if you can reproduce the problem. If it does not occur, then you will have to manually try and identify the offending process that is causing the WinX Menu to malfunction.
3] Check Explorer shell extensions
Programs often add context menu items. You might want to download and use ShellExView to check the shell extensions that may have been added. Try and isolate the culprit using this free tool. You could disable the non-Microsoft shell extensions one at a time and identify the offending context menu item. After disabling an item, you need to restart Explorer every time.
4] Remap or Reset Hotkeys
Maybe some software you installed re-mapped the hotkeys. You could uninstall the recently installed programs or use some freeware to help you remap the hotkeys or reset the Keyboard to default.
5] Tweak the Registry
A user who posted a similar problem on our forums mentioned that this helped him. Open Registry Editor and navigate to the following key:
HKEY_CLASSES_ROOT\lnkfile\IsShortcut
Ensure that it is NOT named to NoIsShortcut or anything else. It should be IsShortcut.
6] Uninstall these problematic programs
Users on Reddit have mentioned that uninstalling programs like QuickSFV, Directory Opus, AirDroid helped them. If you have these installed on your PC, you may want to take a call.
If nothing works, you may have to consider carrying out a System Restore or Refresh your system.
All the best!