If you receive an error message – Windows Media Player encountered a problem while playing the file, when you try to play AVI, WAV, MOV, etc., you need to install the codec files for the same. This post will show you how to do it.
In this post, we are taking the example of AVI files, but a similar procedure applies to all file formats which give this error.
Before you begin, you may want to run the Windows Media Player Troubleshooters and the Fix WMP and FixWin tools and see if they help you in any way.
Windows Media Player encountered a problem while playing the file

Audio Video Interleave, better known as AVI is a popular container file format used for watching standard definition videos in a wide variety of media players. It offers a good viewing experience and decent sound quality. The same experience, however, is not replicated when it comes to Windows Media Player. Why? Many AVI files contain video streams that are encoded using codecs that Windows Media Player cannot normally interpret or support. As such, when you attempt to playback such a file, all the player streams, is audio, no video.
Add AVI Codec to Windows Media Player
To make AVI files playable on WMP, it becomes necessary to equip the player with some codecs. A Codec is a small program that converts data from one form to another. The 2 well-known codecs for AVI files are DivX and Xvid. Installing these codecs will enhance the possibility to playback AVI files on Windows Media Player.
When you download AVI file and attempt to run it in Windows Media Player, you get an error stating 'Windows Media Player Encountered a problem while playing the file'. When you see it, hit the 'Web Help' button, adjacent to the 'Close' button.
Soon, after that, you will be navigated to 'Edge browser'. A new webpage will open giving a brief description of the error seen.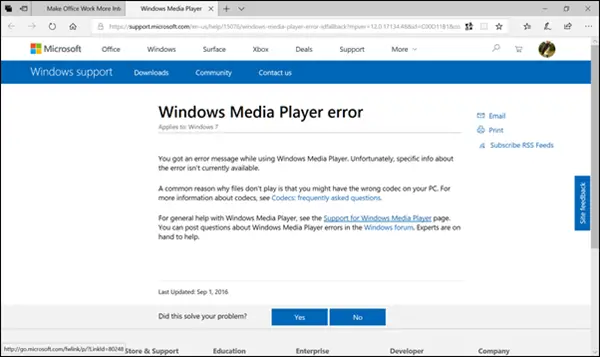 If they offer you a solution, great – else, you can download the MPEG-4 (Xvid) codec from their website.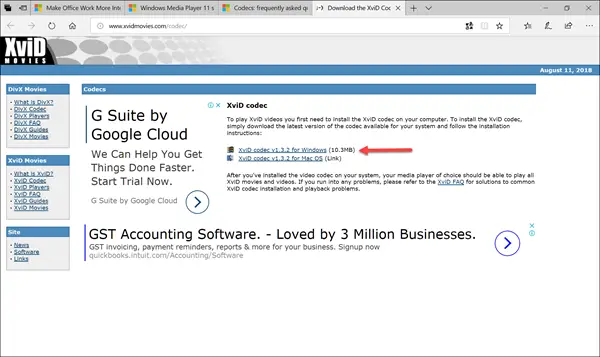 Download the codec to your PC, run it and after that, follow the on-screen instructions. Complete the Setup to proceed further.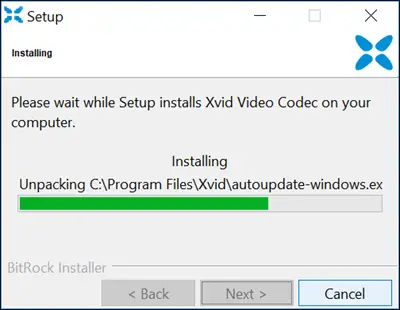 Once done, try opening the same AVI file using Windows Media Player and when prompted, select the 'Close' button from the message.
Restart Windows and try again. It should work.
Read: How to download & install codec on Windows.
There are other alternative Codec Packs too:
1] You can try K-Lite Codec Pack. It is a collection of audio and video codecs for Microsoft Windows that enables a wide variety of audio and video formats for it. Get it here.
2] The Media Player Codec Pack for Windows Media Player supports almost every compression and file type used by modern video and audio files.
Compression types that you will be able to play include: x265 | h.265 | HEVC | 10bit x264 | x264 | h.264 | AVCHD | AVC | DivX | XviD | MP4 | MPEG4 | MPEG2 and many more.
File types you will be able to play include: .bdmv | .evo | .hevc | .mkv | .avi | .flv | .webm | .mp4 | .m4v | .m4a | .ts | .ogm | .ac3 | .dts | .alac | .flac | .ape | .aac | .ogg | .ofr | .mpc | .3gp and many more.
Download it here.
3] The Codec Installation Package from Microsoft can be used as an alternative to automatically downloading Windows Media Codecs, or to correct problems experienced with previously-downloaded codecs. It is available with Microsoft – but check if it applies to your version of Windows and WMP.
Related read: Windows Media Player cannot play the file.