The word Codec is an acronym of the words compressor and decompressor. Codecs are a program that compresses a video and later helps to decode it. So if you receive an error — A codec is required to play this file; it means you don't have the codec to decode and play the file on your computer.
A codec is required to play this file. To determine if this codec is available to download from the Web, click Web Help.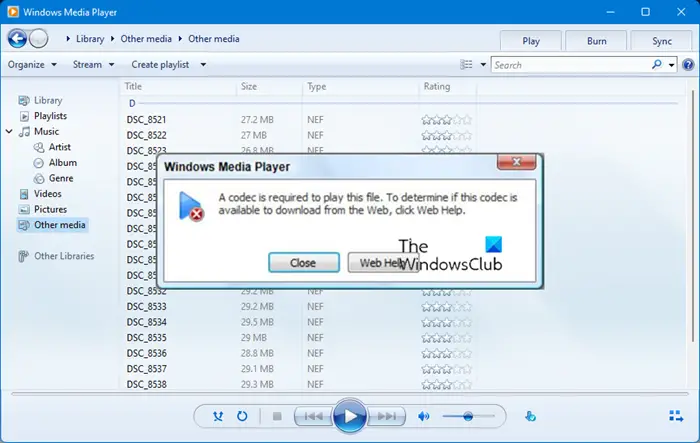 Similar other messages you could see are:
Windows Media Player cannot play the file because the required video codec is not installed on your computer.
Windows Media Player cannot play, burn, rip, or sync the file because a required audio codec is not installed on your computer.
Invalid File Format.
A codec is required to play this file
Think of it as a program which can reduce the size of a video file so the end-user can download it faster. Later, the consumer can decode the file and play it on his computer. Since there are many codecs, unless you have the right codec, you cannot play the file.
Further, there are many scenarios. Sometimes the video plays without audio, occasionally its the sound which plays with a blank screen. So what can do when the video doesn't play, or it doesn't open. We need the right codec. Some of you might have seen this with Windows Media Player.
But then how do we decide which codec is required? How can you check the installed codecs? It's hard to guess unless the player gives out a specific name or you use the CodecInstaller. So in this post, we are listing some popular codecs and players which you can use to play any files.
How to download & install codec on Windows 10
You can configure Windows Media Player to download codecs automatically. To do this, open Tools > Options and click the Player tab. Select the Download codecs automatically check box, and then click OK.
You can also download and install the codecs manually. To install a codec, you have to clcik on its installer setup file. To uninstall the codec, you can do so from the Control Panel. Some codecs are available in the Microsoft Store. To uninstall them, look for the app in the Start Menu apps list and uninstall them from here.
Here is a list of Codecs you can download on your computer. If this doesn't work, you can choose some favorite players which include many codecs and plays almost any file.
Advanced Shark007 Codecs
CCCP – Combined Community Codec Pack
K-Lite Codec Pack
ffdshow
LAV Filters
Media Player Codec Pack
Codec Installation Package.
These are more of codecs pack than just being a single pack.
1] Advanced Shark007 Codecs
Apart from the usual codecs, it can also play 4K UHD /HDR H265/HEVC and MVC using H264 codecs. It is activated by default. When installing the codec pack, it will ask you to disable or remove existing codecs from your computer. Here is the list of features:
Full-color thumbnails including FLV's and 10bit MKV's. Along with the preview.
Allow use of the PowerDVD decoders for 32bit LiveTV in Media Center.
Support use of the LAV filters with the Play To function for MKV files.
Support playback of MOD audio files and M4A files containing ALAC and more.

Download from here.
Read: The media could not be loaded, either because the server or network failed
2] CCCP – Combined Community Codec Pack
It includes a playback pack for Windows which supports most of the video formats. However, it was last updated in 2015. So you may want to check on other codecs as well.
Download from here at cccp-project.net.
Related: Video could not be decoded.
3] K-Lite Codec Pack
The packs include 32-bit and 64-bit codecs.  The codec supports subtitle display; hardware accelerated video decoding,  audio bit streaming, video thumbnails in Explorer and more.
Download from here.
4] ffdshow
It supports formats such as Xvid, DivX, and H.264. Along with this, it also includes a robust filter set that can enhance the video quality.
Filters for resizing, de-interlacing, and displaying subtitles
It enhances audio quality through normalization, down-/upmixing, and resampling.
The software pack also offers user interface which lets you configure codecs, show/hide filters, create a profile and so on. You can export and import settings as well if you ever had to reinstall.
Download from here.
5] LAV Filters
This decoder that uses libavformat to play all sorts of media files. libavformat is a library from FFmpeg. Ithe library offers a generic framework for coding and decoding audio, video and subtitle streams.
Download from here.
6] Media Player Codec Pack
The Media Player Codec Pack for Windows Media Player supports almost every compression and file type used by modern video and audio files.
Compression types that you will be able to play include: x265 | h.265 | HEVC | 10bit x264 | x264 | h.264 | AVCHD | AVC | DivX | XviD | MP4 | MPEG4 | MPEG2 and many more.
File types you will be able to play include: .bdmv | .evo | .hevc | .mkv | .avi | .flv | .webm | .mp4 | .m4v | .m4a | .ts | .ogm | .ac3 | .dts | .alac | .flac | .ape | .aac | .ogg | .ofr | .mpc | .3gp and many more.
Download it here.
7] Codec Installation Package
The Codec Installation Package from Microsoft can be used as an alternative to automatically downloading Windows Media Codecs, or to correct problems experienced with previously-downloaded codecs. It is available with Microsoft – but check if it applies to your version of Windows and WMP.
Use a Modern Media Player
Codecs were a massive problem in earlier days. Now, Windows 10 can successfully play most of the standard files. Windows Media Player, Movies and TV apps are good enough to play any videos. Further, the majority of best free media players can play almost any files, and with players like VLC, you never have to download anything from the internet.
Let us know in the comments if this helped.
Useful links:
Manage, detect, remove broken Codecs and Filters with Codec Tweak Tool
Identify audio & video codecs required, with VideoInspector.