Codec Tweak Tool is an application with a standard stand-alone K-Lite Codec Pack that helps users detect and remove broken or damaged codecs, filters, and splitters after scanning a massive database of codec lists.
Why do we need codecs?
It is necessary because audio and video files are large, and due to size issues, it becomes difficult to send files across the internet quickly. To speed up this process, Codecs were built that help to encode a signal for transmission and later on decode it for viewing, so in the absence of codecs, the downloads would take much longer than they do now.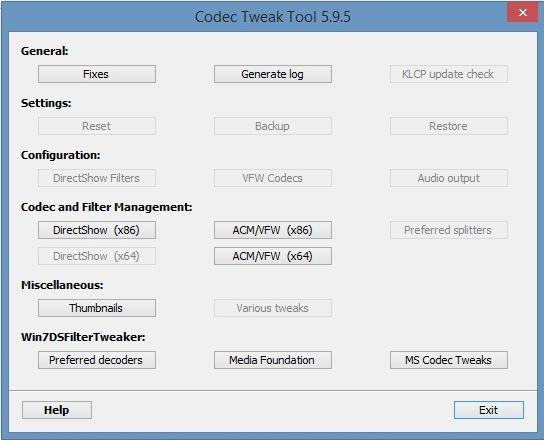 Codec Tweak Tool for Windows
Codec Tweak Tool provides users with code information that is broken, damaged, or installed as a detailed log. It allows users to enable/disable all or one codec pack in a few clicks.
The workflow followed by the application to detect broken codecs is as follows. It scans the registry, looks for damaged codes, and removes all those splitters. The tweak tool helps users to restore a codec if it is removed or deleted by mistake.
The freeware also has a few handy options to optimize the performance of audio/video output. Users can hit the Fixes option under the General menu. This will detect and remove broken VFW/ACM codecs and help re-register base DirectShow filters. It will also clear Windows icons, font, and ActiveMovie filter cache.
The tool can also collect system information and lists all 32-bit and 64-bit installed DirectShow filters, ACM/VFW, and DirectX Media Objects.
The DirectShow, ACM/VFW, and Preferred Splitters under Codec and Filter Management option can be used to enable or disable Microsoft G.711 decoder audio and IVF source filter files.
The Preferred Decoders option under the Win7DFilter Tweaker section helps enable or disable 32 & 64-bit decoders for H.264, XVID, DIVX, MP4V, HEVC, MPEG-1, MPEG-2, WMV1, WMV2, WMV3, WMVA, DVSD, AAC, LATM AAC, MP3, MP1, MP2 file formats. Users can change codecs from Microsoft default codecs to use MERIT codecs.
The tool also allows disabling codecs for a wide range of file formats under Media Foundation settings. The Microsoft Codec tweaks option can disable Microsoft DTV-DVD Audio, Video Decoder, Mpeg4s, Mpeg43, MP3 Decoder DMO, and Media Foundation.
You may download Codec Tweak Tool from its official website here. It works on Windows 11/10 too.
Is tweaking codecs necessary?
Codec packs compress or decompress media files such as songs or videos. The codec consists of two parts – an encoder that encodes those media files and a decoder that decodes or decompresses the file. Tweaking codecs can help generate better outputs that use codec packs to run.
How do I find which Codec I need?
It is possible to determine what codec was used in a particular file by playing it using the Player. Choose Properties when the file is playing in the library by right-clicking it. The Audio codecs and Video codecs sections are located on the File tab.