Most have heard the word Codec and may have wondered what it stands for and what it is used for. This post will tell you key points regarding Codecs on your computer and the reason why they are installed on your Windows PC.
What is a Codec?
Codec stands for Coder and Decoder or Compressor and Decompressor. And technically, a codec is software used to compress or decompress a digital media file, such as a song or video. Media Player and other programs use codecs to play and create digital media files. There are codecs for many purposes – for example, audio, video, XviD, DVD, etc.
How do Codecs work?
Sometimes you have a video that is coded in some format, either to compress it or to make it lightweight. Codec compresses audio, video, and digital media. And these compressed media files are preferred as they occupy a smaller space than uncompressed ones. MP3 encoding tools analyze incoming source signals, break them down into mathematical patterns, and compare these patterns to psycho-acoustic models stored in the encoder itself.
The Codec does the reverse job as well by 'uncompressing' the compressed format of MP3 or any other digital media so that they can be played on the media player. This is called Uncompressing.
What does a Codec do?
There might be times, however, when you want to play content that was compressed with a codec that Windows or the Player doesn't include by default (for example, a file compressed with the DivX video codec or the Ogg Vorbis audio codec). To play this type of media file, you need a codec that can be downloaded for free on the internet. VLC player is recommended, It can play many more types of files than most other media players and it is completely free.
Choosing the right codec matters a lot. Bad people can compress malicious software along with media files that get onto your computer disguised as harmless file. Media-Codec files often gain access to your computer when you try to watch videos on the web.
To address all frequently asked questions regarding Codec, I will list them here and will give answers to them as well
Why do I need a

codec

on my computer?
A video or audio file is usually compressed using a codec to reduce the space it occupies or to quickly transfer it across the Internet. To decompress these files it requires codec to be installed on your PC
Why does my media player not contain all

codecs

?
Sadly there are many codecs available and still continue to come up. Applications use different codecs to stream audio, video over the internet. The media player may not contain all these codecs.
Where can I download Codecs?
There are codecs from multiple vendors on the internet that can be downloaded for free. The popular one is the Klite Codec pack.
Which media player offers support for almost all

codecs

?
Popular media players such as WMP12 and VLC offers extended support for many codecs.
Is

codec

and file format the same?
No, sometimes they have the same name – for example, Windows Media Audio contains data that is compressed by using the Windows Media Audio codec. However, a file format such as Audio Video Interleaved (AVI) can contain data that is compressed by any of a number of different codecs, including the MPEG-2, DivX, or XviD codecs.
How do I know about the installed

codecs

on my computer?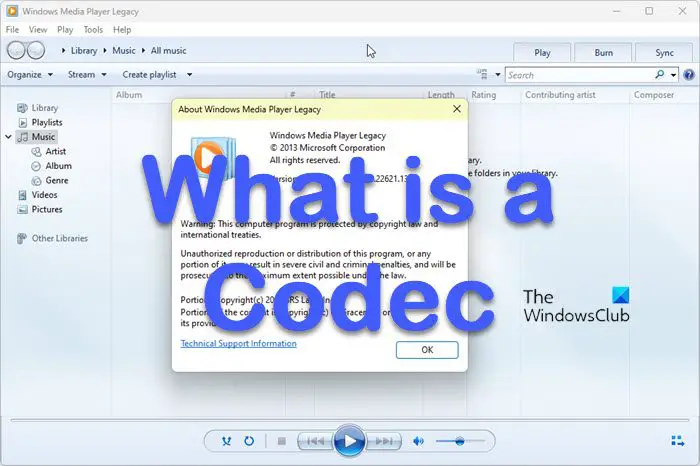 You can check the installed codecs on your Windows computer.
Launch Windows Media Player and then click "Help"
Click "About Windows Media Player".
Click "Technical Support Information"
It then lists all codecs installed on your PC.
How to determine which

codec

was used to compress the file?
This can be done using Codec Identification Tools.
TIP: Download Windows 10 Codecs here.
I installed missing

codecs

and still cannot play the files.
Always remember that codecs are available for 32-bit or 64-bit operating systems separately. Make sure you install the 64-bit codec if you are running 64-bit operating system.
I hope I have covered almost all FAQ's on codecs if you still have some questions do list them in the comment section below.
Bonus Tip: The Codec Tweak Tool can help you manage, detect, and remove broken Codecs and Filters.