Playing media files should be easy for any player in today's times. But we still face problems while playing certain media files in some systems. This happens because the required Codec may be missing in some systems.
A Codec is a software that is used to compress or decompress a digital media file,  such as a song or video. There are hundreds of audio and video Codecs in use today. Some have been created by Microsoft, but most Codecs have been created by other companies, organizations, or individuals.
Media Codec Packs for Windows 11/10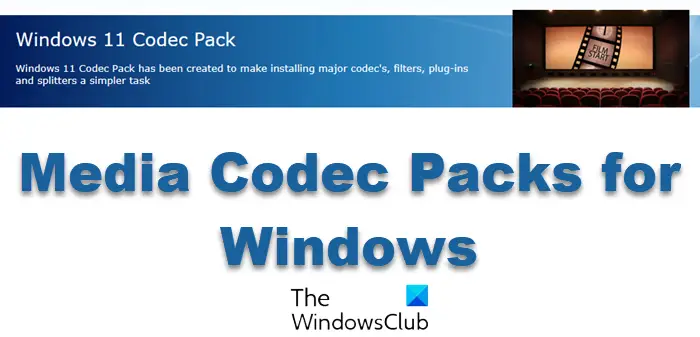 Codec Packs allow the running of any media file or song of any format.  The best or most popular three Codec Packs for Windows 10 have been covered below.
1] Windows 11/10 Codec Pack
Almost all kinds of files which are played have codes attached to them. But many a time when we actually play large and high-quality files on these Codec, they not only interrupt the file while playing but also stop the video, and possibly even crash the video player. So as to avoid this crashing, the Window Codec pack is recommended. The Windows Codec Pack supports almost every compression and file type used by modern video and audio files. It is quite easy to install.  Users of this Codec Pack need not go online if you need to debug crashes. It has an inbuilt debugger. Get it here for Windows 10 or here for Windows 11.
2] Media Feature Pack for Windows N
Windows 11/10 N and the KN versions are designed to offer similar functionality as the main Windows editions, except that they miss the media features and related technologies. You can use the Media Feature Pack for Windows N and KN.
3] K-Lite Mega Codec Pack
Many files are embedded with randomized formats. For every format,  coding is present. Most formats can be plugged into every player. But some cannot. The K-Lite Mega Codec has the ability to play every prescribed format file which the user wants.  With the K-Lite Codec Pack, you should be able to play all the popular movie formats and even some rare formats. This package is mainly for power users and people who do their own encodings. Get it here.
4] Shark007 Codec Pack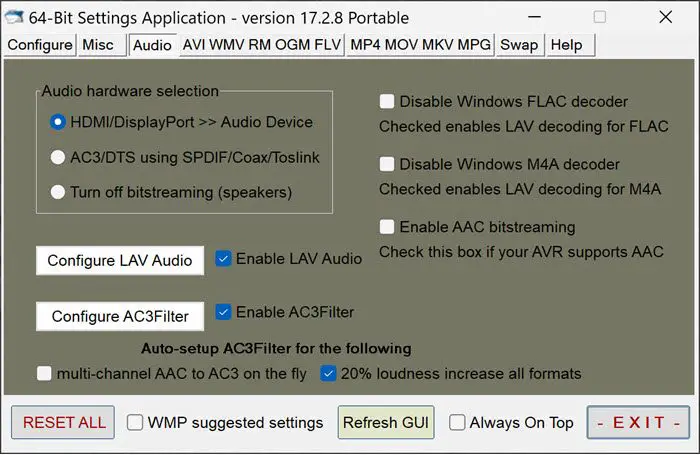 With Shark007 Codec, now you can enjoy quality HD Audio and Video playback in a much simpler way than the rest. You will also be able to watch High Definition videos without the need of premium players, as this Codec Pack will allow you to get everything possible.
The Shark007 Codec supports the following file-types including amr, mpc, ofr, divx, mka, ape, flac, evo, flv, m4b,  mkv, ogg, ogv, ogm, rmvb, xvid.
Main features include:
Full-color thumbnails, including FLV's and 10bit MKV's
Enable the Preview Pane for ALL newly enabled file types, such as MKV and FLV.
Explorer properties are displayed for non-native file types such as MKV and FLV
Updated often – and has update notification built-in
Allow use of the PDVD12 decoders for 32bit LiveTV
Supports the use of Xbox360 as Extenders to playback MKV files
Allows single-click setup of

Bitstreamed

Audio
Support playback of MOD audio files and M4A files containing ALAC
Supports playlist creation for use in Media Center
Allow users to Enable/Disable

codecs

installed on their system
Functionality such as WinDSFilterTweaker built-in.
Support 'Add to Windows Media Player List' using right-click on all files such as MKV.
A settings Application has also been attached with this Codec Pack, to be used in conjunction with your preferred Windows Media Center Setup. This will allow the user to acquire the privilege of choosing different types of splitters and decoders for each specific Filetype. Get it here.
5] DivX Codec Pack
Shark007 codec pack meets most of the requirements, but I am very curious to test other packs that support MKV format and stumbled upon the DivX Media pack HD. I found MKV quality much better with the DivX codec pack; though this does not support all the formats that Shark007 does, the MKV quality is truly great and comes with DivX Media player.
DivX pack also contains codec packs for browsers that enable video streaming through browsers as well. It also supports streaming MKV files to your Xbox and PlayStation.
Visit divx.com to download it.
Bonus Tips:
Use CodecInstaller to identify and install missing Codecs in minutes.
The Codec Tweak Tool can help you manage, detect, and remove broken Codecs and Filters.