This post will show you how to check Bluetooth Codec in Windows 11/10. Bluetooth Audio Codecs determine how Bluetooth transmits from the source device to your Bluetooth device. These encode and decode digital audio data into a digital format. However, different devices support different Codecs, each with different characteristics.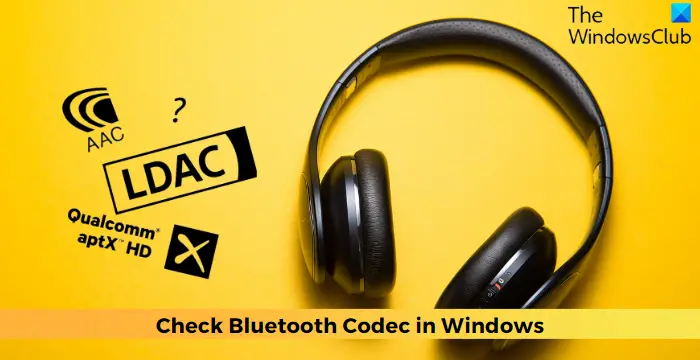 What Bluetooth audio codec does Windows 11 use?
There are various Bluetooth Audio Codecs like SBC (Subband Coding), AAC (Advanced Audio Coding), aptX, and LDAC (Low-Delay Audio Codec). The codec being used depends on which one is supported by the connected bluetooth device. Windows automatically uses the one supported by both devices.
Windows 11 natively only supports AAC and SBC Bluetooth codec:
SBC: This is the basic audio codec developed by Bluetooth Standards Organization. It has a low 16-bit depth rate, a max 320 Kbps bitrate, and a 48 kHz maximum frequency.
AAC: Advanced Audio Coding is the Bluetooth codec for Apple devices. The sampling rate is 44.1 kHz, and the maximum bit rate is 320 Kbps.
How to check Bluetooth Codec in Windows 11/10?
No default method is available in Windows to check for Bluetooth Codecs. However, you can extract this information using third-party applications. Here, we'll be using Bluetooth Tweaker, i.e., a Windows tool that can check for supported codecs used by connected devices. It's a paid application but offers a free trial for 7 days.
Here's how you can check Bluetooth Codec on your Windows device:
Download Bluetooth Tweaker and install it and select the option to Start Trial.
Once the application is installed, you'll be asked to reboot your device to finalize the procedure.
On reboot, connect the Bluetooth device whose audio codec you want to know.
Launch the Bluetooth Tweaker app and select your connected device in the left pane.
Click Refresh CODEC Information.
All the relevant information, including the codecs supported by the device and your PC, will be visible.
The Trial Version lets you check the CODEC information of only one Bluetooth device. Once your job is over, you may uninstall the tool.
Read: How to check Bluetooth Adapter version in Windows 11
I hope this helps.
Does Windows 11 have AAC codec?
Advanced Audio Coding, or AAC, is one of the codecs supported by Windows 11. It's a popular bluetooth codec used by Apple Music, Spotify, etc., for high-quality audio streaming. However, if your bluetooth device does not support AAC, Windows will automatically use the next best codec available.
Read: How to check installed Codecs on Windows 11
How do I find video codecs in Windows 11?
To find video codecs on your Windows device, right-click on the video file in the library and select Properties. Navigate to the file tab to find the video codec in the Audio codec and Video codec section.