Bluetooth is one of the most common methods used to transfer the files between a mobile device and the computer, but many times the version of Bluetooth is not supportive which creates issues in connecting and transferring the files. While most of the Smartphones today support Bluetooth 4.0 or later, you won't be really able to transfer the files if your Windows 11/10 PC is not supporting at least Bluetooth 4.0.
For those who don't know, Bluetooth 4.0 is an optimized version of Bluetooth technology that enhances the feature while maintaining compatibility with other devices. It is also termed as a low-energy version of Bluetooth because it is supported by small battery-operated devices as well.
Not everyone is actually aware of the Bluetooth profile version of their device, which is quite important. However, we can easily check the Bluetooth version manually too, there are certain tools also available which will help you check the version of Bluetooth on your Windows 11/10 PC.
Find Bluetooth Version in Windows 11/10
You can easily check the Bluetooth version of your Windows 10 PC via the device manager.
Press Win+X to open the Start Menu and select Device Manager.
Under Bluetooth, you will see several Bluetooth devices.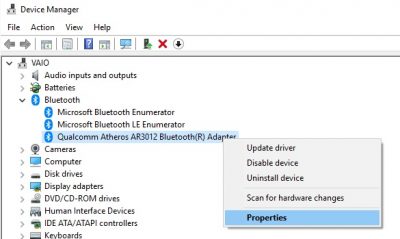 Select your Bluetooth brand and right-click to check the Properties.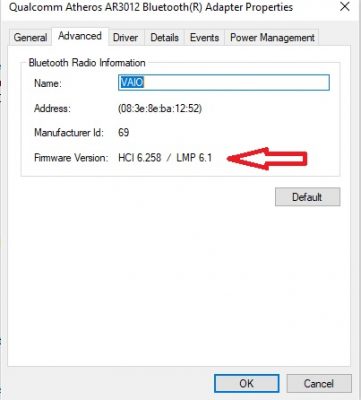 Go to the Advanced tab and check the firmware version. The LMP number shows the version of Bluetooth your PC is using.
Below is the LMP version table-
LMP 9.x – Bluetooth 5.0
LMP 8.x – Bluetooth 4.2
LMP 7.x – Bluetooth 4.1
LMP 6.x – Bluetooth 4.0
LMP 5.x – Bluetooth 3.0 + HS
LMP 4.x – Bluetooth 2.1 + EDR
LMP 3.x – Bluetooth 2.0 + EDR
LMP 2.x – Bluetooth 1.2
LMP 1.x – Bluetooth 1.1
LMP 0.x – Bluetooth 1.0b
So this was really easy, right? But it is a bit time-consuming so if you don't really want to open so many tabs to check the Bluetooth version, you may want to use some third-party tool and do not want to get into device manager to check the version, Bluetooth Version Finder can be your choice.
Bluetooth Version Finder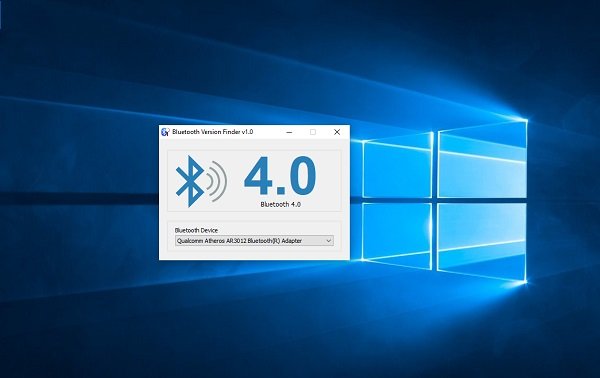 It is a very simple tool that comes in a zipped file. All you need to do is to download and run the tool and it will instantly give you the Bluetooth version and the name of the Bluetooth device running on your PC. It is a portable freeware and you can use it on any of your PCs.
Download this tool here and check what version of Bluetooth your Windows 11/10 PC is using.