Microsoft has upgraded the Bluetooth Stack in Windows 10 v1803 from version 4.2 to 5.0. Windows 10 v1803 and later, and Windows 11 supports Bluetooth version 5.0 and the following Bluetooth user profiles mentioned in this post. Before we list down all the new profiles, let's talk about Bluetooth 5.0 in brief.
Features of Bluetooth 5.0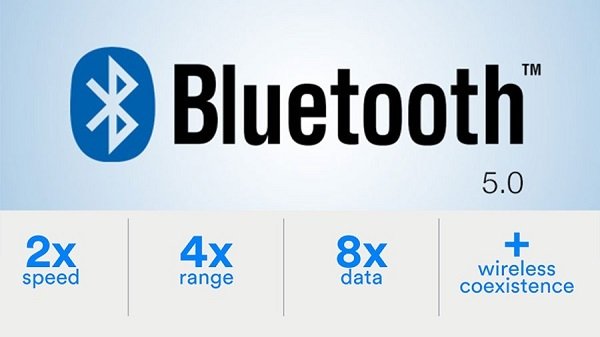 It allows all audio devices to communicate over Bluetooth Low Energy including wireless headphones. This will save a lot of battery for your audio devices.
Play two different audio on two connected devices at the same time from the same device.
Better speed, and greater range.
Data transfer speeds are up to 2 Mbps
So does it help you directly? The answer would be no. While Bluetooth 5.0 is backward compatible if you are using Bluetooth accessories that were designed for an older version of Bluetooth, you will not experience any of the new features. You need to buy new Bluetooth 5.0-enabled peripherals to get the best out of this Windows 10 Stack.
Read: How to check Bluetooth version in Windows.
New Bluetooth Profiles supported in Windows 11/10
For a Bluetooth-enabled device or accessory to work with your PC that's running Windows 11/10, the device needs to use one of the supported Bluetooth profiles below. To find out what profiles your Bluetooth device supports, check the documentation that came with it or visit the manufacturer's website.
Windows 10 v1803 and later, and Windows 11 supports Bluetooth version 5.0 and the following Bluetooth user profiles:
Advanced Audio Distribution Profile (A2DP 1.2)
Audio/Video Control Transport Protocol Target (AVCTP 1.4)
Audio/Video Distribution Transport Protocol (AVDTP 1.2)
Audio/Video Remote Control Profile (AVRCP 1.6.1)
Battery Service over GATT Profile (1.0)
Bluetooth LE Generic Attribute (GATT) Client
Bluetooth LE Generic Attribute (GATT) Server
Bluetooth Network Encapsulation Protocol (BNEP 1.0)
Device ID Profile (DID 1.3)
Device Information Service over GATT Profile (DIS 1.1)
Dial-up Networking Profile (DUN 1.1)
Generic Access Profile (GAP)
Generic Audio/Video Distribution Profile (GAVDP 1.2)
Hands-Free Profile (HFP 1.6)
Hardcopy Cable Replacement Profile (HCRP 1.2)
HID over GATT Profile (HOGP 1.0)
Human Interface Device (HID 1.1)
Human Interface Device Service (HIDS)
Interoperability (IOP)
Logical Link Control and Adaptation Protocol (L2CAP)
Object Push Profile (OPP 1.1)
Personal Area Networking User Profile (PANU 1.0)
RFCOMM (1.1 with TS 07.10)
Scan Parameters Profile Client over GATT Profile (ScPP 2.1)
Security Manager Protocol (SMP)
Serial Port Profile (SPP 1.2)
Service Discovery Protocol (SDP)
The profiles marked in bold are the ones that have been updated in Windows 10 in the April update of Windows 10 v1803.
How to find if your PC supports Bluetooth Radio for 5.0 stack
You will need to use software like Speccy to see if your existing device supports Bluetooth 5.0 stack. The best way is to find out the spec sheet online, and notice if there is mention of Bluetooth 5.0. I would guess that not many will have it for now.