Windows Media Creation Tool, also commonly referred to by some as Windows Installation Media, is an official software from Microsoft. It allows anyone to create a bootable USB drive or CD/DVD for Windows installation. So even if you don't have the ISO file, you can still create a media to install Windows. That said, Windows Media Creation Tool has its own set of problems, and users have reported that it doesn't work at times. If Windows Media Creation Tool is not working or its progress is stuck, follow this guide to fix the problem.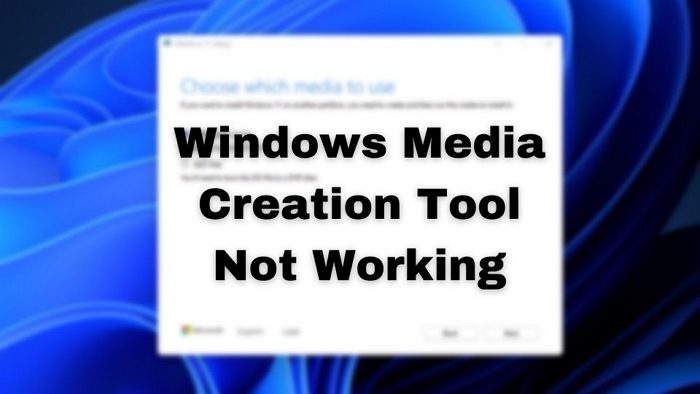 Windows Media Creation Tool not working
If the Windows Media Creation Tool is not working or its progress is stuck at 0% & you are having a problem creating Windows bootable media in Windows 11/10, follow these suggestions to resolve the issue:
Temporarily disable Security
Clear Temporary Folder
Check Storage Space
Error Codes
It should work with all user accounts.
Windows Media Creation Tool progress stuck at 0%
1] Temporarily disable Security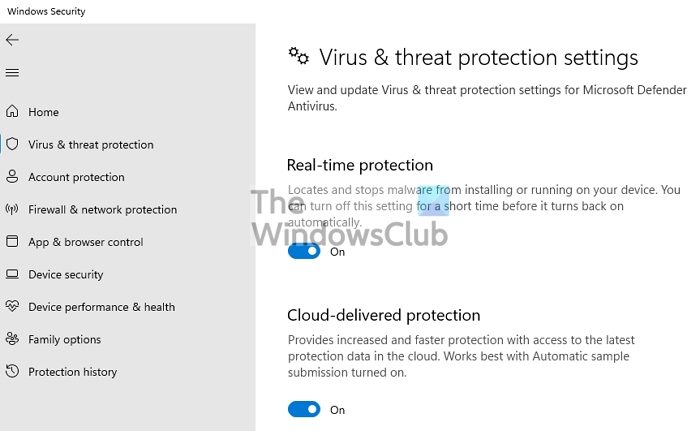 Security software is known to cause issues such as these. The software might evaluate that it's harming the system and block the file. It will abruptly stop the process of media creation. You may also not be able to launch the tool even with admin permission. So if you are running Microsoft Security, disable that or if there is any other, look for a temporary turn-off option.
2] Clear Temporary Folder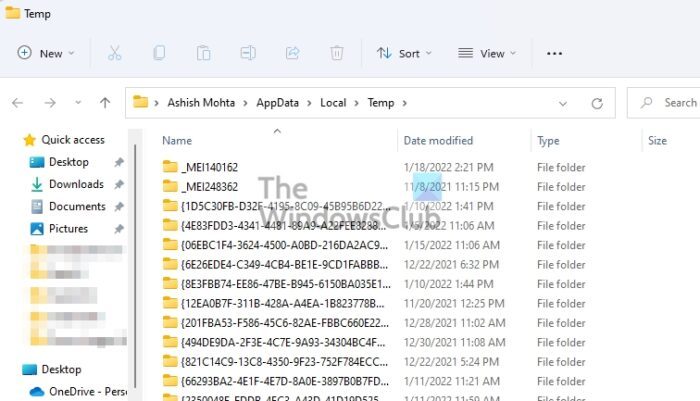 When the ISO or installation file is downloaded, it is kept in the temporary folder. If the installation stops and then resumes, it can result in improper download. So before restarting the process, make sure to clear the temporary folder in Windows.
Open Run prompt using Win + R
Type %TEMP% and press the Enter key.
Select all the files inside that folder and use Shift + Delete
It will permanently delete the files, and then you can restart
3] Check Storage Space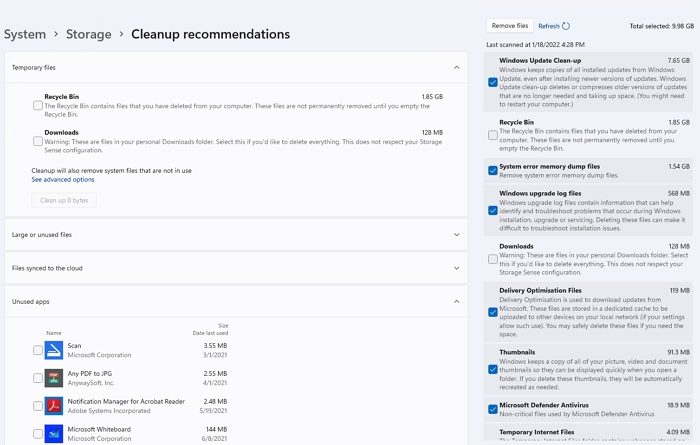 If you are running out of space on your primary drive, you need to create some. Windows Media Installer will stop abruptly if the space is too low. However, Windows offers a built-in tool to help you clear out space.
Go to Settings > System > Storage > Cleanup recommendations
You can then find a list of suggestions, including temporary files, large or unused files, unused apps.
You can also open the temporary section to delete files such as Windows Update clean-up, system error dump files, log, delivery optimization files, etc.
Before we go ahead, ensure you have a stable internet connection. Since the files for Windows installation and required to make bootable media are downloaded before finalization. Any interruption in the process will interrupt the process.
4] Media Creation Tool Error Codes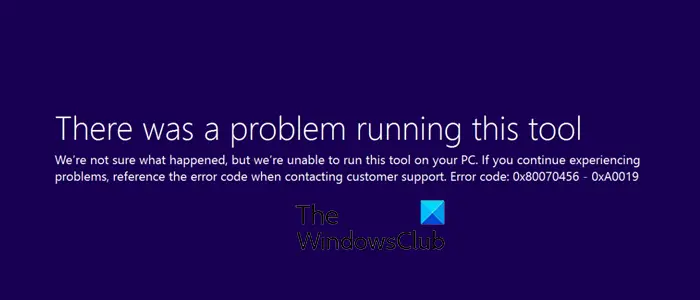 If you receive an error such as There was a problem starting setup, There was a problem running this tool, and Something happened – may be accompanied by error codes 0x80080005-0x90016, 0x800704dd-0x90016, 0xc1800103-0x90002, 0x80070002-0x20016, or 0x80070456 – 0xA0019. then this post will help you fix Media Creation Tool errors.
5] Windows Setup Error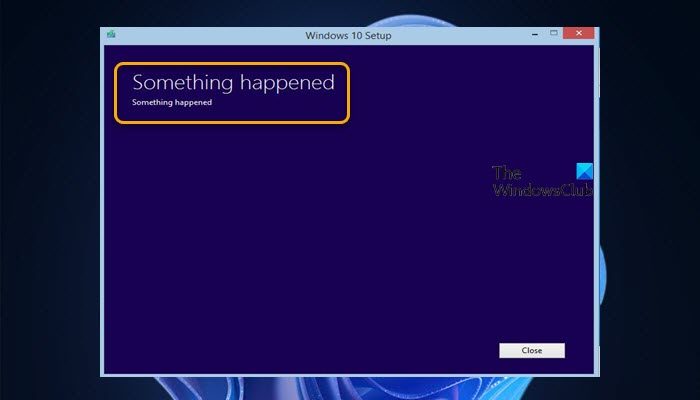 Suppose you are receiving Windows Setup Error when using the tool. In that case, this post also offers suggestions such as enabling essential services and modifying the registry to fix it. The suggestions include enabling essential services and modifying the registry to allow auto-upgrade. The latter is useful when the upgrade is disabled in Windows and the installation cannot go further.
If nothing else works out, we recommend you use a third-party tool such as Rufus to create bootable media. Some of these tools will need you to download the ISO and then use it. In contrast, some may download the file directly from Microsoft servers.
Related: How to Upgrade Windows 11, using Windows 11 ISO.
Does Media Creation Tool use latest version?
Yes. The media creation tool always downloads the latest Windows installation or the ISO file. There is a separate tool for Windows 10 and one for Windows 11. It will be available as such until Windows 10 is supported for the next couple of years. There is no way to choose a particular version when using this tool.
Will I lose my files if I upgrade through Media Creation Tool?
No. Windows Media Creation Tool only creates a bootable media that allows users to upgrade or install Windows. The option to keep the file or do a clean install is offered by the installer, and it will depend on the user's choice.