If the internet is not working on your PC and you see an error message called Windows is still setting up the class configuration for this device (Code 56), you need to check out these solutions. This problem happens with the Network Adapter, and you can find the error message in the Properties menu of the corresponding network adapter in the Device Manager.
Windows is still setting up the class configuration for this device (Code 56)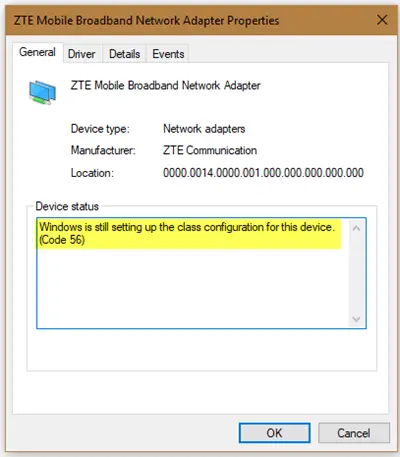 1] Disable VPN connection
When you install a VPN or virtual machine (VirtualBox, VMware) on your Windows computer, a new set up gets added in the 'Network Connections' settings of Windows. This helps your computer use that adapter setting when the corresponding VPN or virtual machine is turned on. Let's assume that you are using an ethernet connection – but your system is trying to use another adapter or settings. At such times, you can face this issue. That is the reason why you should disable VPN connection's adapter settings from the Network Connections panel. For that, press Win + R, type ncpa.cpl and hit the Enter button.
Now right-click on the properties of a VPN or virtual machine and select Disable.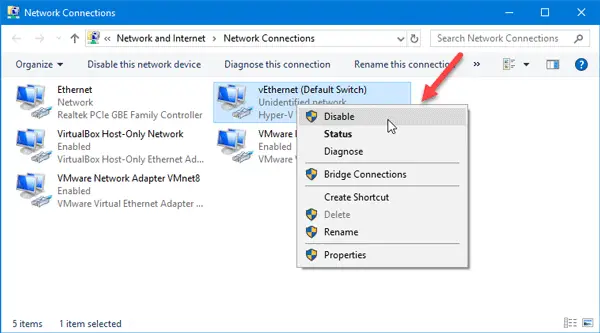 After that, check if you can use the internet or not. Many people claimed that the CheckPoint VPN Client caused this problem on their computers. Therefore, if you have such a third-party VPN on your PC, disable it temporarily and see.
2] Use Network Adapter Troubleshooter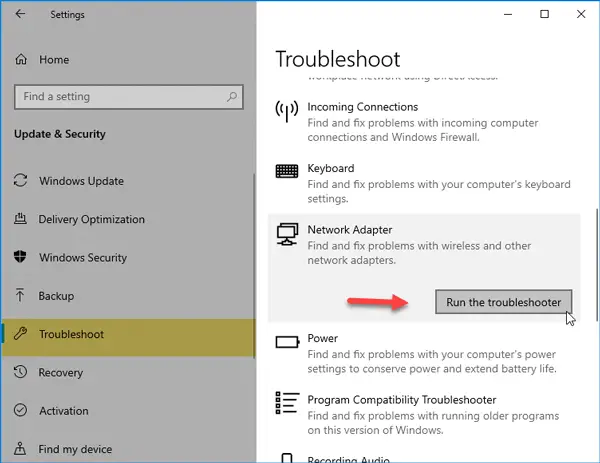 Common problems like this can be solved with the help of network troubleshooter. In Windows 10, you can find the troubleshooter in Windows Settings panel. So open the Windows 10 Settings panel and go to Update & Security > Troubleshoot to open the Troubleshoot page. After that, find out the Network Adapter troubleshooter and click Run the troubleshooter button.
Then, you need to follow the screen instructions to run it properly.
3] Reset Network settings
Sometimes some internal conflict can cause this problem. At such times, using Network Reset is probably the best option for you.
That's it! Hope this helps.
More Device Manager Error Code & their solutions here.