In this post, we will show you the differences between the different types of virus scans provided by Windows Security. Windows Defender, or Windows Security/Microsoft Defender Antivirus in Windows 11/10, is a Windows built-in antivirus program by Microsoft. It helps you monitor threats on your PC, scan your system for viruses, and free your PC from malware and viruses using up-to-date security intelligence definitions.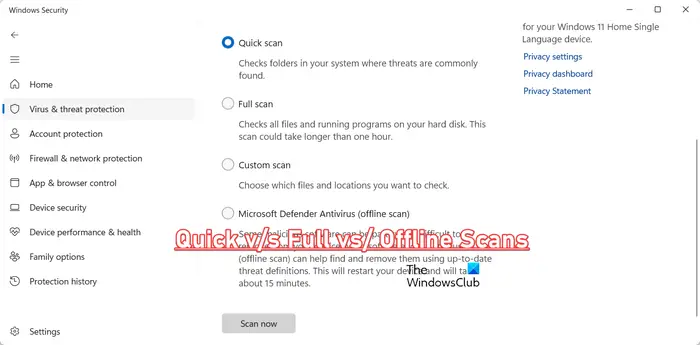 Windows Defender Offline Scan vs Full Scan vs Quick Scan
Windows Defender Antivirus offers four different types of scans that can be used in different cases. These scans include Quick Scan, Full Scan, Custom Scan, and Offline Scan.
All these types of virus scans are used to check for malware, viruses, and malicious files on your PC. However, they differ in the way they process. Let us try and understand the difference between Windows Defender's Quick Scan, Full Scan, Custom Scan, and Offline Scan.
| | | | |
| --- | --- | --- | --- |
| Type of Scan | Definition | Time | When to use |
| Quick Scan | Looks for malware in potential locations known for containing malware. It can detect and clean up viruses in most cases. | Takes about 5 or 10 minutes or so to finish. | Most suggested scan; run regularly to keep your system protected from malware. |
| Full Scan | Scans the whole system for viruses including all files, folders, and running programs. | Can take hours to finish. | Run it when you suspect unusual behavior on your system and when a quick scan is not helping. |
| Custom Scan | Scans only user-specified locations and folders for malicious software or files. | A few minutes depending on the size of the folders and files to scan. | Perform when you notice unusual activity with specific files or folders. |
| Offline Scan | Scans your system for hidden malware and threats, rootkits, etc. in the Recovery environment. | Up to 15 minutes. | Run if Windows Security recommends you perform an offline scan in case when rootkits are detected. |
Windows Security Quick Scan vs Full Scan vs Custom Scan vs Offline Scan
Now, let us discuss these four types of Windows Security scans in detail.
Microsoft Defender Antivirus Quick Scan
The Quick Scan by Windows Defender/Windows Security is the most recommended scan to find and eliminate viruses, malware, and risks from your PC quickly. What it does is basically scan the locations that are commonly known for viruses and malware on a computer, e.g., Windows folder, Downloads folder, Registry keys, Windows startup folders, and more.
This type of virus scan protects your system from system and kernel-level malware and threats. As mentioned above, it is the recommended antivirus scan that works in most cases. It is selected by default in your Windows Security app. You can open the app and perform a quick scan right away.
Read: Quick Scan not working in Windows Defender.
Microsoft Defender Antivirus Full Scan
Microsoft Defender Antivirus provides another type of scan to help you protect your system from malware and viruses. It is known as Full Scan.
As the name suggests, Full Scan is the type of scan that checks and inspects all files and programs present on hard drives, removable drives, and network drives present on a computer. It first performs a Quick Scan and then performs a complete scan of all files and running programs on your system using security intelligence definitions. It can even scan compressed files.
Depending on the amount of data that is required to be scanned, Full Scan may take hours or days to finish. This is why it is not recommended to schedule this scan regularly. However, you can opt for Full Scan occasionally to scan uncommon areas on your system for malware.
Read: Windows Security says No Security Providers in Windows.
Microsoft Defender Antivirus Custom Scan
Another type of scan is called Custom Scan. This scan can be run on a specific location on your system. This type of scan is recommended when you suspect a folder or directory to be infected with malware. So, if you have an issue with a particular location, you can run a Custom Scan. This scan takes less time compared to other types of scans to complete. The time depends on the size of the files it needs to scan.
Read: How to use Windows Security for best protection?
Microsoft Defender Antivirus Offline Scan
The fourth type of virus scan Windows Defender provides is the Offline Scan. This scan may help you remove difficult-to-remove malware from your computer. It performs a quick scan in the Recovery environment. This basically means that Windows is rebooted, and a virus scan is performed at Boot-time before Windows OS is fully loaded. The Offline Scan takes about 15 minutes to finish.
Before running Microsoft Defender Offline, you need administrator rights. Also, if while running an offline scan, you experience a Stop error on a blue screen, reboot your computer and attempt to perform the scan again.
Read: Where are Windows Defender Offline scan logs stored?
How to run Windows Defender Offline Scan, Full Scan, Quick Scan, or Custom Scan?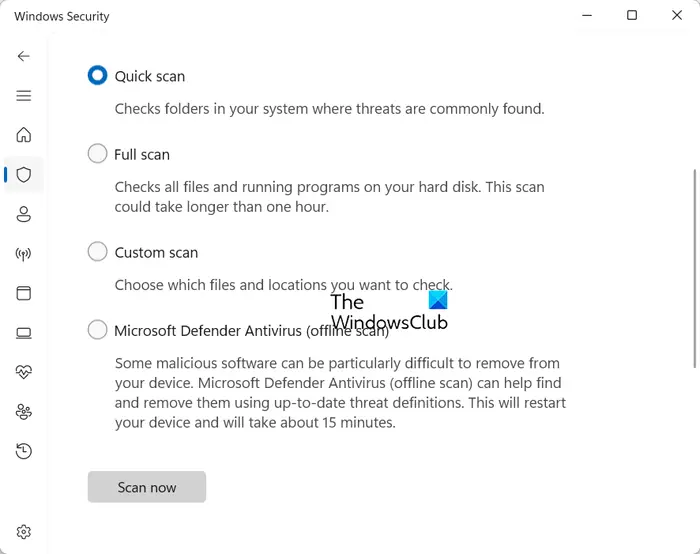 You can run any of these scans from the Microsoft Defender Antivirus/Windows Security app on Windows 11. In Windows 10, the Windows built-in security app is called Windows Defender Security Center. Here's how to run the scans:
You can open the Windows Security app using the Windows search feature. Now, go to the Virus & threat protection tab from the left-side pane. Next, click on the Scan options and choose the type of scan you want to perform. After that, click on the Scan now button to start the scan. Let Windows Security run the scan and once done, it will show you results.
Read: Perform Windows Defender Offline Scan at boot time in Windows.
Should I Quick scan or Full scan?
You should go with Microsoft Defender Antivirus's Quick Scan to find and clean up malware or viruses from your PC. It is more efficient than a Full Scan as it smartly looks up the locations where you are most likely to find malicious software or infected files. However, a Quick Scan might not be able to find all types of malware. In that case, you can run a Full Scan that scans all folders, files, and running programs on your system.
Read: Windows Defender Offline Scan not working
Should you use Windows Defender Offline scan?
You should run a Microsoft Defender Offline scan when rootkits or other highly persistent malware are detected on your system by Windows Security. The app will then suggest you run an offline scan. Besides that, if you suspect that there is some undetected malware hiding on your PC, it is best to run the Microsoft Defender Offline scan.
Now read: Windows Security closes immediately after opening or crashes.