Windows 11/10 is a great operating system, and the same can be said about many of the computers it powers. But there comes a time when things just fail to work as expected, and one of those problems is the inability to upload images. A lot of Windows 11/10 users have suffered from this problem at least once. Now, while it's just a minor issue, it can be a pain for those who upload images on a regular basis. So, the question right now is whether or not this problem can be rectified.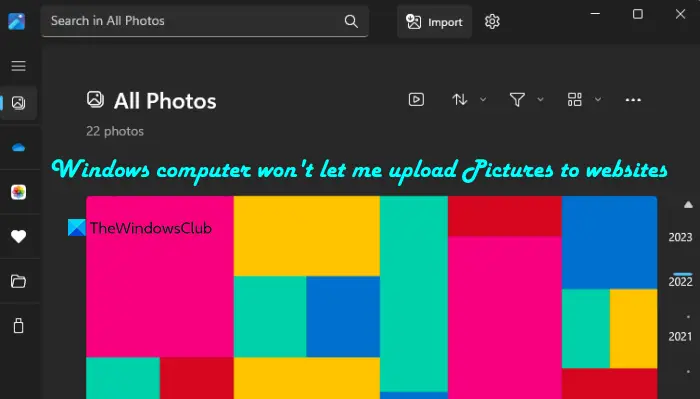 How do I upload a photo from my computer to a website?
To upload a photo from your computer to a supported website (say Flickr, Imgur, etc.), you need to open that particular website and sign in if login is required. After that, look for the Upload icon, and select the photos from your PC that you want to upload. Some sites also let you drag photos from your system and drop them to the website interface to easily upload pictures.
Why are pictures failing to upload?
If pictures are failing to upload to a website from your Windows 11/10 PC, then a conflicting browser extension could be the reason for it. Apart from that, network and internet connection-related issue(s), using a proxy connection, corrupted browser cache, etc., can also be the reason.
Cannot upload Photos to websites
To that, we have to deliver a resounding yes. From our extensive experience, the inability to upload images has nothing to do with your computer's hardware, but with the software. In many cases, this is a web browser problem or even a block from your Internet Service Provider. You can use the following solutions if your Windows computer won't let you upload pictures to websites:
Run the Network and Internet Troubleshooter
Disable the Proxy
Check if a browser extension is a cause
Reset the web browser
Change your browser.
1] Run the Network and Internet Troubleshooter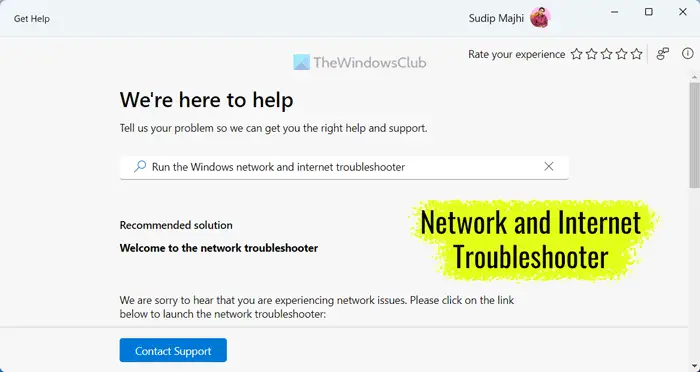 You should first check if the problem is with your internet connection. In Windows 11, there is a Network and Internet troubleshooter that can help you detect and resolve various network-related issues. So, if you are using Windows 11, use the Get Help app to run Network and Internet troubleshooter and see if it helps to fix the issue.
2] Disable the Proxy
If you are using a proxy connection on your Windows 11/10 computer, then it might be possible that it is interfering to have a smooth experience with websites. That could be the reason that you are not able to upload photos to websites. If this is the case, you should disable the proxy connection on your Windows PC, and that should solve your problem.
3] Check if a browser extension is a cause
From time to time, browser extensions, while great to have, can cause problems for a web browser. If you've installed several extensions, then figuring which one is the culprit could take a while, but not too long.
This post will show you how to Manage Browser Add-ons & Extensions. Right there should be good enough information for most. Just bear in mind that when all extensions have been disabled, please enable them one-by-one in a bid to detect the bad behaving extension.
Once you've figured which one is causing all of this mess, please disable it and wait for an update before enabling it again.
4] Reset the web browser
Hopefully, the first option works because no one wants to go through the trouble of resetting their web browser. Doing this will delete all history, passwords, bookmarks, and more, so it's never a great idea.
However, if your content is saved to the cloud, then resetting your web browser should be a walk in the park without a single worry.
These posts will show you how to Reset Chrome | Firefox | Edge.
5] Change your browser
Maybe there is an underlying problem with your web browser, so in that case, we recommend selecting a different tool to browse the web with. Several web browsers are available on the web today, therefore, no one should have a single problem finding a replacement.
Hope something helps.