If Windows 11 Tamper Protection is greyed out, then this post will be helpful to solve this problem. Some users find that when they access Virus & threat protection settings, they are unable to turn on or off the Tamper Protection option because it is greyed out. Instead, they see a message This setting is managed by your administrator for that option. While Real-time protection, Cloud-delivered protection, and other options can be turned on/off easily in the Windows Security app, they are not able to use the Tamper Protection feature. So, for those who face this problem, we have included some handy options.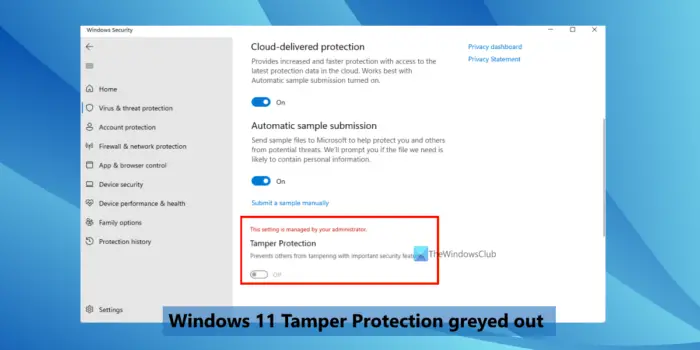 Tamper Protection is one of the crucial features of Windows Security that when enabled helps in preventing changes to security features like Real-time protection, Cloud-delivered protection of Microsoft Defender Antivirus, etc. Therefore, it is good and many users like to keep Tamper Protection turned on. But for some reason, some users are not able to do so. Thankfully, there are some fixes that can be beneficial. All such fixes are covered below.
Windows 11 Tamper Protection greyed out
If Tamper Protection is greyed out on your Windows 11 system, then the following fixes will help you solve this problem:
Remove third-party antivirus tool
Enable Tamper Protection using Registry
Remove the DisableAntiSpyware Registry entry
Use Microsoft Intune
Reset Windows Security
Perform an In-place Upgrade.
Let's check all these solutions.
1] Remove third-party antivirus tool
If you have installed some third-party antivirus tool and if it is buggy or infected, then it can interfere with Microsoft Defender Antivirus settings and that may include Tamper Protection. That could be the reason that Tamper Protection is greyed out on your Windows 11 PC. So, if this problem started occurring after installing some other security tool (malware removal, virus remover software, etc.), just uninstall it from the system.
Don't forget to remove leftover files after uninstalling to make sure the culprit tool is removed completely. Restart your computer and check if the problem is gone.
2] Enable Tamper Protection using Registry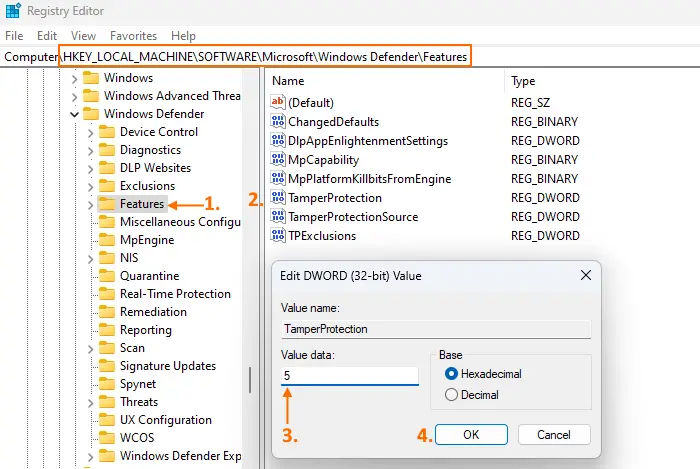 This solution worked for some users with the same problem. So, you should also try it. There is a Registry Editor setting for Tamper Protection that helps to turn on/off Windows 11 Tamper Protection. Check if that setting is configured to disable it. If yes, you need to enable Tamper Protection using its Registry setting. Before you do that, backup your Windows Registry and then follow the steps mentioned below:
Open the Registry Editor. You can type regedit in the Search box to open it
Jump to the Features Registry key present under the main HKEY_LOCAL_MACHINE root key. The path for the Features key is:
HKEY_LOCAL_MACHINE\SOFTWARE\Microsoft\Windows Defender\Features
On the right-hand side, look for the TamperProtection DWORD value and double-click it
Add 5 in its Value data box
Press the OK button.
This should turn on Tamper Protection. If you are not able to make changes in the Features key, then first take full control and ownership of the Registry key, and try again.
Mostly, an equivalent Local Group Policy setting is also available for a Registry setting, but this is not the case with this setting. So, you need to use the Registry Editor method.
3] Remove the DisableAntiSpyware Registry entry
Check if the DisableAntiSpyware Registry entry is present in the Registry Editor. The purpose of this legacy setting in Registry Editor was to disable Microsoft Defender Antivirus so that IT pros and OEMs can deploy another antivirus tool, which is not required now. So, if this key is in your computer, it can conflict and result in Microsoft Defender Antivirus settings being greyed out or disabling the Tamper Protection feature. So, you have to remove it.
In the Registry Editor, access the following path:
HKEY_LOCAL_MACHINE\SOFTWARE\Policies\Microsoft\Windows Defender
On the right-hand section, check if there is a DisableAntiSpyware DWORD value present. If yes, right-click on it, and use the Delete option to remove it. Restart your computer and this should fix the issue.
Related: App and Browser Control Missing in Windows 11
4] Use Microsoft Intune
Organizations that use Microsoft Endpoint Manager or Microsoft Intune can turn on/off Tamper Protection for all or some of their users. So, if you are not the administrator of the Windows 11 device you're using, then most likely Tamper Protection is greyed out or disabled by your organization. In that case, one can use Microsoft Endpoint Manager admin center or Microsoft Intune to enable Tamper Protection for that particular device. If your organization allows it, you can do it or ask the concerned person for it.
5] Reset Windows Security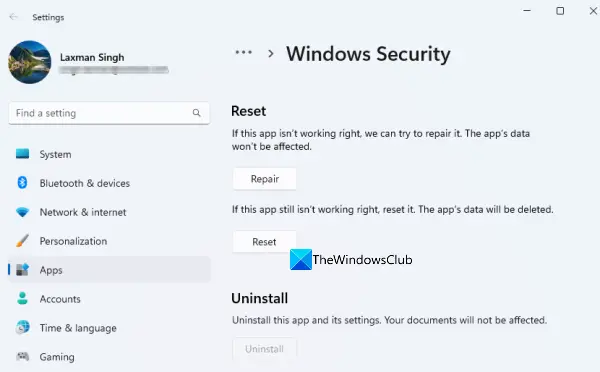 Maybe the problem is with the Windows Security app itself because of which Tamper Protection is greyed out on your Windows 11 system. If its data is corrupted, then it would be good to reset the Windows Security app. For this:
Open the Windows 11 Settings app using the Win+I hotkey
Access the Installed apps page in the Apps category and then look for Windows Security app
Click on the More icon (three horizontal dots) for Windows Security
Select the Advanced options
Access the Reset section
Press the Reset button
In the confirmation pop-up, use the Reset button.
This will wipe the entire data of Windows Security for a fresh start. It should work.
6] Perform an In-place Upgrade
If this problem is related to the installed build of Windows 11, then you can perform an in-place upgrade or repair installation for your system. This won't damage the applications and files of your system and your PC will be upgraded to a newer version that can fix various problems, including this one.
Hope these solutions will help.
Also read: Cloud-delivered protection is off, Your device may be vulnerable
Why is my real-time protection greyed out?
The reason why Real-time protection is greyed out on your Windows 11/10 system is that some setting is configured by the administrator or you by mistake or it could have happened because of malware or virus attack. In that case, you can enable Real-time protection for Microsoft Defender Antivirus using Registry, perform an offline scan, enable Microsoft Defender Antivirus setting from Group Policy Editor, etc.
How do I enable Tamper Protection?
If Tamper Protection is greyed out or disabled on your Windows 11 computer, you can enable Tamper Protection using Microsoft Intune, Windows Registry, resetting the Windows Security, performing an In-place Upgrade, etc. All these solutions with the necessary instructions are covered in this article. Check them out.
How do I fix Windows Security not opening in Windows 11?
If the Windows Security app is not opening or working on your Windows 11 PC, then you can fix this problem using the options listed below:
Re-install the Windows Security app
Run System File Checker and DISM tool
Disable third-party security tool
Use the Reset this PC option.
Read next: Virus and threat protection not working on Windows 11/10.