Windows Activation can sometimes be tedious. There have always been some activation issues floating up on the Internet, where the user's Windows 11/10 OS  deactivated itself immediately after installing Windows Updates.
Windows 11/10 deactivated itself after the Update
If your Windows 11/10 has suddenly deactivated itself after installing Windows Updates, this post shows how to fix the automatic deactivation of Windows 11/10 after installing new updates. We have a few potential solutions to your problem.
 Enter the Product Key and activate it manually
Run Activation Troubleshooter
Roll back to an earlier version
Reset or Clean Install
Contact Customer Support
Without any further ado, let us dive deeper into finding solutions.
1] Enter the Product Key and activate it manually
This is the most basic fix anyone could do. The only thing you need while applying this fix to action is that you will need your genuine product key.
This product key can be one of your Windows 7 or Windows 8 keys installed on your computer before the Windows 11/10 installation. Or, if you have got Windows 11/10 preinstalled and preactivated, you can also use that key. If you can't find it, start praying that it was embedded in your BIOS/UEFI firmware. You can find it by executing the following command in an elevated CMD:
wmic path SoftwareLicensingService get OA3xOriginalProductKey
Let us consider that you found your key and are ready for it now.
First of all, open your Settings app on Windows 11/10. Navigate by clicking on Update and Recovery. Now, click on Activation on the left side navigation bar.
It will now show you a button that says Enter a Product Key. Click on it. Now, enter the Product Key you have in the Popup box and proceed with the activation of your copy of Windows 11/10.
So that you know, this product key is about 25-characters long.
You can do the same thing on an older version of Windows. For this, you will have to search for This PC first. Then you will have to right-click on it.
After that, click on Properties to see a new window popping up. At the bottom of the window, you will see an option asking you to change or update your product key. Click on it and follow the same steps. This will activate your computer. If there is still no luck after following these steps, try another solution.
2] Run Activation Troubleshooter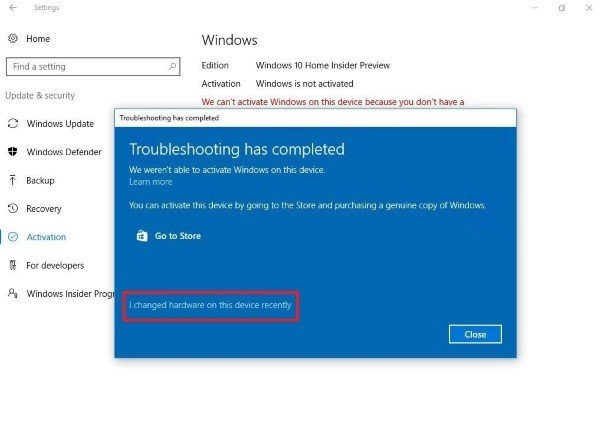 The Windows Activation Troubleshooter will help you address the most commonly encountered activation issues on Genuine Windows devices, including those caused by hardware changes.
If you cannot activate Windows 11/10, open Settings > Update & security and click on the Activation link in the left panel. Next, click on the Troubleshoot link.
3] Roll back to an earlier version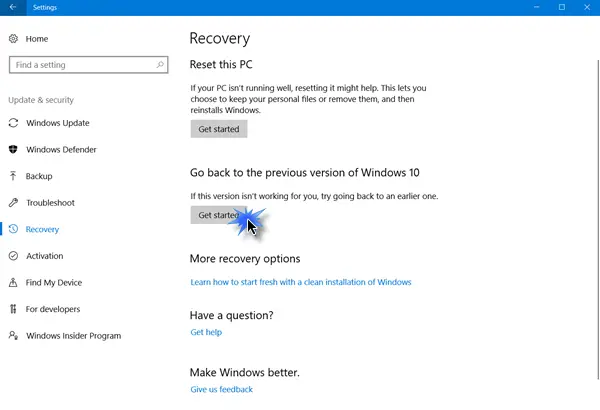 In this solution, we will talk about rolling back to the previous build of Windows. If you upgraded from an older version of Windows 11/10, you would be rolled to that one, but if you upgraded from Windows 7 or Windows 8, you would be rolled to the respective version of Windows.
First of all, you will have to open the Settings app. Then, navigate to Update & Security. Inside that menu, click on Recovery.
Under the banner, Go back to an earlier build, and click on the button that says Get Started.
Follow the instructions that come on the screen and follow them to revert to an older build.
4] Reset or Clean Install
You can reset your installed Windows 11/10 without using external ISO files or a USB Drive. Open the Settings app and navigate to Update & Security > Recovery.
Under the option of Reset your PC, click on Get Started button and follow the steps on how you would wish to reset your PC. This will reinstall the copy of Windows 11/10 on your computer and will recover your product key. The Product key on computers with genuine copy Windows has embedded inside the BIOS or UEFI firmware.
Or you can use a standard ISO file of Windows 11/10 that can be downloaded using the Media Creation tool by Microsoft. Burn a USB Drive or a DVD with that ISO and make the ISO bootable. Then you will have to boot your computer with your bootable USB and proceed with the appropriate steps to clean install Windows 11/10 on your computer.
5] Contact Customer Support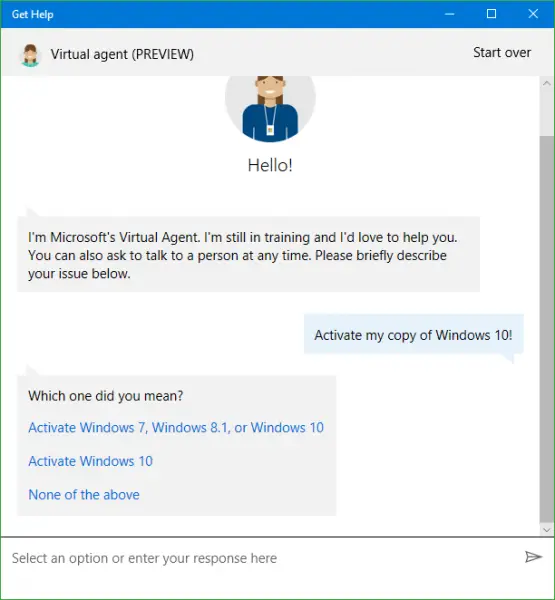 Microsoft has made it easy to get in touch with their customer support. Any edition of Windows 11/10 now comes with a preinstalled Contact Support app that will connect you directly to one of Microsoft's Customer Virtual Support agents. There are four ways you can do this:
The first is a voice call, whose waiting time is surprisingly short in this world where customer care agents keep you waiting hours to resolve your issues.
The second option is a quick chat with a support agent. This is a quick way to get a resolution.
Now, the third one will help arrange a call in the future.
And the fourth one is asking the community where the user is redirected to the online Microsoft community. The user can ask and answer questions related to Microsoft products and services.
This post details more ways to contact Microsft Support.
What is product activation failed?
Product activation failed is an error that can occur when activating a product key. There are a few reasons why this error might occur, such as entering an incorrect product key or the product key has already been used. Please double-check the product key and try again if you see this error. If the problem persists, please get in touch with customer support.
How to Disable Windows Activation popup?
While Microsoft has included an automatic Activation feature in Windows to make it easier for the user to get his copy of Windows activated conveniently, it gets annoying. While there is no Windows settings that can disable the popup, but if you are sure it's a glitch, you can change the registry data to disable it. Read our complete guide on how to achieve this here.