One of the scenarios that happen on a Windows PC after an upgrade is that new users cannot sign-in. It only works for existing users. Once a new user is trying to sign-in on the laptop, after showing the "Welcome" screen, it immediately changes to "Signing out." If you are facing a similar issue, this post will help you resolve the problem.
Windows 11/10 signing me out immediately after logging in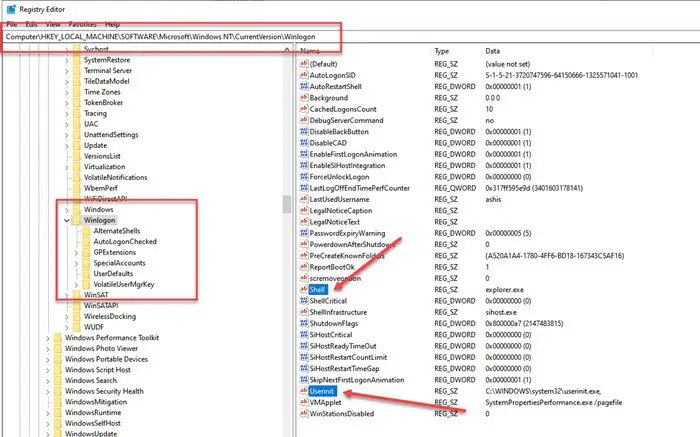 The reason behind the problem is that these new users have their default folder corrupted or damaged. It's an important folder for first-time sign-in, and since Windows doesn't find a place, it simply logs out the user.
It is also possible that an important file—NTUSER.DAT—might be corrupt.  It is a user-specific file that keeps user configuration data read when you log in to your computer. It is a file from where Windows picks up user settings and use it to make your login ready.
To resolve this issue, do the following:
Boot into Safe Mode and login with Admin account
Open Registry Editor by typing Regedit in the Run prompt (Win +R) followed by pressing the Enter key
Navigate to:
Computer\HKEY_LOCAL_MACHINE\SOFTWARE\Microsoft\Windows NT\CurrentVersion\Winlogon
Here we need to check on the values of two values—Shell and Userinit. It should be as follows.
Shell = explorer.exe
Userinit = C:\WINDOWS\system32\userinit.exe
Double click on them to open in edit mode, and then add these values.
Restart the computer in normal mode, and try to login with a new user account.
Read: Windows 10 freezes at Login Screen.
I will also suggest running System File Checker and DISM tools to fix any corruption that can be with the system files, especially for new users. You may also run Microsoft Account Troubleshooter and see if it helps.
If the user is a domain user, and this doesn't fix the problem, it is highly recommended to connect with the IT admin to resolve the problem.