If you receive error code— 0xa00f429f, Windows 10 can't start your Camera when trying to use the Windows 10 Camera app, it can be because of a recent update gone wrong or driver corruption. The error message says:
Can't start your camera

If you're sure the camera is connected an installed properly, try checking for updated drivers.

If you need it, here's the error code:

0xA00F429F <WindowShowFailed> (0x887A0004)
The error clearly states the drivers need to be updated, sometimes, that even not be the case. There can be corruption as well. In this article, we will be checking all the possible working fixes for the same.
Windows 10 can't start your Camera, 0xa00f429f
The most effective methods to troubleshoot the Windows 10 can't start your Camera, 0xa00f429f are:
Reset or Reinstall the Windows Camera app
Use the Registry Editor.
Update, Rollback or Uninstall Drivers.
Make sure to use all of these with admin privileges.
1] Reset or Reinstall the Windows Camera app
Open Settings > Apps > Camera app > Advanced options. Here opt to press the Reset button to reset this app.
If that does not help then, use the WinX key to open PowerShell as an Administrator. Execute the following command to uninstall the camera app:
Get-AppxPackage *camera* | Remove-AppxPackage
Reboot your computer and install the latest version again from the Microsoft Store here.
2] Use the Registry Editor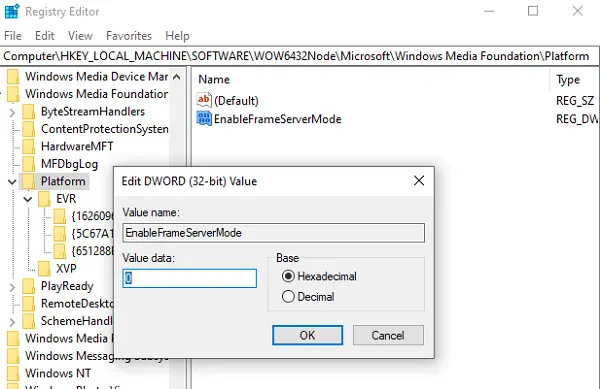 Open the Registry Editor and navigate to the following key:
Computer\HKEY_LOCAL_MACHINE\SOFTWARE\WOW6432Node\Microsoft\Windows Media Foundation\Platform
Right-click on the free space on the right side and select New > DWORD (32-bit) Value.Name it as EnableFrameServerMode.
Double click on EnableFrameServerMode and set its Value data to be 0  with the base value as Hexadecimal. Click on OK. 
Reboot your computer. This should have fixed your issue.
3] Update, Rollback or Uninstall Drivers
Sometimes the older driver is not compatible with the new and updated version of Windows 10. In this can you can try getting a new version of that driver if available.
In case the driver is updated in the background, make sure that you roll back that driver to an older version that does not trigger this issue.
You can even uninstall the driver to replace it with the basic driver from Microsoft. You might lose some features of the official driver with this step but if you wish to use your camera just for some basic video calls or to capture images or record videos using the Windows Camera app, this might be a good step for you to take.
These methods should effectively help you in fixing the error.