Some PC users may have encountered an unusual occurrence during the normal use or operation of your Windows 11 or Windows 10 PC, and you notice a blank white screen with the text Win32AppBackgroundContext on the title bar, and closing the screen, it pops back up. This post provides the most suitable solution to get rid of the screen.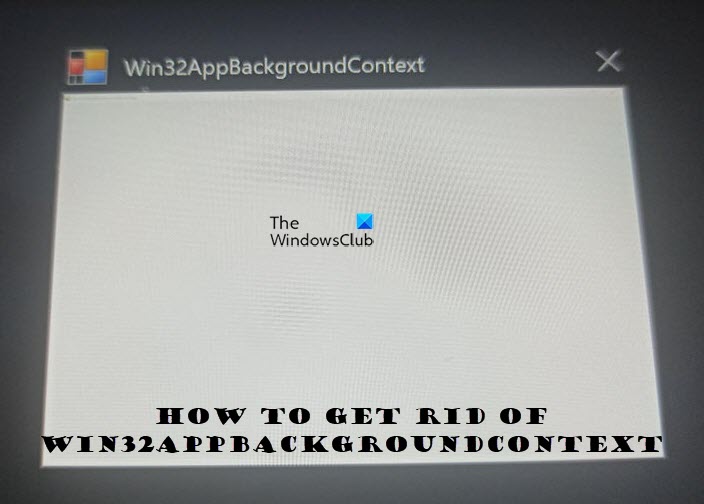 The two most known likely culprits to this issue include;
Third-party app conflict
Corrupt Chrome installation
What is Win32AppBackgroundContext?
Win32AppBackgroundContext is a process associated with the Easy Mail for Gmail app, which is a third-party app designed to bring the Gmail experience to Windows.
Win32AppBackgroundContext keeps popping up in Windows
If you're faced with this issue, you can try our recommended solutions below in no particular order and see if that helps to resolve the issue.
Uninstall Easy Mail for Gmail app
Run SFC scan
Disable browser extension
Troubleshoot in Clean Boot state
Perform System Restore.
Let's take a look at the description of the process involved concerning each of the listed solutions.
How to get rid of Win32AppBackgroundContext
1] Uninstall Easy Mail
Most affected users were able to identify the Easy Mail app, a third-party app designed to bring the Gmail experience to Windows, as the main culprit. In this case, you can uninstall the Easy Mail app.
If you are only encountering the persistent pop-up when you launch the Google Chrome browser, then the issue could be the result of the corrupt installation of Google Chrome, which possibly could have been caused by the previous installation of a 3rd-party mail management app (like Easy Mail). In this case, uninstalling the Chrome browser (using the same methods above), and reinstalling may fix the issue.
2] Run SFC scan
Cases of corrupt system files can give rise to random behaviors on a Windows PC like the issue in highlight. This solution requires you run SFC scan and see if the pop-up reappears. If so, try the net solution.
3] Disable browser extension
If you have recently installed a browser extension, you can disable the browser extension and see if that helps.
4] Troubleshoot in Clean Boot state
A Clean Boot is performed to start Windows by using a minimal set of drivers and startup programs. This helps eliminate software conflicts that occur when you install a program or an update or when you run a program in Windows 10.
Unnecessary system and cache files, processes, third-party app, services present or running on your Windows computer can trigger this error. In this case, you can troubleshoot in Clean Boot State and see if the issue at hand is resolved. Otherwise, try the next solution.
5] Perform System Restore
If you noticed the pop-up issue started to occur recently, it's entirely possible that the issue was facilitated by a change that your system has gone through recently that you might be unaware of. Since you have no idea what changed that might be the culprit, you can perform System Restore (any changes like application install, user preferences and anything else made after the restore point will be lost) to revert to a date where you're certain that the pop-up screen wasn't displaying on your Windows PC.
Hope this helps!
Why does a black box keep popping up on my computer?
If you're experiencing the issue whereby a black box keeps popping up on your Windows device, it's most likely due to an outdated display driver. Additionally, corrupted system files, improper brightness settings, and dual graphics cards are are all potential culprits to this issue.
How do I get rid of the black box in Windows 10?
There are quite a number of fixes that PC users can try to get rid of the black box that keeps popping up in Windows 11/10 device – including updating your video or graphics adapter drivers, running the native DISM command tool, running the inbuilt SFC tool, disabling the onboard graphics, change the brightness settings or configurations on your system, as well making sure Windows is running the latest version/build.
Why does System32 keep popping up?
If you notice that the System32 folder keeps popping up on a black window with the title bar showing C:WINDOWSsystem32cmd.exe at Windows 11/10 startup, it's most likely due to service or application interference by a third party application installed on your computer or a Windows service is causing this issue.
Why does my CMD randomly pop up?
You may notice that the command prompt randomly pops up on your Windows computer – this usually occurs if the system partition contains bad sectors or gets infected by an unknown virus or malware. To fix the CMD randomly popping up issue, you need to run CHKDSK to repair bad sectors, as well as run a full system AV scan to rule out the possibility of malware infection.
Related post: DAX3API.exe keeps popping up in the command prompt.