If you are using a computer with Dolby Atmos support then you may have a DAX API process that came with the DAX API software package. DAX3API.exe is the executable file that belongs to this process.
However, many users have complained that it is taking a huge chunk of their CPU and GPU and some have even reported DAX3API popping up. Folks have reported that Command Prompt keeps popping up with a black window which shows a pathway: C:\Windows\System32\cmd.exe
DAX3API.exe keeps popping up
Run antivirus scan
Now if you are facing issues with DAX3API.exe, you need to check if it is a virus first. Even though DAX3API.exe is not a virus, but there are some viruses and malware that can rename themselves to any process in your computer. Therefore, we need to check if the DAX3API.exe process running on your computer is genuine or not.
To do that, launch Task Manager from the Start Menu, go to the Details tab, right-click on DAX3API.exe, and click Open file location.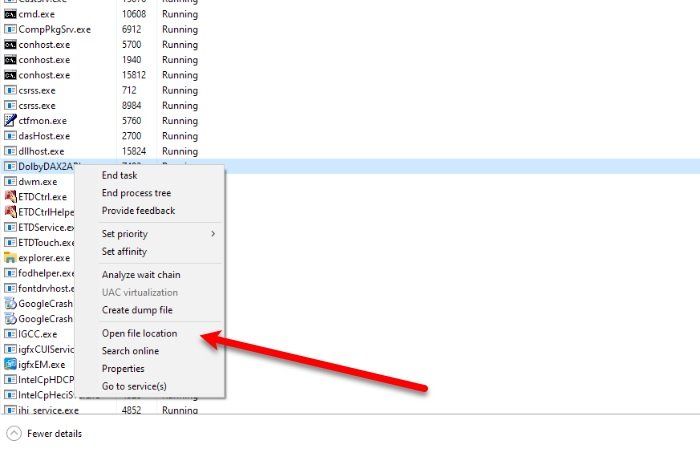 The screenshot above has DolbyDAX2API.exe, but you may see DAX3API.exe if you have that process.
If the location of the file is the same as the following, you are good to go.
C:\Program Files\Dolby\Dolby DAX3\API\
If the location doesn't match then this process could be malware, so, run an antivirus scan.
To do that, follow these steps:
Launch Settings by Win + X > Settings
Click Updates & Security > Open Windows Security > Open Windows Security to launch Windows Security.
Click Virus & threat protection > Scan options > Microsoft Defender Offline scan > Scan now.
Now, malware if any will be detected and deleted from your computer.
Related: Command Prompt cmd.exe keeps popping up on Startup.
Uninstall it
If you are still facing a problem then you could uninstall the Dolby Atmos installation from your PC. You are not uninstalling your sound drivers, just the Dolby Atmos Program. You may do it via Control Panel or Settings.
Once you do that, note that you won't be able to listen to cinema quality sounds.
You may then download the latest setup file from the official website, install it and see.
Let us know if this helped.