You've probably heard this a thousand times already but let me just say it one more time: Google is the most popular search engine worldwide. There's no doubt about that. Rather, you don't need me to tell you how important Google is to fulfill your hunger for curiosity. Whether it's a news event, sports coverage, or gossip about your not-so-favorite celebrities, Google is no less than a gateway to finding anything you need to find on the Internet in the blink of an eye.
Bing Search features that make it stand out
Well, Google is not the only search engine after all. There's Microsoft Bing, DuckDuckGo, Yandex, and many more. In fact, you can check out this interesting article about search engines to consider if you no longer want to use Google.
Talking of Google Search alternatives, Microsoft Bing comes pretty close to being the perfect alternative to Google search and for various reasons, of course. With my fair bit of understanding of both Google and Microsoft Bing, I can finally say one thing. Although comparing Google to Microsoft Bing is like comparing Apples to Oranges, there are certain areas where Microsoft Bing does a lot better than Google. Let's take a look:
1. Search engine captcha
While Bing-ing for results with the Microsoft search engine, you will never encounter a captcha wall, which is a regular problem with Google Search. This is one of the reasons why some people now prefer Microsoft Bing over Google. If you are a compulsive search engine user, you should be extra careful about how frequently you ask Google for help. The reason is simple: Google doesn't want to entertain bots on its search engine. So, if Google observes an abnormal amount of traffic coming from one IP, the platform will perhaps assume it's a bot.
You must have experienced how frustrating it is to keep proving to Google you are not a bot. This is where Microsoft Bing saves users time and welcomes your excessive searches with open arms. Don't you want to give it a try?
2. Image search scrolling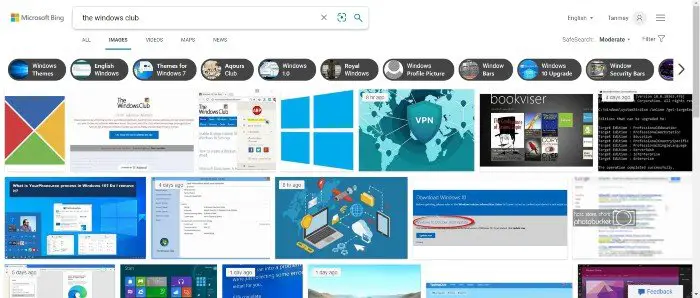 Another area where Bing is more organized than Google is the image search scrolling experience. Bing had originally introduced horizontal image scrolling, something Google has already replicated in Image Search. But there are a few differences. Google's horizontal images open in a side panel, which occupies almost half the screen space, allowing users to preview only five or six of those images without scrolling down further. The worst part with Google's image search is when you click on an image, it first directs you to the host's website. You then have to manually scroll down to trace where the image is. This clearly defeats the whole purpose of image previews.
With Bing, on the other hand, searching for good images takes far less effort. Bing's horizontal scrolling panel occupies the entire screen which feels more like a slideshow. You can quickly return to the thumbnail view by clicking the close button on top. Once you click on an image, you'll directly view a full-sized image in a separate tab rather than being forced to visit the website first, unlike Google.
Read: Bing vs Google.
3. Advanced video search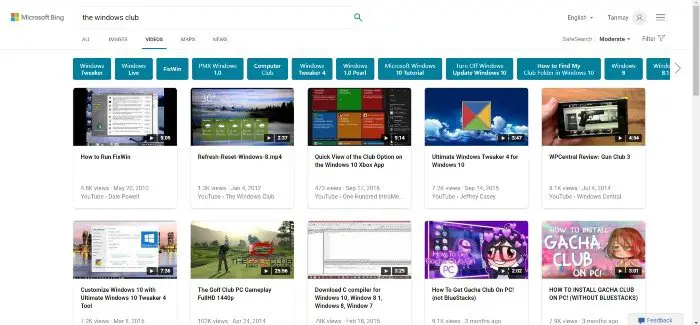 Have you ever tried to search for videos using Bing? It's time you should give it a try. Frankly speaking, I was surprised at how developed Bing as a video search platform looks and feels like. All the video search results are organized using neat thumbnails that can be scrolled by clicking the preset stops underneath each image. To view the same number of videos with Google's video search, you'll have to scroll a lot more. However, the story doesn't end there.
You can directly play Bing videos in full-screen mode without having to visit YouTube, Facebook, or a website hosting that particular video.
Now that's a major dealbreaker when it comes to Google's video search. Unlike Bing, Google will always direct you to YouTube or other sites to watch the videos. Bing videos also give superior results to Google video search. It's at least as good as YouTube in terms of algorithmic suggestions.
Once you start using Bing to search for videos, you don't even need to visit YouTube (unless, you want to read the comments, of course).
Read: How to use Microsoft Rewards and Give with Bing.
4. Bookmark your Bing search queries
Being able to bookmark search queries on Bing is a whole new experience that not many people are aware of. Bing clearly displays an option called My Saves, which allows you to save all search results in one place. Once you save your interests, you will come across search suggestions on your favorite topics of choice. Once you start using Bing's 'My Saves' option, you might want to say goodbye to saving bookmarks or favorites.
5. More privacy options
Bing allows you to completely disable interest-based advertising from the other privacy settings menu. While it is well connected with Windows Skype Xbox and office, you have a clear choice not to use your Microsoft account. As a user, you are also in complete control of your privacy. Unlike Google, Microsoft does not use content-based targeting where your emails, chats, files, and other personal stuff are not tracked for advertising. What's more, you can also delete all search history.
Since we are on the topic of privacy, don't forget to check our previous article on how Bing is more private than Google.