Microsoft Bing is one of the more private Google alternatives that we often forget. At the same time, thousands of customers still prefer Bing to Google for the former's simple search results interface and value-addition features.
On top of this, if you use all Windows 10 features like the Start Menu and Recommendations, you indirectly use Microsoft Bing as well. In this article, however, we wanted to explore another reason why you may want to use Bing for searching the web: Microsoft Rewards and Give with Bing. We will tell you how you can get started with these earning/contributing opportunities.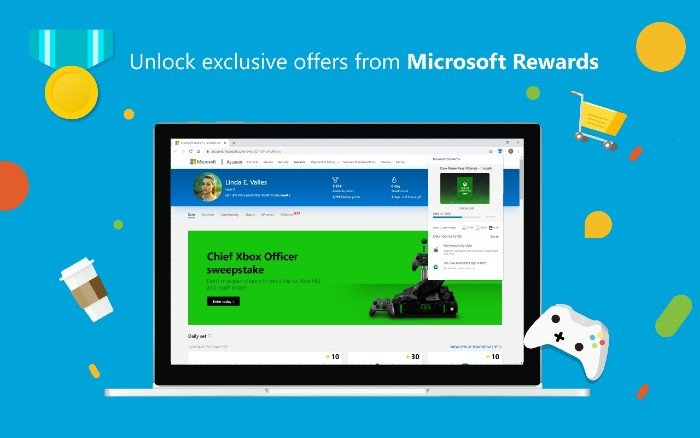 What is Microsoft Rewards?
Microsoft Rewards is a program that allows users to earn rewards by using products from Microsoft, such as Windows and Bing. Depending on how you would like to use Microsoft products and services, there may be more than one way to earn or contribute. Therefore, if you are looking for a side income source while doing what you usually do, you should consider options like 'Search to Earn' and 'Give with Bing.'
How Does Microsoft Rewards Work?
Here is the basic working principle of Microsoft Rewards.
Microsoft will pay you certain forms of rewards for using its services and purchasing its products. You would get money, for instance, by merely staying signed in to your Microsoft Account while using Bing Search. Like this, when you spend money and buy some hardware/software products from the Microsoft store, you will get the corresponding amount of rewards deposited to your account.
You can then redeem Microsoft rewards through multiple methods, such as gift cards, donations, and more. If you spend more time in the Microsoft ecosystem, these rewards come in handy. For instance, you have a simple option to redeem your rewards for gift cards that would get you Xbox games or in-app purchases. It can also give you entries to sweepstakes.
What is Give with Bing?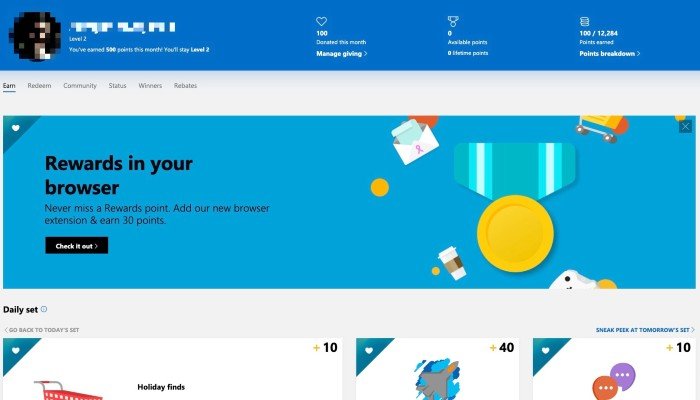 With 'Give with Bing,' however, Microsoft aims to help you and the underprivileged parts of the world. Here is how the program works. Once you have signed up for Microsoft Rewards, you can enable Give with Bing.
After this, Microsoft rewards that you earn through search entries will automatically turn into donations to a cause you have already picked. For instance, say that you want to help the thousands of children who face nutritional issues. Merely turning on Give with Bing and using Microsoft services will keep supporting them with zero effort from your side.
Isn't that awesome? As you can see, Microsoft Rewards is a way to earn incentives and pay them forward at the same time. As we said, you can always check the Give with Bing Dashboard to see where your rewards are going. You can also choose between causes such as Teach for America, the National Urban League, and the American Red Cross.
Rest assured, all these non-profits work towards offering a helping hand to the underprivileged sections of society.
Read: How to play Bing Homepage Quiz?
How to get started with Microsoft Rewards?
The steps you need to follow to enable Microsoft Rewards and keep using them are as follows.
The Microsoft Rewards program is currently available in countries like the United States, the United Kingdom, France, Germany, Canada, Australia, New Zealand, Singapore, Republic of Ireland, Brazil, Italy, Netherlands, Norway, Spain, Sweden, Belgium, Hong Kong SAR, Japan, Mexico, and Taiwan. It means you don't get a Microsoft Rewards India or Indonesia version. If you happen to be a resident from any of the countries mentioned above, you can check out the following steps.
First, you have to visit the official webpage of Microsoft Rewards, preferably from Microsoft Edge.
Click on the Sign Up button and follow the registration procedure.
You will have to sign in using a Microsoft account that you usually use.
Microsoft will verify your location and lead you to the Microsoft Rewards dashboards if you belong to eligible countries.
From there, you can control what and when happens concerning Microsoft Rewards.
Once this process has been completed, you will have to install the Microsoft Rewards extension as well. This simple extension for Edge will give you easy access to how you are doing with Microsoft Rewards. For instance, you can check the number of points left and see where you can Microsoft Rewards redeem options.
More importantly, the extension will show you the daily offers and point-earning opportunities available at the moment. As you can guess, this extension will sit silently and track your activities with utmost privacy. It will all be translated into reward points after some time. Did we say that you can do trivia and other quizzes to attain more reward points?
After this, you can visit the Give with Bing page and join the campaign. The rest is up to you to manage from the dashboard interface.
Fix: Microsoft Rewards not working
The Bottom Line
We hope our guide helped you to get the right start with Microsoft Rewards and Give with Bing. It does not matter if you want Microsoft Rewards for Xbox or gift cards; there is an option for you. A part of whatever you earn goes to the people who deserve a better chance at right. So, if you happen to be eligible for this fantastic platform, make sure you make the best out of it.
Read next: Five areas where Microsoft Bing Search outperforms Google.