Folks who use Bing and the Xbox line of consoles quite often will likely have heard of Microsoft Rewards. It allows users to get discounts on products, free gifts, and much more. To qualify, folks must be using a supported Microsoft product. Now, in recent times we've come to understand that Microsoft Rewards have been causing problems for some users where they're unable to redeem points or even load the page or app. The question is, then, how can we get this problem under control?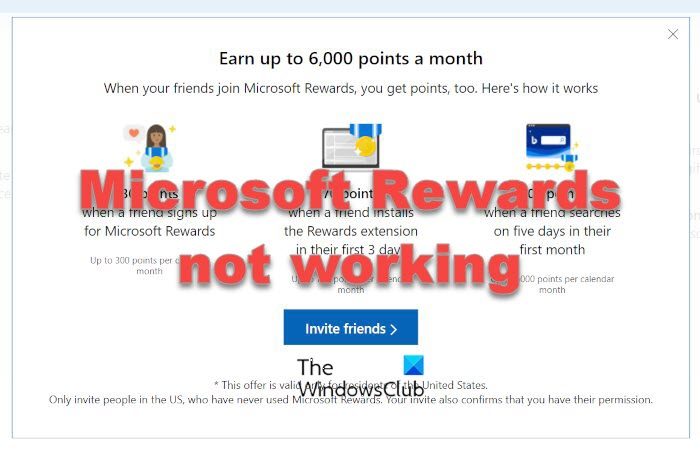 Microsoft Rewards not working
Solving this error might depend on several issues, but whatever the reason, it can be fixed if certain things are up to the required standards on your end.
Check if your region is supported
Fix the Microsoft Reward error on Xbox
Clear Xbox Series X and Series S cache
Contact Microsoft Support
Clear your browser cache and cookies
Re-install Microsoft Rewards Xbox app.
1] Check if your region is supported
The first thing you will need to check is if your region is supported since the folks at Microsoft are still gradually introducing the Rewards program across the world.
Open your web browser: To begin, fire up your favorite web browser. Ensure it is a modern web browser that follows web standards. If you're not certain which to use, then we suggest trying either Microsoft Edge, Mozilla Firefox, or Brave.
Visit the relevant website: The next step, then, is to navigate to the Microsoft Rewards regions and languages section of the Rewards website.
Check the list for your region: Finally, check the list available on the website to see if your region or country is situated there. If not, then that might be the reason why you're experiencing errors with Microsoft Rewards in the first place.
2] Fix the Microsoft Reward error on Xbox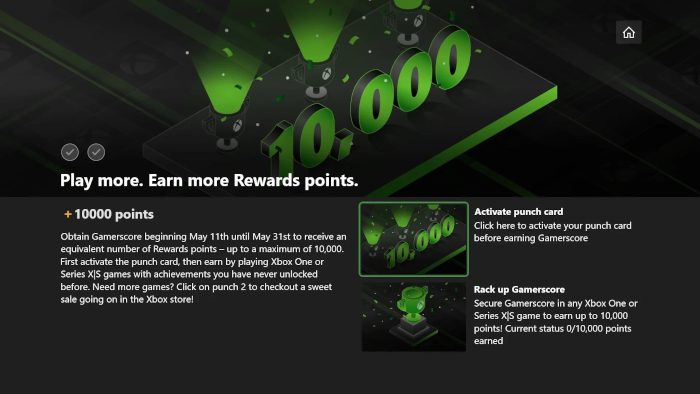 Users of the Xbox One and the Xbox Series X|S who are facing this problem must go about fixing it in a different way. Now, we will begin by hard resetting the Xbox in hopes to get things under control.
Press the power button: To get going, you must first press the Power button located on the Xbox and hold it for around 10 seconds before release. This should trigger the device to shut down promptly.
Remove the Power cord: Next, remove the power cord from out of the socket and from the Xbox as well.
Restart the Xbox: The final step to take here is to attach the power cord back to the Xbox, then plug it into the electricity socket. From there, press the Power button on the Xbox to boot the device. Once done, please check to see if the Microsoft Rewards service is working as intended.
3] Clear Xbox Series X and Series S cache
From what we've gathered, one of the best ways to solve the Microsoft Rewards problem on Xbox is to clear the Xbox cache.
When you're done, please check again to see if Microsoft Rewards is in good shape as it was before.
4] Contact Microsoft Support
If everything you've tried above has failed, then your best bet right now is directly having a chat with Microsoft Support. We have checked the website and can confirm that users can contact Microsoft Support via web chat, phone call, or email.
There is even the option to have a discussion with a virtual agent if you're not interested in conversing with a real person.
5] Clear your browser cache and cookies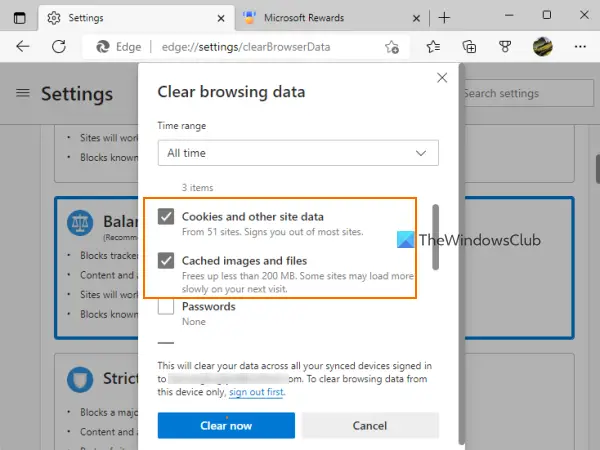 Some users complained that the Microsoft Rewards page doesn't load on their web browser, be it Microsoft Edge, Chrome, Firefox, or another browser. And, clearing the browser cache and cookies solved this issue for a couple of users. So, you should also do the same. The steps to clear browser cache and cookies in Microsoft Edge are as follows:
Open the Edge browser
Press the Alt+F hotkey
Click on the Settings option
Access the Privacy, search, and services category
Under the Clear browsing data, press Choose what to clear button
In the Clear browsing data box, set the Time range to All time
Select the checkboxes for Cached images and files option and Cookies and other site data option
Press the Clear now button.
In a similar way, you can open the Settings page to clear cache and cookies in Chrome, Firefox, and other browsers. This should fix the issue.
6] Re-install the Microsoft Rewards app
This fix worked for some users and it might solve your problem also. If the Microsoft Rewards Xbox app is having issues, then you need to re-install the app. Before doing that, you can first shut down your console and start it again to check if the Microsoft Rewards app is working. If not, re-install the app.
Hope this will help.
Why my Microsoft Rewards is not refreshing?
Sometimes, it can take up to 24 hours to update or reflect your reward points on your Microsoft Rewards dashboard. So, if your Microsoft Rewards is not refreshing, you need to wait till then. Or else, you can also generate a new support ticket for your issue to get assistance.
How do I fix Microsoft Rewards?
If Microsoft Rewards is not working on Xbox or your browser, then you should check if your region is supported, clear browser cache data and cookies, clear Xbox Series X and Series S cache, etc. All these options with the required explanation are covered in this post. Check them.
How much are 5000 Microsoft Points worth?
Since 1000 points are worth $1, then by simple mathematics, 5000 points will earn you $5. Now, in most cases, you will have to earn at least 5000 points to redeem, so keep that in mind if you're new to Microsoft Rewards.
Read: How to Show or Hide Microsoft Reward Points in Edge Profile
How to redeem Microsoft Rewards points to cash?
If you want to redeem your points, then your best bet is to visit the official redeem page at https://rewards.microsoft.com/redeem. Before you redeem points, you can choose to save up for a big item or just spend on something small. There is no pressure to redeem precious points on things you're not interested in.
How many points do you need to earn in a month to achieve Level 2?
The rewards system has two tiers, and they are Level 1 and Level 2. Users who want to earn and keep their Level 2 status must reach 500 Microsoft Rewards points every month. It matters not how the points are earned; they will all count toward your overall status.