Microsoft Reward Points is a feature in the Edge browser that rewards you for doing the things you already do every day. This is a free service that offers you to make incentives by searching online on a computer. In order to get the benefits, you need to use the Bing search engine for searching purposes and purchase anything from the Microsoft Store. This feature is by default enabled but you can turn it off in the Settings if there's no use for it. In this article, we are going to explain how to show and hide Microsoft Reward Points in the Microsoft Edge Profile. The procedure is as follows.
Hide Microsoft Reward Points in Edge Profile
To show or hide Microsoft Reward Points, follow the below suggestions:
Open the Microsoft Edge browser.
Press Alt+F keyboard shortcut, select Settings.
Go to the Profiles tab.
Click on the Microsoft Rewards option.
Toggle button next to the "Show rewards points in Microsoft Edge user profile" option.
Let's now see the above steps in detail:
To get it started, open the Microsoft Edge browser first. Once it opens, go to the top-right corner of the page and click on the three-dotted line to open the menu list. Alternatively, you can also use the Alt+F keyboard shortcut to open it.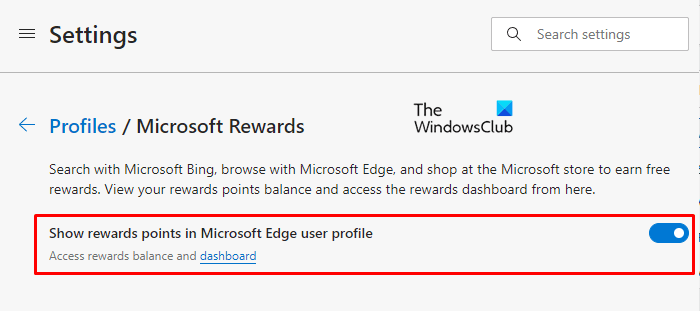 From the menu list, navigate to Settings > Profiles. Then, move to the right pane and click the Microsoft Rewards option.
On the next page, you will see an option saying "Show rewards points in Microsoft Edge user profile". 
In order to show the Microsoft Reward Point, simply turn ON the toggle button.
However, if the feature is enabled and you want to hide it, then click on the same toggle button to turn it OFF.
As an alternative, you can type the following text code in the Edge address bar and hit Enter to open the Reward profile directly:
edge://settings/profiles/rewards
After following the above instructions, close the window and you're done.
Hope it helps.