WinX menu, also called Power Menu, offers quick access to some of the core features of Windows Administrative applications. It was first introduced in Windows 8, continued in Windows 10, and is available in Windows 11.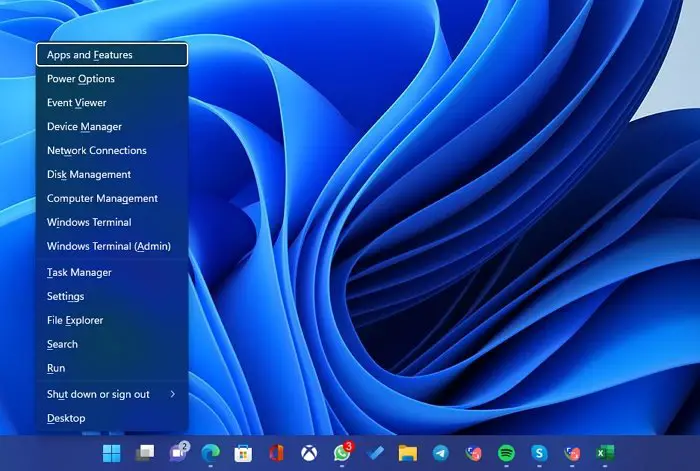 What is the WinX menu, and How do you open it?
WinX menu was designed for power users who want to quickly access apps that can be used to manage the computer. The list of tools include:
Apps and Features – This opens the Windows 10 and Windows 11 app settings to the Apps & features section, where it is possible to change, delete, and repair apps.
Mobility Center – Displays the Windows Mobility Center, which allows you to edit settings for mobile Windows devices such as laptops and tablets.
Power Options – You can change the active power plan in the Settings app by visiting the Power & Sleep section in Windows 10 or the Power & Battery section in Windows 11.
Event Viewer — Displays the Event Viewer, useful if something goes wrong while running your operating system.
System – This brings up the About tab of the Settings app, where you can browse through information about your device, such as the type of processor, installed RAM, or Windows edition.
Device Manager – It displays the Device Manager, which allows you to navigate and manage the drivers and hardware in Windows.
Network Connections – found in the Network and Internet section of the Settings app, enables you to view and manage your network connections.
Disk Management – allows you to manipulate your disks and partitions through the Disk Management tool.

Computer Management

 – Launches the Computer Management panel, which provides access to many useful Windows administrative functions.

Windows PowerShell – Opens PowerShell in Windows 10
Windows PowerShell (Admin) – Opens PowerShell with administrative permissions in Windows 10.
Windows Terminal – Accessible as a shortcut in Windows 11; Opens Windows Terminal.
Windows Terminal (Admin) — The Windows 11 command-line shortcut opens Windows Terminal with administrative privileges.
Task Manager – Gets you to the Task Manager, which lets you manage your running apps and processes.
Settings – This allows you to customize the operating system by configuring the settings in detail.
File Explorer is the program that lets you view, manage, and access your files.
Search: Find things on your computer or the internet.
Run: Opens Microsoft's Run program. From this program, you can execute Windows commands and execute files.
Shut down or sign out – Displays the Options menu with four options: Sign out, Sleep, Shut down, and Restart.
Desktop – Minimizes everything and gives you access to the desktop in Windows 10 or Windows 11.
Read: How to rename items in the Win+X menu of Windows?
How to open WinX Menu?
The easiest way to open it is using Win+X, or you can right-click on the Start buttonto reveal it. The flyout menu reveals useful tools and apps stacked on top of each other.
Read: How to add items to Win-X Power User Menu?
Where is WinX Folder?
All the tools that WinX displays are taken from a dedicated folder that contains three folders-Group 1, Group 2, and Group 3. Each of these folders contains shortcuts to the power tools, as you can see in the image below.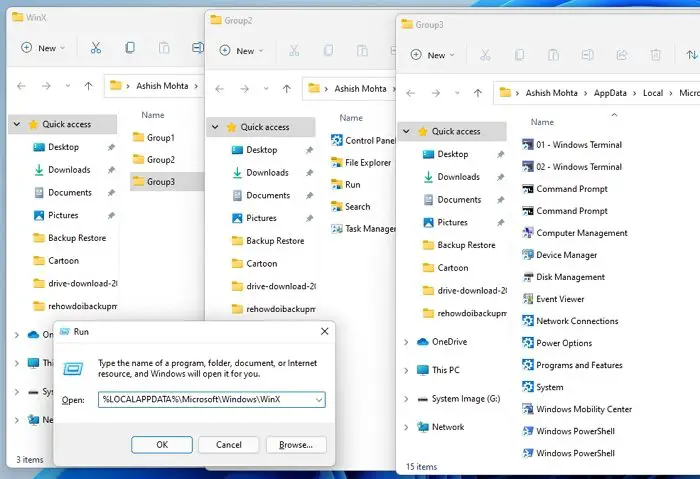 You can access them by executing the path in File Explorer or Run prompt
%LOCALAPPDATA%\Microsoft\Windows\WinX
I hope the post was easy enough to follow, and you were able to under what WinX menu and how you can open and use it.
Read next: How to show Control Panel in WinX Menu?