NetSetMan is a handy utility to manage different network settings like IP addresses, DNS, etc. It can easily switch between 6 different profiles, including IP address, subnet mask, default gateway, DNS server, Win server, computer name, printer, DNS domain, workgroup, and scripts. This is especially useful for laptop users who switch between Office, Home, etc. Instead of manually configuring the settings, you can set up everything once and use the profile when needed.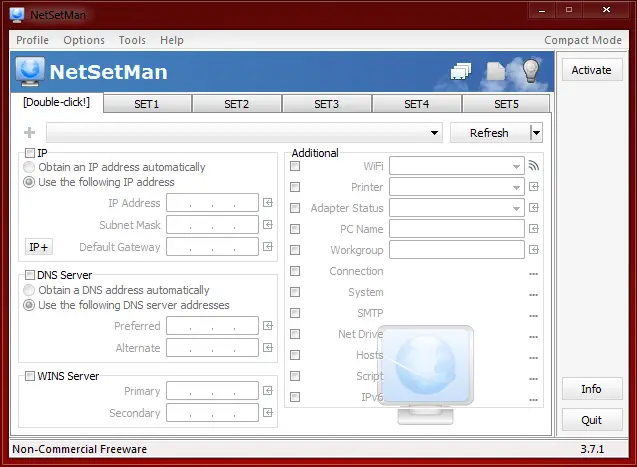 Network Settings Manager for Windows systems
There are two versions – free & professional versions. You'll find a full comparison of what it does on its website. The free version is only for personal use. So let's get into its features.
Supports IP, Gateway, DNS, WINS – Multiple IPs per NIC – IPv4 & IPv6!
Organize, create, delete and connect to WiFi/WLAN profiles
Different computer names for different locations
Change your workgroup on the fly!
Your print jobs will now always be sent to the right printer
Map and disconnect network locations as local drives
Activate, deactivate or restart your network adapter
Connect to and disconnect from stored connections
DNS Suffix – Complete configuration possibilities as known from Windows
Add, delete or change the entries in your local IP routing table
Dynamically change the outgoing server of your email client
Map hostnames to IP addresses
Scripts (BAT, VS, JS, …) Extend the functionality to your custom needs!
Expert setting: Only change the hardware address of NIC if you know what you're doing!
Link profiles to WiFi networks for an automatic activation
Quickly check all your IP settings without a single click!
Two UI's- Once you've set up your profiles, switch to the compact UI!'
Switch settings even before logging on! (compatible settings: IPs, NIC status, workgroup & domain, display resolution, PC name, firewall, SMTP, hosts, scripts)
Touch-friendly Metro/Modern UI add-on for the desktop version of NetSetMan for Windows.
This is a huge list of the feature list. Most of the functions work on the free version. The freeware does not allow you to join or leave network domains without re-entering your credentials or offers browser proxy support. The setting up part is very easy. Check out this video.
To conclude, NetSetMan is a nifty little tool with many features to jump between different network setups. At the time of installation, you can select either the portable or the installed version. It's pretty easy to configure and use, and for an average user, six profiles are more than enough, so for personal use, NetSetMan makes an ideal candidate. I hope you find this utility useful.
NetSetMan free download
You can download NetSetMan from here. It works on Windows 11/10/8/7.

How to change DNS settings in Windows?
Go to Settings > Advanced network settings > More Network adapter options. Then right-click on the Wifi adaptor or the ethernet adapter, and select properties. You can then change the IP address in the DNS section of IPv4 or IPv6. Once you apply the change, restart the adaptor or the PC, and it should reflect the change.
Why shouldn't you use your isp's default DNS server?
Not only is ISP DNS slow, but they also give them the leverage to track everything that goes through them. It also means they can block any website. If you cannot visit a website because the ISP has blocked it, it's best to change the DNS.