Print Logging can be useful to find out the number of prints that may have ben made from a single computer, with or without your consent. Event Viewer in Windows 10 lets you view the complete log of all recently printed documents. So, if you would like to keep a check on your print jobs, enable print logging in Windows 10 Event Viewer.
Enable Print Logging in Event Viewer
Although the printer's queue lets you view print jobs, it has limitations. For instance, you can just see just recent documents listed there. If you want a complete log of all recently printed documents, you must switch to Print logging in Windows 10 Event Viewer.
To enable Print Logging in Event Viewer so that you can view, check and track your Print history & usage with Print Logs in Windows 10, you will have to:
Open Event Viewer
Access Log Properties window
Enable logging
Please note that you must be signed in as an administrator to enable or disable print logging in Event Viewer.
1] Open Event Viewer
Click on 'Start', type 'Event Viewer' in the search box, and select it.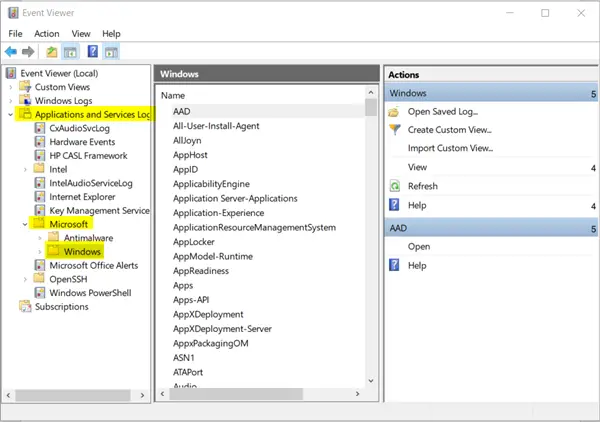 When the Event Viewer window opens, expand 'Applications and Services Logs' folder.
Don't be bothered if you don't see Applications and Services log for a while since it may take a moment for the log to refresh and populate.
Under it, choose 'Microsoft' folder and expand it to make 'Windows' folder visible.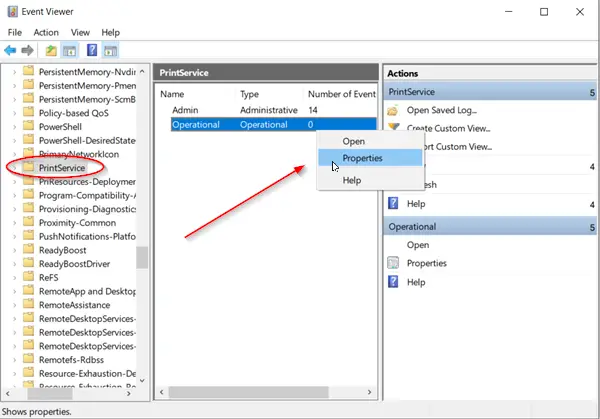 Click it and switch to the 'Windows' pane. There, double click on 'PrintService' as shown in the image above.
2] Access Log Properties window
Under the 'PrintService' pane in Event Viewer, right-click on 'Operational' entry and choose 'Properties'.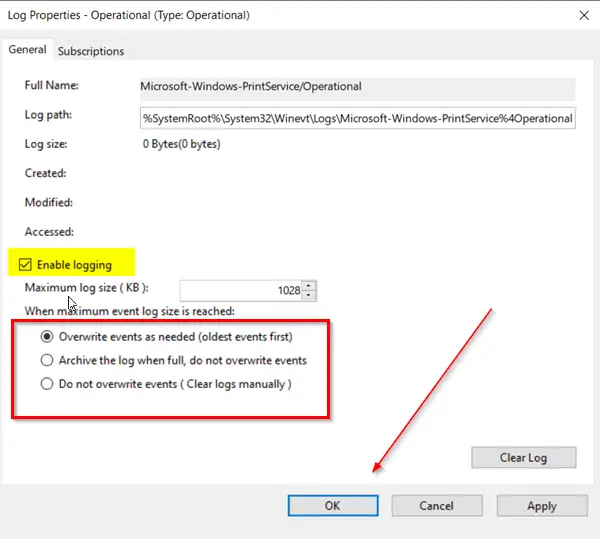 Now, locate 'Enable Logging' option and select it. Then circle marked against the option you want, and hit 'OK'. Button.
By default, the options provided include,
Overwrite events as needed
Archive the log when full, do not overwrite events
Do not overwrite events (Clear logs manually)
Likewise, you can uncheck the option to disable Print logging. Here' if required, you can also configure an action once, the maximum event log size is reached.
Thus, with these simple steps, you can easily and quickly enable print logging in Windows 10 via Event Viewer.