We are always wary of unknown processes and igfxTray.exe is one of them. You may have seen a process, igxfxTray, running in the Task Manager and want to know what this is. In this article, we are going to see what is igfxTray.exe and if it is safe?
What is igfxTray.exe process?
First thing first, igfxTray is an abbreviation for the Intel Graphics System Tray Helper Icon. Intel Corporation launched igfxTray.exe as a part of the Intel Common User Interface. It is embedded as a part of your Graphics Media Accelerator Driver, which means it comes pre-installed on Intel computers. It notifies about its presence in the Taskbar. You will see a little Intel sign from time to time, and it's totally fine. The process in question is completely genuine and will come installed on most Intel systems.
Is igfxTray exe safe?
Malware and Virus can sometimes play tricks on you. It can cause damage to your device by hiding under the executable file. Even though igfxTray.exe is completely genuine, still, a virus can masquerade it and pop up in your Task Manager.
Here's what you can do to check whether the file is authentic or it's actually malware and virus.
Hit Ctrl+Shift+Esc to open Task Manager.
Right-click on igfxTray.exe and click on the Properties tab.
In the General tab, look out for its location. It must be.
C:\Windows\System32
If the location is incorrect, your file can be a virus, if it is correct, check the digital signature to be confirmed.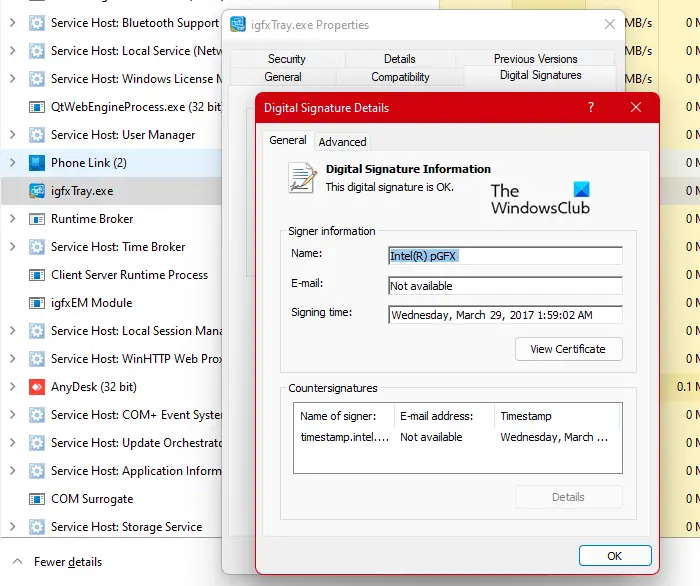 To see the Digital Signature, right-click on the igfxTray.exe process from the Task Manager and select Properties, go to Digital signatures. There, you can see if the process is from Microsoft or Intel, or some other brand that you can not recognize. If it is from Microsoft or Intel, you are safe, otherwise, it can be malicious.
If the file passed both the tests with flying colors then there is no reason to worry about malware and viruses. It is a completely authentic igfxtray.exe file. No harm is caused to your PC.
In case the location is not matched and the Digital Signature is not verified, it will be pretty fair to say that the process on your computer is nothing more than a virus or malware. You should run your antivirus and ask it to scan and resolve the issue. If you don't have a third-party antivirus, try any one of these free antiviruses. You can also use Windows Security and run its offline scan to resolve the issue. Follow the given steps to deploy Windows Defender Offline Scan.
Search and open Windows Security app.
Go to Virus & threat protection > Scan options.
Click on Microsoft Defender Offline scan > Scan now.
Hopefully, this will do the job for you
IgfxTray Module has stopped working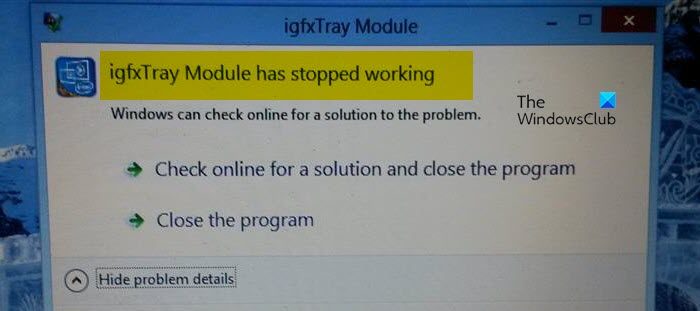 If you see an error message that says IgfxTray Module has stopped working, then use the following solutions to resolve the issue:
Uninstall and Reinstall Graphics Drivers
Reinstall Intel Driver and Support Assistant
Run SFC Scan.
Let us talk about them in detail.
1] Uninstall and Reinstall Graphics Drivers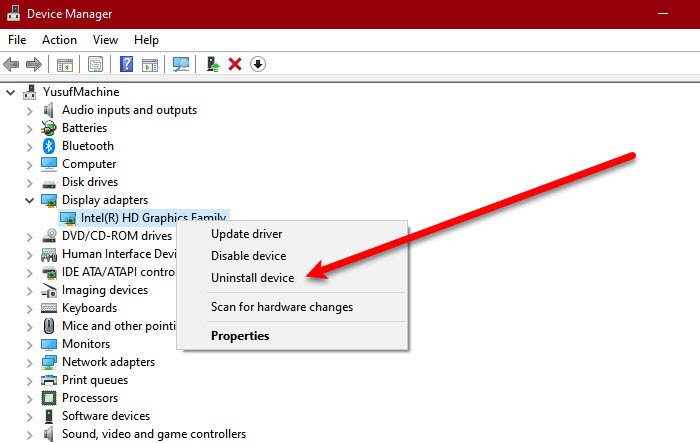 Since IgfxTray is an Intel process, the first thing we should do is uninstall and reinstall the Intel Graphics Driver. Follow the prescribed steps to do the same.
Open Device Manager.
Expand Display Adapters.
Right-click on your Intel Graphics Drivers and click Uninstall device.
After uninstalling the driver, restart your computer. A generic Windows Graphics Driver will be installed. You then need to visit intel.com and allow Intel Driver and Support Assistant to download the appropriate driver for your computer. Hopefully, this will do the trick for you.
Troubleshoot: Intel Graphics Drivers' problems
2] Reinstall Intel Driver and Support Assistant
You may see the error in question if your Intel DSA is corrupted. We are going to reinstall it and see if that works. To uninstall the app, follow the prescribed steps.
Open Settings by Win + I.
Go to Apps > Apps & Features.
Look for Intel Driver & Support Assistant

For Windows 11: Click on the three vertical dots and select Uninstall.
For Windows 10: Select the app and click Uninstall.

After removing the app, download Intel Driver and Support Assistant from Intel.com.
After installing the tool, restart your computer and check if the issue persists
3] Run SFC
Sometimes corrupted system files can also cause the issue. You should run SFC command and see if they help. Open Command Prompt as an administrator and run the following command.
sfc /scannow
Let the command and run repair files for you.
Hopefully, these solutions will do the job for you
Do I need igfxTray module at startup? No, you can disable it!
As mentioned earlier, igfxTray is an important program. However, you probably don't need it at startup. You can easily disallow the program from getting launched during startup using the Task Manager app. Follow the prescribed steps to do the same.
Click Ctrl+Shift+Esc to open Task manager.
 Navigate to the Startup tab and then click on Igfxtray.
Righ-click on the file and select the Disable option.
Once done you won't be seeing any issue that may be popping on your screen because of this file.
Should I disable Persistence Module on Startup?
The Persistence Module (with Igfxpers.exe file name) is associated with the Common User Interface module for the Intel graphics card. This file is found under the System32 folder and is safe (if legal). But, you don't need Persistence Module to run automatically as Windows starts because it is a non-essential file. So, yes, you can disable Persistence Module from the Startup app list and open it manually when needed.